Plantforlife launches free Advice Guide to encourage first-time gardeners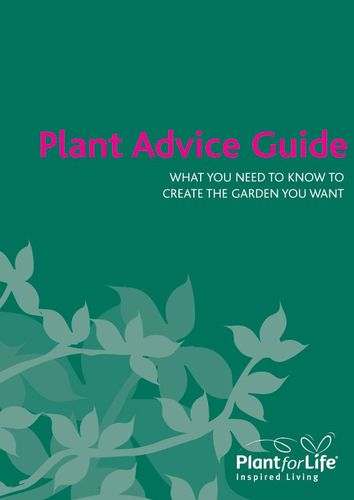 According to research out today, a lack of confidence and gardening knowledge means that over a third1 of people in the UK do not make the most of their garden. The PlantforLife survey found this information gap was a common obstacle to people gardening with 37%1 saying that simple tips and advice on gardening would boost their confidence and get them planting.

Amazingly, only 6%2 of people surveyed see gardening as a creative leisure activity, so in an effort to encourage more people to experiment in their gardens, PlantforLife has teamed up with Blue Peter gardener Chris Collins to produce the Plant Advice Guide, a free easy to use booklet for anyone who wants a blooming garden but just doesn't know where to begin.

Chris Collins comments "Over 70%1 of people surveyed by PlantforLife said they would like to know more about gardening, yet when it comes to choosing, planting and maintaining flowers, the names, species and sheer choice can be mind boggling and even slightly daunting. The Plant Advice Guide should equip any budding gardener with the basics to get started and see rewarding results this summer."

Research also showed that nearly half1 (47%) of people surveyed purchase plants based purely on colour, scent and shape. Avoiding jargon and technical terms, the Plant Advice Guide contains clear descriptions of 20 popular flowering plants and shrubs. The plants are listed under their common names and the guide also includes phonetic pronunciations, so people can be confident when asking at garden centres and nurseries. Finally, an easy to follow key explains how to plant, maintain and choose the perfect planting companions for a summer garden.

The PlantforLife survey also highlighted that one in four1 people are not seeking advice at garden centres or nurseries because they don't know what to ask for. To address this, the Plant Advice Guide includes space for people to sketch out a plan of their garden to take to their local garden centre or nursery where Plant Advice Experts can take them through the guide helping them select the right plants and flowers for their garden. The Plant Advice Guide is also free to download from www.plantforlife.info

Andrew Maxted, HTA Director of Commercial Services and PlantforLife spokesperson, comments:
"PlantforLife is the Horticultural Trades Association initiative to get people involved in gardening, regardless of their knowledge or level of skill. The Plant Advice Guide aims to provide people with the confidence, inspiration and know-how to create a garden that will not only enhance their outdoor space but get them more interested in gardening.

"This campaign will highlight what amazingly knowledgeable and approachable experts garden centres and nurseries have to offer. We want to encourage people to use that expertise and reap the rewards of watching their gardens blossom and bloom."

[ends]

For further information and details about participating garden centres, please contact The Red Consultancy:

Hannah Morgan 0207 025 6447 / hannah.morgan@redconsultancy.com

Katherine Murphy 0207 7025 6547 / Katherine.murphy@redconsultancy.com

Natalie Fraser 0207 025 6532 / natalie.fraser@redconsultancy.com

1ICM omnibus March 7th-8th 2007, 1061 UK respondents
2 Critical 2 Watford omnibus March 22nd 2006, 1200 UK respondents

Notes for editors:

PlantforLife is an initiative aimed at raising awareness of plants and the role that they can play in enhancing people's quality of life. The initiative is spearheaded by the Horticultural Trades Association (HTA) the main representative body for garden industry growers, retailers, wholesalers, specialist groups, manufacturers and suppliers.

The HTA has been operating for over 100 years and helps to promote the profitable growth of its individual members. It is the industry's voice to the media and Government, and provides a forum to identify and deal with key issues and opportunities in the gardening industry.

Chris Collins

Chris Collins is the resident gardener for Blue Peter and has been gardening since he was a teenager. He has worked at the Royal Botanic Gardens, Kew, and was head gardener at Westminster Abbey for three years. Chris was first seen on our screens in 2003 fronting a gardening show called The Plantsman and more recently in Garden Rivals for UK Style, and Garden Invaders for BBC1.


This press release was distributed by ResponseSource Press Release Wire on behalf of The Red Consultancy in the following categories: Men's Interest, Health, Leisure & Hobbies, Home & Garden, Women's Interest & Beauty, Environment & Nature, for more information visit https://pressreleasewire.responsesource.com/about.