Etre Helps Keep Eyes Glued to the Award-Winning New Rolex Website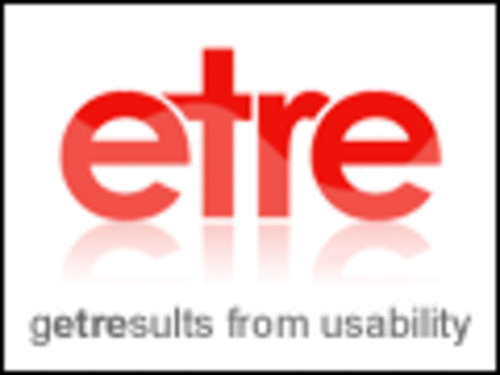 LONDON -- Etre's cutting-edge eye tracking technology has helped Critical Mass deliver an award-winning website for Rolex. The technology tracked users' eye movements, fixations and pupil dilation as they interacted with a series of prototype designs, enabling Etre to pinpoint the most arresting images and text. These elements were then incorporated into the final version of the website.

The result - www.rolex.com - combines stunning graphics and rich media content to showcase the company's iconic range of watches and highlight its long history of achievement, innovation and philanthropic activity.

Despite being less than two months old, the site has already picked up several industry accolades including "Site of the Day" awards from Adobe and Favourite Web Awards. Experts are now tipping it to win major honours when the larger industry awards ceremonies take place later in the year.

Critical Mass engaged Etre in late 2006 to evaluate a series of hi-fidelity design prototypes it had been developing. Each prototype mimicked the functionality of a real-life Rolex website, but incorporated different photographic, video, audio and text components and adopted different page layouts, navigation systems and branding elements.

Critical Mass tasked Etre with identifying the most effective aspects of these designs so that they could be carried forward into the final version of the Rolex website. In order to achieve this objective, Etre conducted an extensive eye tracking evaluation of the prototypes at its research facilities in London and New York.

The study saw 60 users - carefully selected so as to be representative of Rolex's target markets - attempt a series of real-life tasks with the designs. During each session, Etre's cutting-edge eye tracking equipment quietly monitored what users looked at - and what they missed. These data were invaluable in addressing questions relating to the positioning, visibility and attractiveness of the prototypes' various design components.

"Our eye tracking technology let us climb inside the users' heads and see the prototypes through their eyes," said Paul Schwartfeger, Managing Director of Etre. "After analysing the data at the end of the study, we were able to provide numerous insights into Rolex users' behaviours and thought processes.

"For example, by examining their eye fixations and the dilation of their pupils, we were able to tell which images they found engaging - and which they didn't. And by monitoring their eye movements we were able to determine the amount of copy they read and establish items they found difficult to absorb. This information simply couldn't have been obtained by any other means and allowed us to provide Critical Mass with clear, objective design direction as a result."

Critical Mass used Etre's findings and recommendations to inform the development of a landmark in web design. The new Rolex website, launched in February, combines elegant photography with rich functionality - capturing the spirit of the Rolex brand to perfection. (In keeping with the company's tradition of precision engineering, the watch that appears on the website's homepage displays the current time to the second!)

"All the plaudits should go to Rolex and the Critical Mass team. They've created a truly stunning website that sets a new standard for the luxury goods industry to aspire to," said Schwartfeger, "We're just delighted to have been able to contribute."

"Etre's eye tracking expertise was invaluable to us," said Jaime Wood, Account Manager for Critical Mass. "The team's experience, professionalism and commitment, combined with their willingness to go above and beyond what was expected of them, ensured that our relationship was a success. We look forward to extending our relationship with Etre and to involving them with more of our prestigious clients."

About The Rolex Company

Rolex has been the pre-eminent symbol of performance and prestige for over a century. Headquartered in Geneva, Switzerland, with 28 affiliates worldwide and relying on 4,000 watchmakers in over 100 countries, Rolex continues to expand its long history of achievement and innovation.

For additional information, visit www.rolex.com.

About Critical Mass

Critical Mass is an interactive services firm that architects innovative marketing solutions to help the world's leading companies increase revenues, reduces costs and deepen customer relationships. We have designed and built Web sites and customer experience management programs for clients such as Dell, Mercedes-Benz USA, Procter and Gamble, Albertsons, Andersen Windows, and many others. Founded in 1995, Critical Mass has offices in Calgary and Toronto, Canada, as well as Chicago, New York, Atlanta and Austin.

For additional information, visit www.criticalmass.com.

Critical Mass is a part of Omnicom Group Inc. (NYSE: OMC) www.omnicomgroup.com. Omnicom is a leading global advertising, marketing and corporate communications company. Omnicom's branded networks and numerous specialty firms provide advertising, strategic media planning and buying, direct and promotional marketing, public relations and other specialty communications services to over 5,000 clients in more than 100 countries.

About Etre

Etre is a digital communications agency specialising in results-driven user experience design. Etre works with multinational corporations, central government departments, local authorities and not-for-profit organisations to maximise their websites' usability, accessibility and findability. Recent clients include Anglo American, British Council, Deloitte, English Partnerships, Eurostar, Mars, Mencap and Ogilvy. For additional information, visit: www.etre.com.

About Eye Tracking

Etre's eye tracking service lets you to climb inside users heads and see your website through their eyes. For more information about eye tracking - including a video of the technology in action - visit: www.etre.com/usability/eyetracking/.

Notes for Editors:

Rolex.com was the Favourite Web Awards' Site of the Day on 14th. March 2007. Forbes magazine refers to FWA as "one of the Web's top recognition sites for innovative Web design".

See http://www.thefwa.com/ for more information.

Rolex.com was Adobe's Site of the Day on 8th February 2007.

See http://www.adobe.com/cfusion/showcase/index.cfm?event=sotdar... onth=2&loc=en_us for more information.
This press release was distributed by ResponseSource Press Release Wire on behalf of Etre in the following categories: Business & Finance, Computing & Telecoms, for more information visit https://pressreleasewire.responsesource.com/about.