Introducing the new REVO for kids (from Rubik's) - it's absolute dynamite!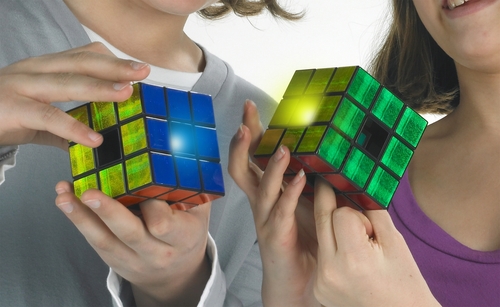 The REVO from Drumond Park - rrp £14.99, age 8+ - goes into the shops from mid-August.

Is this the toy every parent has been waiting for? It's a fantastic light-chasing, cube-twirling, memory-fixing, mind-popping treasure chest of fun! Children's brains are as sharp as tacks - when they're given the right stimulation...

The REVO - the brilliant new electronic game from those ingenious people behind the Rubik's Cube - will help energise and stimulate children's brain speed, reactions - and memory.

The REVO will transfix young minds as children's fingers rise to the challenges of the six completely different quick-fire, rapid-reaction games - for both individual and multi-player fun. It's so brilliant, that every girl and boy will want to get their hands on one. So much fun that parents will want to grab their turn too!

The first thing that strikes you about The REVO is that it's rather like an outsize Rubik's Cube. But there the similarity ends. The traditional Rubik's was all about using logic and sequencing to solve the puzzle. The new REVO game is about lightning reactions, visual acuity, recognising and following patterns and response to audible commands. You have to be nifty with your fingers too!

Beating scores… having so much fun!
Six great games to play

To start, press the coloured button for your choice of game and instantly you are drawn into a frantic, cube-twirling, finger-twisting, mind explosion of a game. This truly is a brilliant fusion of the mental and physical – a workout for the mind that also requires dexterity and control, blending the line between thought and action.

The REVO has nine glittery coloured squares on each side, one of which conceals a colour-coded flashing light - which, at every move, the player has to 'extinguish' with his or her ever-speeding fingers. A voice prompts you through the six games to play:

BLUE – Light Speed: chase the random-sequence series of lights to eliminate them all as the time ticks away.

YELLOW – Rapid Recharge: fully illuminate all six lights by tapping them repeatedly as they begin to fade away.

GREEN – Pattern Panic: follow and correctly remember the light sequence the cube gives you.

SILVER – Cube Catcher: remove as many flashing lights as you can in 30 seconds – be warned, they keep popping up like moles!

RED – Multi-player Madness: brilliant for the playground – the cube starts to tick, you have to put out the flashing light then pass it to the next person. If you don't get that light out in time, you're out!

ORANGE – Code Cracker: you're looking for the code that sets each of the coloured lights going in the fewest number of turns and the shortest time.

For parents looking for a really worthwhile and mind-gripping gift this Christmas, from which their children can get enormous stimulation and exhilaration while playing by themselves - or better still, interacting with siblings and friends - The REVO is going to be amongst this year's biggest hits.

… and just one more thing
It's true to say that The REVO has 6 games to play. But there's also a 'hidden' bonus game. No one except the manufacturers know what it is yet, but the details will be released once the product is in worldwide distribution.

Drumond Park's games, action game, magic sets and puzzles are widely available from most major toy shop chains and independents,plus many department store, catalogues and online traders

Stockists' information number is 01506 855577
Or visit their website: http://www.drumondpark.com

- ends -

DRU777X/2007

NOTES FOR JOURNALISTS

The right connections

From birth to adulthood, the brain will quadruple in size and restructure itself many times, making billions of electrifying connections as it does so. It is well known that 'early years' stimulation is crucial to the development of synapses in the brain – the neural connections that enable high cerebral functions such as logic, creativity and emotional control.

Every child needs an environment rich in the right sort of stimulation to help their brains make the right connections. Toys and playmates, as well as parental input, are crucial, especially in the first three years of life. Correct stimulation helps prepare children to accommodate different experiences that they will encounter on their journey through life.

The furious pace of brain development in childhood can be seen in the number of skills a baby acquires in a very short space of time – turning over at around 5 months, sitting up at 6, walking at one year, talking, catching a ball, jumping, skipping, reading and writing. All seem laughably simple to an adult who learnt these skills many years ago and uses them daily. But to a 'first-timer' they are extraordinary achievements, requiring enormous amounts of brain activity as the synapses are formed and the skills become 'hard-wired'.

In later childhood and 'tweenage', the brain craves new challenges every day – so much so that it's sometimes difficult to keep up with them! At this stage, more sophisticated skills are developing and talents beginning to emerge. As parents we want to ensure the level of stimulation continues, and that it promotes and fosters life-enhancing skills – memory, concentration, focus, application, the desire to master something they find difficult.

The youngsters themselves, on the other hand, want toys and games that keep them interested, pique their curiosity, test their dexterity and brain power… and, as well as being lots of fun, have that elusive but all-important allure of being 'cool'.

* * *

WE'RE HERE TO HELP YOU!

For more information on any of Drumond Park's Adult or Children's games, action games, magic sets and puzzles…

For review copies - or high res pics of any of Drumond Park's great products…

Please contact: RAY HODGES at HPS-PR: 01628 894793
Email: r.hodges@hpsgroup.co.uk

FOR PRODUCT AS PRIZES PROMOTIONS featuring The REV0 (rrp £14.99) - to appear any time from mid-August to Christmas 2007 - please call: KATHY LEONARD on 01628 894793 or email her: k.leonard@hpsgroup.co.uk

This press release was distributed by ResponseSource Press Release Wire on behalf of HPS Group in the following categories: Children & Teenagers, Health, Leisure & Hobbies, Women's Interest & Beauty, Education & Human Resources, for more information visit https://pressreleasewire.responsesource.com/about.