Let We Entertain You @ www.weshow.co.uk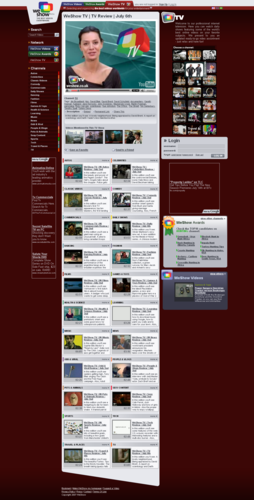 Today - July 12th 2007 - sees the launch of WeShow, a new era in video entertainment. WeShow.co.uk is a UK specific entertainment platform focused on user generated content. Unique on the web, WeShow is a human powered guide to the world of online video.

Founded by Marcos Wettreich and Bruno Parodi, WeShow is backed by a number of major investors including The Pilot Group and William A Sahlman, Senior Associate Dean for External Relations, Harvard Business School. William A Sahlman is also a WeShow board member.

There are millions of user generated videos available on the internet. WeShow has been created to provide clarity through the maze of online video vaults allowing a fast and easy entertainment experience in the world of user generated content. A Kelton research survey commissioned by WeShow in June 2007 revealed that more than 60% of Americans feel overwhelmed by the sheer volume of online videos, with 46% of these people choosing not to watch more online videos because they dread the task of weeding through too many search results.

WeShow's editorial team selects the very best videos from repository sites (such as YouTube, MySpace, DailyMotion & Metacafe) and offers its audience approximately 200 channels through which to view them. By carefully choosing quality content from over 20 video repository sites, WeShow can offer its audiences the very best user generated content available on the internet. Content is also country specific, increasing relevance. WeShow has already launched in the US and Brazil, and will launch in selected Asian and European countries later this year.

Each entertainment channel is dedicated to a particular popular genre such as sport, fashion, celebrities or health and science to enable its audience to easily find the type of video they are looking for. Individual channels then provide access to a particular area of interest within the genre, for example the music channel contains 17 further channels deducted to different types music, including house and dance, classical and pop channels. WeShow offers specific channels as diverse as bungee jumping, miming and lip-synching, dogs, cooking or even what's new in Bollywood.

By taking a professional TV approach to delivering video entertainment on the internet, WeShow provides its audiences with an online video experience that is as entertaining as television, requires no investment of time and delivers content suited to individual viewers needs. WeShow's editorial team ensures that all selected videos are properly labelled with appropriate key words.

Each video is carefully selected by WeShow's editorial team to ensure a high standard of quality entertainment and that only the best and most relevant content is on offer. Using editorial scrutiny to guarantee quality also allows WeShow to tailor the content to the nationality of its audiences. For instance, WeShow.co.uk has a large football and cricket offering as well as many video's featuring UK celebrities.

By request, WeShow will email users each week the top 10 videos from their favourite channels. Registered users are able participate in the WeShow Awards, the world's biggest online video competition, enabling anyone to choose their favourite videos from among the world's best.

The WeShow Awards aim to recognise the most exceptional examples of user generated content with monthly awards being presented in more than 200 channels. A WeShow panel of experts will select the best ten videos of a particular channel and then users will vote for their favourite. The most voted videos of each specific channel will then compete against each other to find the very best user generated video. The WeShow Awards are a monthly event allowing many videos to be recognised and commended, unlike many repository site awards that host only annual awards across limited categories.

WeShow TV is the third offering in the WeShow experience, a high quality professional internet television broadcast, hosted by WeShow's own VJ's, and presenting a taster of the best on WeShow from and for each country.

-ENDS-

About WeShow

Headquartered in New York, NY, WeShow (www.weshow.co.uk) is creating a revolution in video consumption on the web. It is a unique human powered guide to the world of online video entertainment providing a simple, country specific and personalised view of all the top quality videos from around the globe. WeShow offers an easy to navigate platform that provides a window into the world's most popular video depositories including: YouTube, Metacafe, Google Video, DailyMotion, and more. Through the expertise of its team of web editors and taking account of factors such as the uniqueness of the video and interests or its various audience segments across both genres and nationalities, WeShow offers visitors quality, relevance and simplicity across more than 200 categories of video content.

WeShow Q&A with Marcos Wettreich - A Q&A document taking the form of an interview with Marcos Wettreich, CEO of WeShow, is available. It covers general questions on WeShow, business model and competitive questions, the human factor and technology related matters concerning WeShow, details on funding and international expansion, issues such as copyright, and a personal profile of Marcos. Images and logos are also available.

Interviews can be arranged with Marcos Wettreich by request. Please contact Beyond PR Ltd on the numbers below.

Issued on behalf of:

WeShow
415 Madison Avenue
14th Floor
New York
NY 10017
USA

Issued by:

Beyond PR Ltd
Oxford Business Park North
Garsington Road
Oxford
OX4 2JZ

T: 0845 634 4259
F: 0870 141 0443
E: mediaconnect@beyondpr.eu

For further UK press information please contact Andrew Fellows (07801 703376) or Adam Sawell (07771 512111) at Beyond PR Ltd on the numbers above.

This press release was distributed by ResponseSource Press Release Wire on behalf of Beyond PR (Oxford) in the following categories: Children & Teenagers, Men's Interest, Entertainment & Arts, Leisure & Hobbies, Consumer Technology, Media & Marketing, Computing & Telecoms, for more information visit https://pressreleasewire.responsesource.com/about.