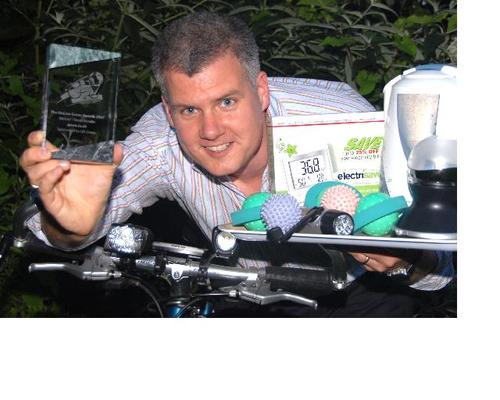 Nottingham,
25 July 2007

Gizoo (www.gizoo.co.uk), the Nottingham online retailer of gadgets, gifts and gizmos has won the 'Small Business' category for the first Online Green Awards (OLGAs). The results which were announced yesterday at a prestigious event at the Kensington Roof Gardens in central London, saw Gizoo joined by other category winners including: Dell, Marks & Spencer, Tesco.com and Lastminute.com.

The OLGAs created by the Interactive Media in Retail Group (IMRG), the leading industry body for global retailing aim to inspire, encourage and award those individuals and companies who are using the internet to progress towards the conservation of the earth's resources and reducing their carbon footprint.

Gizoo's Managing Director, Gary Bates, comments: "We're really proud that our environmental efforts have been recognised alongside some of the UK's major online success stories. Shopping online can be very green by being efficient, easing congestion on the road network and reducing emissions and fossil fuel consumption.

"Our customers have already purchased thousands of products from our new eco-friendly range and this award is a tribute to the efforts of everyone involved in sourcing, promoting and delivering Gizoo's expanding range of gadgets and gizmos.

"Gizoo offers over 20 energy saving and environmentally friendly products to make every day tasks easier for our customers, saving them money and helping to save the planet too! Our popular range includes: wind-up torches, lamps and bike lights; devices designed to stop computers and televisions being left on stand-by; an energy consumption monitor; washer and dryer balls that reduce the need for detergents and fabric softeners to water powered clocks.

"Our corporate environmental initiatives also impressed the judges, these included: the provision of bike shelters, a company bike scheme and the further reduction of car journeys by the provision of a free bus service for employees, alongside commitments to paper and card recycling schemes, the careful disposal of hazardous materials such as fluoresent tubes and computer hardware. This award is yet further proof of our commitment to help protect the environment as part of our on-going corporate strategy."

Gizoo was selected for its award by a distinguished panel of judges including: Professor Alan McKinnon, Director of the Logistics Research Centre, Heriot-Watt University, Edinburgh; Rory Cellan Jones, BBC Technology Correspondent, Aad Weening, Secretary General of the European Distance Selling Trade Association (EMOTA) and James Roper, CEO, IMRG, London.

For further information on the OLGA's please visit www.imrg.org

Ends

Notes to editors:

The OnLine Green Awards - the OLGAs - are presented by IMRG, the e-retail industry body, to celebrate all that's great about online shopping. The aim of the awards is to inspire, encourage and reward individuals and companies who are using internet shopping to progress towards conservation of the earth's resources and / or a reduction in their carbon footprint. 9,000+ consumers on MSN Shopping and an independent panel of respected judges have chosen the OLGAs winners from 30 entries submitted by many of the most advanced businesses in the UK. The OLGAs AWARDS were presented as the climax of an all day GO GREEN, GO ONLINE event at the Kensington Roof Gardens, opened by Gregory Barker MP, Shadow Environment Minister.

About Gizoo

Gizoo is owned by Serif, the award winning software and direct marketing company, which is currently celebrating its twentieth year in business. Having operated a website dedicated to gadgets, gifts and gizmos since 2002, the successful e-tailer re-launched as Gizoo in August 2006 and serves 200,000 customers nationwide.

For Further Information

Please contact: Sasha Stewart, PR Manager, Gizoo, by emailing sstewart@gizoo.co.uk or please call
tel: 0115 9142000 ext 9104
This press release was distributed by ResponseSource Press Release Wire on behalf of Serif Europe in the following categories: Environment & Nature, Consumer Technology, Retail & Fashion, Computing & Telecoms, for more information visit https://pressreleasewire.responsesource.com/about.