AMCC INTRODUCES NEW SUITE OF 3WARE SAS RAID CONTROLLERS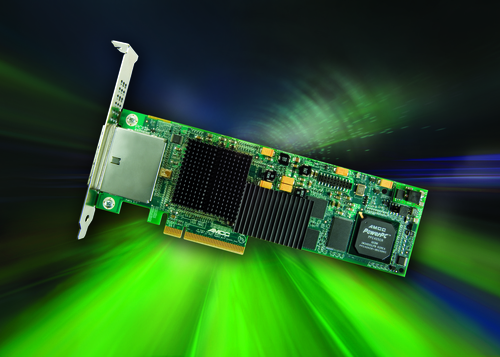 Worldwide Leader in High Performance Serial RAID Storage Expands Product Scope to Include Serial Attached SCSI; Announces Immediate Availability of the 3ware 9690SA

Applied Micro Circuits Corporation (AMCC), the recognized leader in serial RAID storage, today announced the immediate availability of the 3ware® 9690SA Serial Attached SCSI (SAS) RAID controller.

The 3ware 9690SA offers configuration flexibility with three PCI Express low profile controller choices: eight internal ports, eight external ports, and four internal/four external ports. AMCC now offers a highly scalable 3ware serial storage product portfolio that includes 2- to 24-ports of SATA connectivity and maximized SAS expandability to up to 128 devices per controller. The SAS controllers include AMCC's unified RAID management interface and software suite, assuring users a simplified configuration experience with every 3ware controller, irrespective of its storage interface.

"AMCC is excited to add Serial Attached SCSI RAID controllers to our award-winning line up of 3ware serial storage products," said Scott Cleland, Director of Marketing for AMCC Storage.

"We pioneered the way for SATA and we now capitalize on our time-proven serial storage expertise to take users from SCSI to SAS. The 9690SA offers customers superior hardware RAID performance and reliability. Most importantly, whether our customers require SAS, SATA or SAS/SATA connectivity, 3ware will provide the right tool for the job."

The 3ware 9690SA is ideal for data center environments that require expanded connectivity and the highest levels of read and write performance. Targeted applications include: databases, NAS storage, web servers, cluster servers, supercomputing, near-line backup and archival, security systems, and pro audio and video editing appliances.

Partners Align with 3ware SAS

Emulex Corporation, based in Costa Mesa, California, creates enterprise-class products that intelligently connect storage, servers and networks. Emulex has partnered with AMCC to provide a key SAS building block for the 9690SA. "Delivering SAS-based products is a critical part of Emulex's overall strategy to provide customers with a comprehensive embedded product portfolio," said Bob Whitson, senior vice president and general manager, Embedded Storage Products, Emulex Corporation. "The 3ware 9690SA is a high performance platform that utilizes the new Emulex IOC 500S SAS I/O controller to deliver the data integrity and expandability capabilities that enterprise-class storage systems demand."

"Fujitsu is happy to see the expansion of the 3ware product line to include the new SAS drive interface technology," said Joel Hagberg, vice president, marketing and business development, Fujitsu Computer Products of America, Inc. "The 3ware 9690SA SAS RAID controller perfectly compliments Fujitsu's SAS and SATA drives. Now, with both SATA and SAS controllers, 3ware offers the broadest choice when it comes to hardware-based, high-performance, scalable RAID storage."

AIC/Xtore is the industry's leading designer and manufacturer of rack-mount server and data storage enclosure solutions and is one of the forerunners in providing SATA and SAS solutions. "3ware controllers have a long history of providing high-performance, high-capacity RAID for data-intensive environments," said Gene Lee, Vice President at AIC/Xtore, based in City of Industry, Calif. "AIC/Xtore is pleased to partner with AMCC in this significant product introduction and we look forward to employing the 3ware 9690SA to deliver a comprehensive SAS product portfolio for our customers' most mission critical applications."

Product Pricing and Availability

The three 3ware 9690SA controller kits which include cables are currently available through AMCC's worldwide network of distributors, integrators and VARs. Suggested list price for the 9690SA-8I (8 internal ports) is $895; the 9690SA-8E (8 external ports) is $945; and the 9690SA-4I4E (4 internal and 4 external ports) is $925.

About AMCC

AMCC blends system hardware and software expertise to provide the essential building blocks for the processing, moving and storing of data worldwide. The #1 high-port count Serial ATA RAID controller line, AMCC's 3ware family of SATA RAID storage solutions deliver cost-effective, high-performance, high-capacity storage for enterprises and consumers worldwide in applications such as disk-to-disk backup, near-line storage, network-attached storage (NAS), video, and high-performance computing. The company headquartered in Sunnyvale, California with offices throughout the world. For more information, visit http://www.3ware.com or http://www.amcc.com.

****Ends****

AMCC Contact:

Ron Macleod
Applied Micro Circuits Corporation
+44 (0)161 232 6360
rmacleod@amcc.com

Media Contact:

Mike Maynard
Napier Partnership Ltd
+44 (0)1243 531123
mike@napier.co.uk

3W031uk

Forward Looking Statements

This press release contains "forward-looking statements" within the meaning of the Private Securities Litigation Reform Act of 1995. Forward-looking statements may be identified by words such as expects, anticipates, plans, believes, estimates, will or words of similar meaning. Such forward-looking statements, including statements relating to the products discussed in this press release, are subject to a number of risks and uncertainties, including the risk that the products may not be successfully or timely developed, completed or manufactured or achieve market acceptance, risks relating to general economic conditions, as well as the risks and uncertainties set forth in the Company's Annual Report on Form 10-K, and in the Company's other SEC filings. As a result of these risks and uncertainties, actual results may differ materially from these forward-looking statements. The forward-looking statements contained in this press release are made as of the date hereof and AMCC does not assume any obligation to update any forward-looking statement, whether as a result of new information, future developments or otherwise.

AMCC, 3ware, StorSwitch and Multi-lane are trademarks or registered trademarks of Applied Micro Circuits Corporation. Other trademarks are the property of their respective owners. Use of the term 'Sidecar' is made under agreement with Digital Tigers, Inc.
This press release was distributed by ResponseSource Press Release Wire on behalf of Napier in the following categories: Consumer Technology, Computing & Telecoms, for more information visit https://pressreleasewire.responsesource.com/about.