Perfect gift for the person who has everything (including heart disease, diabetes or Alzheimer's)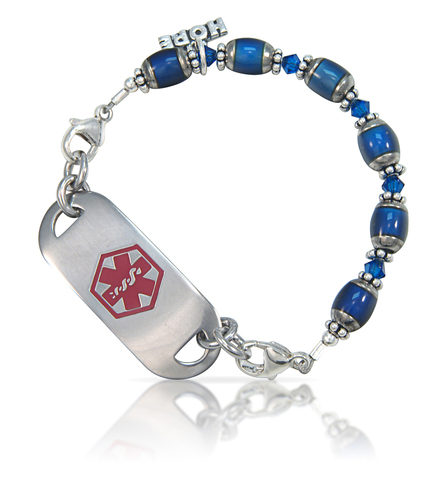 FOR IMMEDIATE RELEASE

ICE Gems presents a new range of exquisite, handmade medical bracelets that makes a great Christmas gift for the person who has everything… including diabetes, food allergies, and "hidden" medical conditions.

Even though illnesses, allergies and medical conditions are no fun, it doesn't mean that medical bracelets should be boring or unattractive. Indeed these potentially lifesaving bracelets can also make bold fashion statements.

Take the "Colour Changing Mood Bead" bracelet for example. Whether you're feeling fiery and passionate or calm and contemplative, these pretty beads will alter in colour to reflect your ever-changing feelings.

Or the "Funky Punky" - little rubber spikey sputniks of pure attitude and funk combined with matching spacer beads make this a truly unique and fun medical I.D. bracelet.

There is something for everyone – for kids there are football or flower themed bracelets and for those that prefer their jewellery sophisticated and understated there is a large selection of beautiful handbeaded bracelets made with Swarovski crystal finished with sterling silver.

Nadine Lewis, Managing Director of I.C.E. Gems from IdentifyMe, said, "When my grandmother started suffering with Alzheimers I wanted to get her a medical ID tag that she would want to wear rather than something she had to wear – after all she was going to have to wear it day in day out. I searched high and low for something suitable and couldn't find it … so using my experience of personal identification, I set to work on designing something myself!" She continues, "William Morris, the 19th Century British Designer once said, 'Nothing useless can be truly beautiful' and who can argue with that statement! Taking this pearl of wisdom on board, we set out to prove Mr Morris right – our medical ID jewellery is both useful and beautiful and makes the perfect Christmas present!"

The full range of jewellery is available from www.icegems.co.uk from £14.00 including up to 4 lines of engraving.

-ENDS-

NOTES FOR EDITORS:

* If you are interested in covering them as a Christmas gift, and would perhaps like to include some in a Christmas giveaway promotion, please don't hesitate to contact nadine.lewis@identifyme.co.uk.

• IdentifyMe provides a whole range of personal identification solutions for people of all ages. From ID wristbands, and Dog Tags for children through to Medical Bracelets for people of all ages, IdentifyMe has a wealth of products on offer.

• IdentifyMe's range of Medical Jewellery stores vital information, such as details of allergies, what to do in an emergency, or contact phone numbers can be engraved free of charge on the rear of the ID tag.

• All bracelets are interchangeable with the medical ID tag, allowing the user to have a different bracelet to match their outfit or mood.

• Print ready pictures available by request.

• For further information please contact Nadine Lewis, Director, IdentifyMe Limited by email – Nadine.lewis@identifyme.co.uk or by telephone 0845 125 9539.



This press release was distributed by ResponseSource Press Release Wire on behalf of IdentifyMe Limited in the following categories: Children & Teenagers, Health, Women's Interest & Beauty, Retail & Fashion, for more information visit https://pressreleasewire.responsesource.com/about.