Swizzels Matlow and Harvey Nichols couple up to create a sweet Valentine's dessert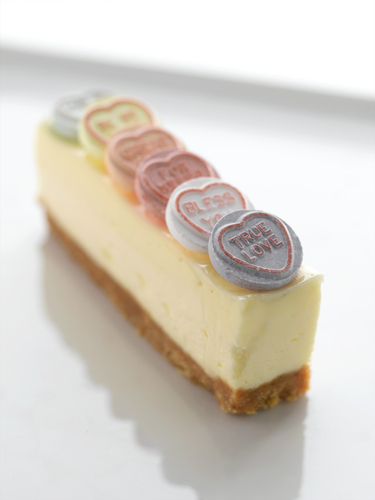 THE WAY TO YOUR LOVED ONE'S HEART THIS VALENTINE'S


Swizzels Matlow, makers of Love Hearts, has coupled up with Harvey Nichols' award-winning Head Chef Alison Seagrave to create a Love Hearts Cheesecake recipe, which romantics can whip up at home this Valentine's Day.

Love Hearts cheesecake – makes 4 portions
25g caster sugar 15g pasteurised egg yolks

65g Philadelphia cheese 1/2 leaf gelatine

100ml double cream A few drops of vanilla extract

45g digestive biscuits 45g unsalted butter

1packet Love Hearts – broken and some whole



Crush the digestive biscuits and mix with the melted butter.
Line a tray with silicone paper and press the biscuit mix into the bottom.
Using an electric mixer on high speed, whisk the egg yolks and sugar until pale and fluffy.
Add the Philadelphia cheese and whisk until smooth.
Soften the gelatine in cold water, squeeze out the water, then melt into 60ml of the double cream that has been boiled.
Semi-whip the remaining cream with the vanilla.
Fold the cream into the cream cheese mixture.
Add the broken Love Hearts.
Place the mixture into the tray and allow to set in the fridge overnight. It can also be frozen.
Cut into finger shaped pieces and serve with multi coloured, "I Love You" or even "Marry Me" Love Hearts on top as decoration.


The Love Hearts cheesecake is just one of the romantic desserts created by Alison for Valentine's Day.



The creative Head Chef has devised a sharing assiette of Swizzels Matlow sweet desserts including: Love Hearts cheesecake, Drumstick panacotta, New Refresher ice cream and Parma Violet mousse, all of which can be enjoyed in the Harvey Nichols Second Floor restaurant from Valentine's Day.



Alison commented: "As a chef I'm always keen to unleash my creativity and seize the chance to invent new dishes. I was delighted to have the opportunity of designing the world's first Love Hearts dessert. After all, there isn't a more fitting food to offer diners on the most romantic day of the year!"



Love Hearts has also devised some tips to make your Valentine's even more special:



Chocolate is the food of love. So why not try a chocolate fondue to share? Mix 300g of melted chocolate with 300ml of boiling double cream. Pour into a fondue bowl and dip in all your favourite Swizzels sweets, toasted marshmallows and strawberries.
Simple, sensuous Love Hearts dessert. Buy some hand made shortbread rounds and layer with ice cream or sugared, whipped cream, then drizzle round the plate with raspberry coulis (blitz raspberries in a blender and sieve to remove the seeds) and decorate the plate with Love Hearts.
Love Hearts table dressing. Use a clean, white table cloth and set for dinner. Scatter the table with carefully selected Love Hearts and rose petals. Drop a few additional Love Hearts in the glasses. Don't forget flowers – try red tulips as a change from roses.
Love Hearts cup cakes. If you don't have time to bake homemade cup cakes, why not buy some plain ones and decorate them yourself. Icing sugar and a little egg white mixed well are all you need. Spread a small amount on the cup cakes and add a Love Heart of your choice. Remember there are 'Marry me' Love Hearts as well for any romantics wanting pop the question this year.
A mountain of Love Hearts. Say it with sweets and buy your sweetheart a mountain of 'I love you' Love Hearts.


All Love Hearts products can be purchased online at www.lovehearts.com.



– Ends –

Media Contact:

Marcella Clarke or Jane Carroll at Peppermint PR

Tel: 0161 941 4252 E: marcella@peppermintpr.com or jane@peppermintpr.com



Since their launch in 1956, Love Hearts have become firmly established as one of Britain's most enduring and recognisable icons, appearing on products as diverse as curtains and cosmetics and featuring in the former Millennium Dome and Kate Nash's latest music video.


Swizzels Matlow, the company behind Love Hearts, is set to celebrate its 80th anniversary later this year.


Based in New Mills, Derbyshire, Swizzels Matlow's product range reads like a Who's Who of confectionery and includes brands such as Love Hearts, Drumsticks, New Refreshers, Rainbow Drops and Parma Violets.


Alison Seagrave is Executive Chef at Harvey Nichols' Second Floor Restaurant in Manchester and has won various accolades including Metro Food Hero of the Year 2007 and the Hi Life Award for Best Chef consecutively for the past two years.


For opening hours or to reserve a table at Harvey Nichols' Second Floor Restaurant and Brasserie, call 0161 828 8898.


For Harvey Nichols press enquiries contact Jessica Lowe on 0161 828 8877, Jessica.lowe@harveynichols.com.






This press release was distributed by ResponseSource Press Release Wire on behalf of Peppermint Soda in the following categories: Food & Drink, for more information visit https://pressreleasewire.responsesource.com/about.