Do you say YES if he or she pops the question on Valentine's Day or do you leap into the unknown this Leap Year? –A Family Law expert at Harrison Clark LLP weighs up the legal implications of living together versus marriage.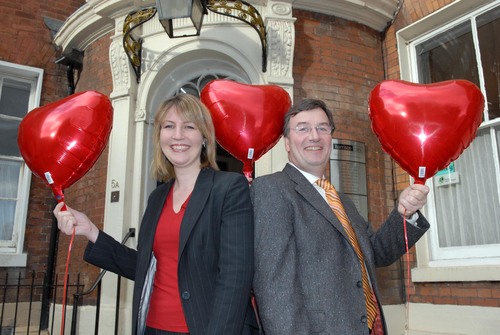 Lorna Tipple is a Solicitor in the Family Law Department at Harrison Clark LLP. She considers the legal implications that couples should consider when cementing their relationships

"These days it is common for couples to live together either without getting married, or before marrying. Many people assume that they will become a 'common law husband or wife' in these circumstances and are often surprised to discover that there is no legal recognition of this phenomenon. Cohabiting couples have very limited rights, despite the length of a relationship or whether there are any children. There are calls for a change in the law to redress the situation and offer cohabiting couples tangible rights, in line with those of married couples or same-sex couples who enter into a Civil Partnership. Until there is such an overhaul, those couples living together are in a precarious position.

"In order to provide the greatest protection possible, it is wise to enter into a Cohabitation Agreement which sets out what would happen with regards to financial and property matters, should a relationship break down. Whilst these agreements are a relatively new concept and not strictly binding, they serve as an excellent indication of the couple's intentions and if entered into properly, form a contract between the parties.

"Two popular days for marriage proposals this year are likely to be Valentine's Day and Leap Year Day. In line with tradition, a woman may propose to the man of her dreams on Leap Year Day, the 29th February. This stems from centuries ago, when Leap Year Day was effectively ignored by English Law and 'leapt over'. The assumption was as the day had no legal status, traditions also lost their status and a woman didn't need to wait for her other half to pop the question! In this day and age, independent women don't need to wait for Leap Years, but it is likely to prove a good reason for many to take the plunge this February!

"Age-old romantics may prefer to go down on bended knee on Valentine's Day the 14th February. In Medieval times English maidens and bachelors' names were drawn in pairs from a box on the 14th February. This was apparently a good omen for love and often foretold a wedding! A day now renowned for love and romance, many will choose Valentine's Day to propose to their better half!

"Tradition and legend aside, once the lucky bride or groom-to-be has accepted the proposal, attentions then turn to the excitement of planning a wedding. With dates, venues, menus and guest lists all to be sorted, how many engaged couple's minds turn to considering a pre-nuptial agreement? Once thought of and portrayed by the media as a tool for the rich and famous, pre-nuptial agreements are now much more widespread and well worth entering in to.

"A pre-nuptial agreement is in essence, a written contract between the couple. Its purpose is to set out how assets would be distributed should a marriage fail. Pre-nuptial agreements are not legally binding under English law. They are however an excellent indication of the parties' intentions and recent case law has seen the judiciary taking such agreements into account when considering the distribution of assets upon a divorce.

"In order for a pre-nuptial agreement to have as much weight as possible attached to it, the following practical guidelines should be followed:

• Each party should receive separate independent legal advice
• Both parties should provide full financial disclosure
• The agreement should be entered into in good time before the wedding
• The agreement should be fair and reasonable in the circumstances
• Proper consideration should be given to the possibility of the arrival of children and the agreement should cater for this eventuality

"For piece of mind, a pre-nuptial agreement is certainly advisable. Once drafted and signed, it can be put away and the couple can concentrate on planning and enjoying their wedding. With 2 out of 5 marriages ending in divorce, pre-nuptial agreements are a sign of the times – tie the knot without one at your peril!"

Lorna Tipple, Solicitor and Jonathan Brew, Head of the Family Law Department at Harrison Clark LLP
For further information on this press release please contact Lorna Tipple or Jonathan Brew at Harrison Clark on Tel: 01905 359475 or e-mail: ltipple@harrison-clark.co.uk or jbrew@ harrison clark.co.uk

Alternatively you can speak to Angela Baker at Marketing IQ Ltd on Tel: 01905 359475 or e-mail: angela.baker@marketing-iq.co.uk



This press release was distributed by ResponseSource Press Release Wire on behalf of Harrison Clark in the following categories: Men's Interest, Women's Interest & Beauty, Personal Finance, Business & Finance, for more information visit https://pressreleasewire.responsesource.com/about.