Public relations professionals to gain access to growing online community of freelance journalists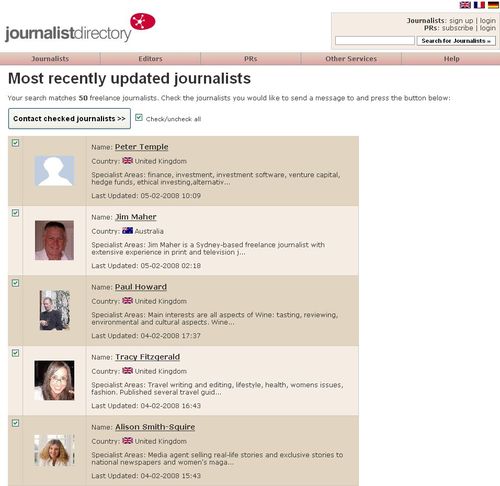 Public relations professionals and media editors are to benefit from a fast-growing networking website (www.journalistdirectory.com) for freelance journalists launched today.

The site is the new home for the Freelance Journalist Directory, produced by the people behind popular media services such as Response Source, SourceWire and FeaturesExec.

The site enables PR professionals to search for freelance journalists who may be working in their sectors and allows editors to search for and contact freelance journalists with a view to commissioning them.

The Freelance Journalist Directory has been enhanced with many social networking features, such as the ability for freelance journalists to add pictures and links to their blogs and other social media profiles.

The number of journalists listed has increased by 30 per cent since the new site was announced to freelance journalists eight weeks ago and more are joining the community each day. A total of over 3,500 freelance journalists have added themselves to the site to date.

Establishing relationships with key freelance journalists can be a highly effective PR tactic. Freelance journalists often specialise in one or two subject areas, so they normally cover the same topics on a regular basis. They are also very good at selling ideas into media outlets and are often quite prolific – particularly in producing online media content, seen as increasingly valuable among the PR industry. Many freelance journalists also write influential blogs in their specialist sectors.

Daryl Willcox, the founder and chairman of the company behind the Freelance Journalist Directory, said: "The media, and in particular digital media, are becoming increasingly dependent on freelance journalists and the Freelance Journalist Directory gives PR professionals access to this influential community in a way that was not possible before."

The site is completely free to use for freelance journalists and commissioning editors.

PR professionals purchase an annual subscription to be able to view full freelance journalist profiles and extract contact information. Subscribers to both the Freelance Journalist Directory and the FeaturesExec Media Database benefit from integration between the two services, so that users of the latter can download freelance journalist contacts alongside staff media contacts.

To coincide with the launch, Daryl Willcox Publishing has published a free whitepaper about working with freelance journalists entitled 'Working with Freelance Journalists – a Guide for PRs'.

For more information contact:

Vanessa McGreevy
Freelance Journalist Directory
http://www.journalistdirectory.com

Tel: 0845 370 7777
Email: vanessa@dwpub.com

About Daryl Willcox Publishing

Online services for journalists and media relations specialists
http://www.dwpub.com

Daryl Willcox Publishing (DWPub) focuses entirely on online information services for journalists and PR professionals. DWPub brands enjoy widespread recognition with both the press and the PR community. DWPub is a UK-owned independent company and has grown every year since its launch in 1997. The company was founded and is run by an experienced journalist.

This press release was distributed by ResponseSource Press Release Wire on behalf of ResponseSource in the following categories: Business & Finance, Media & Marketing, for more information visit https://pressreleasewire.responsesource.com/about.