AT&T APPOINTS NEW U.K. SALES CENTRE VICE PRESIDENT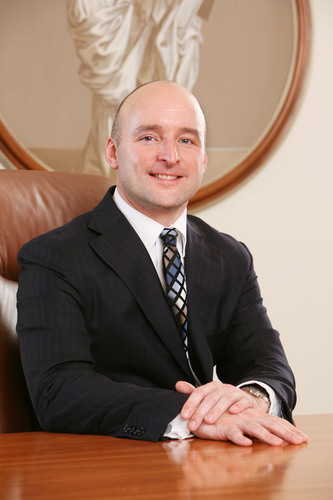 Dave Langhorn to Drive Further Growth in the U.K.

LONDON, Feb. 18, 2008 — AT&T Inc. (NYSE:T) today announced the appointment of Dave Langhorn as the new sales centre vice president for the U.K. Formerly director of sales, AT&T U.K., Langhorn will be responsible for managing the U.K. sales team and driving further growth for AT&T customers based in the U.K. He will spend his time between AT&T's EMEA (Europe, Middle East and Africa) headquarters in London and the company's facilities in Redditch, Worcestershire, and will report directly to Tom Regent, AT&T's head of EMEA.

"The U.K. is the hub for AT&T's operations across EMEA, and, in 2008, we are looking to build on the successes gained in 2007," Regent said. "Dave has been instrumental in driving growth in the U.K., one of the key territories in the EMEA region, and I am delighted that he is on board to lead this vital sales centre for AT&T."

"AT&T's sales team in the U.K. is first-class, and I am excited to take this role," said Langhorn. "2008 will present us with a number of opportunities to further grow our business in the U.K., and I am looking forward to delivering the value-added services around the network to our multinational customers."

The U.K. is one of the key markets for AT&T in the EMEA region, where AT&T provides global networking services to a number of multinational organizations, including Air Products, Control Risks, ICI, Iron Mountain, Norgren and Rexam. AT&T's operations in the U.K. include a state-of-the-art Internet Data Centre and AT&T connects customers over a nationwide Multiprotocol Label Switching (MPLS) network infrastructure. The MPLS network provides resilient gigabit Ethernet connections to voice, video and data network,hosting and security solutions available on almost 100 MPLS service nodes. AT&T customers also have access to more than 11,000 Wi-Fi hot spots in the U.K.

Langhorn has more than 18 years of experience in information technology sales, including eight years in management, and has served as director of Sales for AT&T U.K. since 2003. He has a Chartered Institute of Marketing diploma in sales management and is currently studying for an MBA. Before joining AT&T in the banking and finance division in 1996, Langhorn had worked in outsourcing sales positions at MDIS and in software sales at Premier Business Solutions.

Note: This AT&T release and other news announcements are available as part of an RSS feed at [http://www.att.com/rss].

Technorati Tags: AT&T, Dave Langhorn, United Kingdom

About AT&T

AT&T Inc. (NYSE:T) is a premier communications holding company. Its subsidiaries and affiliates, AT&T operating companies, are the providers of AT&T services in the United States and around the world. Among their offerings are the world's most advanced IP-based business communications services and the nation's leading wireless, high speed Internet access and voice services. In domestic markets, AT&T is known for the directory publishing and advertising sales leadership of its Yellow Pages and YELLOWPAGES.COM organizations, and the AT&T brand is licensed to innovators in such fields as communications equipment. As part of its three-screen integration strategy, AT&T is expanding its TV entertainment offerings. Additional information about AT&T Inc. and the products and services provided by AT&T subsidiaries and affiliates is available at [http://www.att.com].

© 2008 AT&T Intellectual Property. All rights reserved. AT&T, the AT&T logo and all other marks contained herein are trademarks of AT&T Intellectual Property and/or AT&T affiliated companies. For more information, please review this announcement in the AT&T newsroom at [http://www.att.com/newsroom].

This press release was distributed by ResponseSource Press Release Wire on behalf of FleishmanHillard Fishburn in the following categories: Computing & Telecoms, for more information visit https://pressreleasewire.responsesource.com/about.