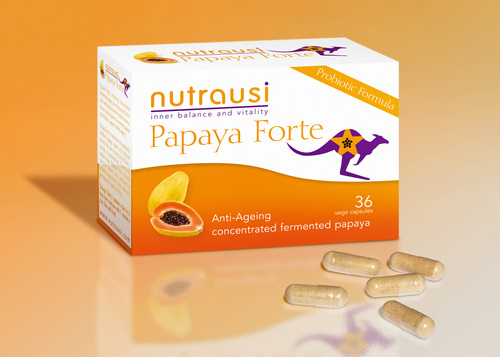 Holiday Health

How to avoid travellers tummy and stay healthy whilst abroad - Nutrausi Papaya Forte – A probiotic living food for holiday health.
For some people travelling on holiday just means the start of some kind of ailment – be it a cold, other upper respiratory tract infection or tummy bug. The two to three weeks before a holiday is the right time to boost the immune system so that your holiday is totally unspoilt by ill health.

New Papaya Forte with its mix of fermented papaya and Lactobacillus acidophilus helps boost the immune system and protect against travellers tummy which can be caused by eating contaminated food or water.

Papaya Forte contains fermented papaya which has been found to increase white blood cell activity on infection thus helping to protect you against holiday coughs and colds.

It also contains Lactobacillus acidophilus (the good bacteria) which supports a healthy gut environment and out-competes the bad bacteria which can contribute to tummy bugs and infections.

Taking Papaya Forte for a month can be of great benefit whilst travelling particularly to support immune health during flight. The best way to take it is for 2 weeks before you travel and then for the next two weeks. Unlike many other probiotics Papaya Forte does not need to be refrigerated, its formulation and blister packing ensures it remains effective at room temperature, making it ideal to take with you on holiday.

Sourced from Australian papayas which are produced without the use of herbicides, pesticides or chemical fertilisers, Papaya Forte is totally natural, working gently with your body to optimise health and vitality. RRP £23.95 in a pack containing 36 capsules. the recommended dosage is to take 2 capsules a day for the first 6 days then reduce to 1 capsule per day.
Papaya Forte is sold in packs of 36 capsules – RRP £23.95. For optimal digestive support they are best taken with food.
For further information and order enquiries: www.nutrausi.com or call 01628 478555.

~ ends ~

For further press information please contact jackie@partnersinpr.co.uk or call 01409 281749

This press release was distributed by ResponseSource Press Release Wire on behalf of Partners in PR Ltd in the following categories: Men's Interest, Health, Women's Interest & Beauty, Food & Drink, Travel, for more information visit https://pressreleasewire.responsesource.com/about.