World's best Skydivers do it indoors!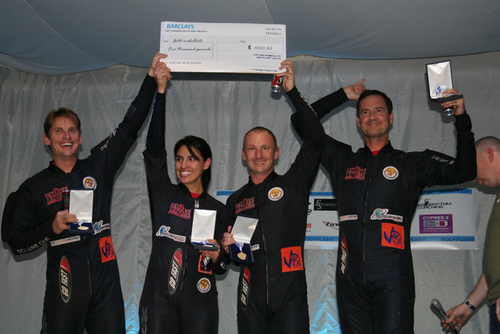 Many people picture skydiving as a once in a lifetime experience; something everyone should do once. However for many people, not only is it their profession, it is also a way of life. Competitive skydiving is one of the fastest growing sports in the UK with more and more formation skydiving teams taking part in competitions every year.

Last weekend saw some 220 of the World's best skydivers travel to the UK from as far a field as South Africa, Russia, the USA and from across Europe to compete at the Bodyflight World Challenge in Bedfordshire.

And yet at this major skydiving competition, one of the biggest dates in the international skydiving calendar, not one plane left the ground and not one rip cord was pulled! Bodyflight Bedford is an indoor skydiving facility. The 16.5 ft diameter wind tunnel generates wind speeds of up to 170mph, allowing skydivers to experience free fall whilst only a few feet from the ground.

"Wind tunnels are as essential a training tool for skydivers as a punch bag is for a boxer" says Bryony Doughty, Manager of the Bodyflight tunnel. "We are so pleased with this year's competition and the number of top name teams who came to compete. This is the third year that the competition has run and each year it gains more prestige within the skydiving community."

The competition is split into two categories, the Formation Skydiving competition: where teams of four have 35 seconds to complete as many formations as possible and the Free Fly competition: where teams of two perform an artistic routine in the tunnel.
"This is the best skydiving competition I have ever been to" says 3 time British champion and professional skydiving coach Steve Hamilton. "Bodyflight truly is a world class facility" Hamilton's team XL came a close second in the Formation skydiving event to American team Airspeed Odyssey who are the current World Champions.

In the FreeFly event team Bodyflight Mamba took the gold medals for their near flawless performance. Team members Fabien Raidel (Austria) and Michael McKenzie (South Africa) have been skydiving for many years and have been training for this event since October.
Giving the skydivers a run for their money was brother and sister free Fly team Justin and Kayla Tinucci. Aged only 9 and 11 years old, the pair are the youngest free fly team in the world. "Justin is counting the days before he is old enough to skydive for real" says mum Jennifer Tinucci "Until then they train and compete at indoor events such as this"

Tunnel flying is not just limited to Skydivers, anyone can have a go. Check it out for yourself at: www.bodyflight.co.uk

This press release was distributed by ResponseSource Press Release Wire on behalf of Bodyflight Ltd in the following categories: Men's Interest, Women's Interest & Beauty, Sport, for more information visit https://pressreleasewire.responsesource.com/about.