Exclusive interview with Duffy, the new first lady of soul – only in this month's issue of Clash Magazine!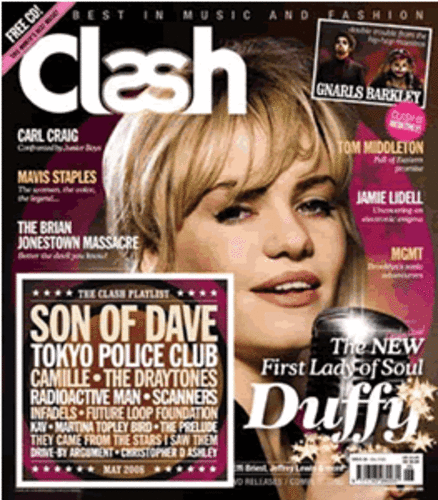 This month's issue of Clash Magazine features an exclusive interview with Duffy the chart-topping Welsh soul singer. We also bring you the latest breaking music news and album reviews.

Now, this is not a late April's Fool, but it's almost embarrassing to admit after four whole years, Issue 26 of Clash marks our first ever female cover star. We couldn't really ask for a better inaugural lady though – at time of writing Duffy is still sitting comfortably at the top of the album charts with her splendid soul debut, 'Rockferry'.

It's certainly not difficult to deduce why Duffy was chosen to grace our façade – another young homegrown talent who sounds so authentically soulful, and whose passion for music – her own and others' – shines through her glorious songs and makes them so infectious that it's impossible to ignore her. She ain't mouthy, she ain't guttural and she sure ain't no crackhead. Duffy is a breath of fresh air with a bright future ahead and deserves her place as this issue's main feature.

Once again we've compiled another exemplary CD covermount, consisting of tracks from the month's releases; some we think you'll like, some we hope you'll like, and some you'll tell people you like just to look cool in front of your friends. Either way it's a hell of an album and another flawless addition to the Clash CD legacy. The artists included are:

• Son Of Dave
• Tokyo Police Club
• Camille
• Radioactive Man
• The Draytones
• Future Loop Foundation
• Martina Topley Bird
• Drive-By Argument
• They Came From The Stars I Saw Them
• Christopher D Ashley
• Scanners
• The Prelude
• The Indelicates
• Infadels
• Kav

Having severely rocked the foundations of Austin, Texas, last month with a superlative showcase at the South By South West festival, Clash brings you the lowdown on the event, which saw blistering performances from The Pigeon Detectives, Carbon/Silicon, Peggy Sue And The Pirates, Make Model and Noah And The Whale. View the festival video of the Clash party. Meanwhile we also report on the best acts of the week, with Vampire Weekend, Joe Lean And The Jing Jang Jong and N.E.R.D all proving highlights…

Musical interviews this month come from a stunning range of acts. In this issue read exclusive chats with:

• Gnarls Barkley
• Carl Craig
• Mavis Staples
• The Brian Jonestown Massacre
• Tom Middleton
• Jamie Lidell
• MGMT
• Black Dog
• Blood Red Shoes
• The Long Blondes
• The Black Keys

Plus check out a retrospective on Immediate Records, the predictions of music futurologists, a guide to Chicago from local heroes Cool Kids, a fond tribute to David Bowie, and a scavenge hunt on Madonna rumours!

In Fashion, there's a fruity flavour as we delve deep into the Big Apple for a New York special, bringing you the city's most stylish artists, musicians and designers so you don't have to wait three days in Heathrow's Terminal 5 before finding out for yourself…

For more on all this music content, plus exclusive artist and band interviews, music videos, competitions and downloads, visit Clash Music and join the MyClash community. Bountiful treasures await.

-END-

For editorial enquiries, please contact:

Simon Harper
Email: simon@clashmusic.com
Tel: 0207 734 9351

For advertising enquiries, please contact:

Alan Thomas
Email: alan@clashmusic.com
Tel: 0207 734 9351

For digital partnership enquiries, please contact:

Paul Langston
Email: paul@clashmusic.com
Tel: 0207 734 9351

For creative business/sponsorship enquiries, please contact:

Brian Murnin
Email: brian@clashmusic.com
Tel: 0207 734 9351


This press release was distributed by ResponseSource Press Release Wire on behalf of MediaCo (UK) Ltd in the following categories: Entertainment & Arts, Media & Marketing, for more information visit https://pressreleasewire.responsesource.com/about.