New Book Gives Left-Handed Children a Head Start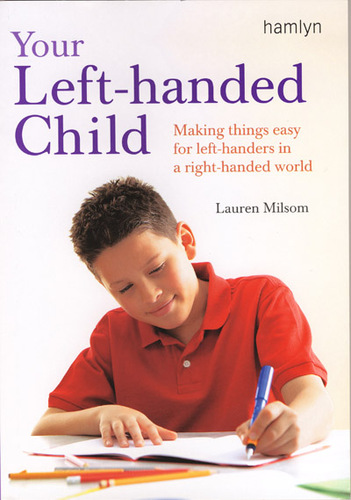 Few parents give more than a passing thought to their child's handedness, yet being left-handed can create many additional challenges for your child, as they spend much of their daily lives adapting to a right-handed environment. In a new book 'Your Left-handed Child' leading expert in left-handedness Lauren Milsom gives a fascinating insight into life from a left-handers viewpoint and invaluable advice to make life easier for your child.

Essential skills such as writing and cutting are covered in detail with beautiful illustrations and clear, concise explanations. However, this book goes much further than any previous work into the many and varied challenges your little left-hander will encounter on a daily basis, from starting to feed themselves to using power tools in their senior school years. Lauren explains simple advice and techniques - many drawing on the strengths left-handers share for lateral and creative thinking, and building on their inherent adaptability to overcome and avoid myriad small frustrations. The aim is to ensure your child develops a positive approach to problem-solving, and always considers their left-handedness a strength rather than a problem.

The need for such guidance has become increasingly obvious in recent years. Drawing on results of a unique study among left-handed students, this book details difficulties and bias in areas of the curriculum not previously considered, but which affect many left-handed students on a daily basis.

Lauren explains 'From a detailed survey of over 1,000 left-handed schoolchildren, the feedback brought to light difficulties in a wide range of subjects, such as IT, Art, Science and Design Technology, often relating specifically to poor layout or equipment with a strong right-bias. It was obvious suggestions and solutions were needed to overcome difficulties not just in core skills for children, but in these specialist subjects encountered by older students.'

Lauren Milsom has worked with left-handed children for over 20 years, is co-founder of the Left-Handers Association, the leading organisation for left-handers worldwide and a Director of Anything Left-Handed, the specialist providers of equipment and advice to left-handers.

"Your Left-Handed Child" by Lauren Milsom is available online from www.anythingleft-handed.co.uk RRP £9.99 (+p&p) and from all major bookstores. 128 pages full colour. Published by Hamlyn 16th April 2008. ISBN 978-0-600-61480-7.

** ENDS **

For review copies, to interview the author Lauren Milsom, obtain images or further information contact: Danielle Mansell Telephone: 020 8770 3722
Email: danielle@anythingleft-handed.co.uk -

About the Author:

For the past 20 years Lauren Milsom has helped her family run the world's original left-handed shop – the much loved Anything Left-Handed Shop which was in central London since 1968 – only closing it last year to concentrate on the company's successful worldwide internet business. Lauren is a leading expert on many aspects of left-handedness and, with her husband Keith, formed the Left-Handers Association in 1989, a pressure group and information source for improvements in product design, teaching of writing and other skills. She is left-handed herself and has a left-handed son and right-handed daughter.

In 1990 Ms. Milsom was instrumental in the launch of Left-Handers Day, an annual awareness day on 13th August which is still celebrated by sinistrals worldwide to highlight the creativity, artistic talent and adaptability of left-handers. She runs the advice and information pages on left-handed websites www.anythingleft-handed.co.uk, www.lefthandedchildren.org and www.lefthandersday.com and contributes to the monthly e-newsletter sent to over 60,000 Left-Handers Club members worldwide. Ms. Milsom is a regular guest on TV and radio discussions and writes articles for health, education and family magazines.

Notes to Editors :

1. To download a high resolution image of the book cover, visit
www.anythingleft-handed.co.uk/media.html

2. 'Your Left-Handed Child' is the first publication to cover this fascinating subject in such depth, including aspects such as:

* Development of left-handedness
* Pre-school development
* Strategies for everyday life
* Left-handedness in school
* Sport
* Music
* Practical and educational resources


3. A study of 1000 left-handed school students aged 18 years and under was conducted by the Left-Handers Association in 2006. See http://www.lefthandedchildren.org/press-release-survey.htm for more details. Not surprisingly, incidences of handwriting difficulties were high, but other awkward and potentially hazardous examples of right-bias emerged spanning many areas of the curriculum. There are plenty of examples are detailed in 'Your Left-handed Child', with suggestions from Ms. Milsom on how to avoid them.

Examples of Right-bias in school

* Computer Mouse - If your left-handed student has more control of the mouse in his left hand, add a simple piece of software to the desktop to swap the functionality of the two buttons so they work correctly in the left-hand.

* Desk positioning - To avoid knocking elbows and cramped desk space, sit left-handed students at the left of a double desk, or at the left end or a row. If chairs with hinged writing tablets are used, always ensure there are enough left-handed ones for those students who need them. Remember they are often too embarrassed to ask, and should never be sent off round the school looking for the odd left-handed desk that might be spare.

* Workbooks and binders - Printed workbooks or test papers often have the questions in the left column and answer space on the right, so left-handers are constantly covering up the questions, or they may be too far to the left of the desk to read easily. A second question sheet positioned to the right of the answer space can help. The ring bindings and spiral binding on pads are underneath the left-hand, so if note taking is uncomfortable your child could try making Mind Maps with the notebook turned landscape. It also appeals to lefties creativity and visual thinking.

* Using the whiteboard - Left-handed students should stand at the right of the whiteboard, with their writing arm out to their left and underneath their writing or drawing. Otherwise, their hand will follow behind their work, and immediately erase what they are writing!

* Science - Left-handers pour and stir with their left hand so keep all chemicals, ingredients and tools to the left during experiments. When working in pairs, the left hander should stand to the left to avoid knocking elbows. Microscopes and other equipment with controls on the right side are harder for the left hander to reach and control.

* DT/metal/woodwork - Check safety overrides on heavy machinery and power tools can be reached by a left-hander in an emergency. They are usually positioned for a right-hander's safety so can be hard for lefties to reach. Workshop and equipment layout for right-handers' ease often means left-handers don't have room to work, so attempt to use powerful and dangerous tools 'backwards' crossing their arms over their body or using their weaker hand - both very dangerous.

* Food Tech - As with kitchens at home, many food preparation implements such as kitchen scissors, peelers, can openers and serrated knives are right-handed, and thus awkward to use for a left-hander, slowing them down and causing more accidents.

4. 'Your Left-handed Child' by Lauren Milsom is published by Hamlyn on 16th April 2008. ISBN 978-0-600-61480-7. 128 pages full colour. RRP £9.99.
This press release was distributed by ResponseSource Press Release Wire on behalf of Anything Left-Handed in the following categories: Children & Teenagers, Health, Women's Interest & Beauty, Education & Human Resources, for more information visit https://pressreleasewire.responsesource.com/about.