'EURO BACKPAIN BAROMETER' UNCOVERED BY BRITISH CHIROPRACTIC ASSOCIATION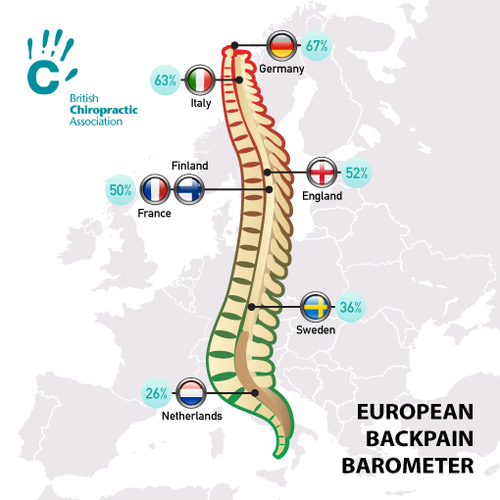 A poll of over 15,000 people across seven European countries, including the UK, reveals that Germany is number one for all the wrong reasons, with 67% complaining of back pain.

The EURO BACKPAIN BAROMETER from The British Chiropractic Association (BCA), shows back pain in the UK is on the increase, rising by 5% in just 12 months, with 52% of the country currently suffering, compared to 47% in 2007.

The new survey, launched to coincide with the start of Chiropractic Awareness Week (14th to 20th April), unearths that across the countries surveyed, on average, at least half of the population suffers with back pain and Germany is leading the way:

1. Germany – 67%
2. Italy – 63%
3. UK – 52%
4. France – 50%
5. Finland – 50%
6. Sweden – 36%
7. Netherlands – 26%

Across all seven countries, the single biggest cause of back pain is bad posture; but it's not just bad posture that can trigger back pain problems:

• Italian fashion has a lot to answer for with nearly 15% of back pain sufferers in Italy blaming their high heels for back pain
• Whilst in Germany, using a computer is the second most common trigger for back problems
• In the UK, pregnancy is a bigger trigger of back pain than anywhere else

More shocking is the 'grin and bear it' culture across Europe, on average, people with back pain have been suffering for 3-5 years. The Swedes are the longest suffering, with 78% claiming to have had back pain for three or more years. 11% of those in Finland have been suffering for as long as they remember and 23% of Brits with back pain have been suffering for 10 or more years.

The soaring levels of back pain across Europe are also having an effect on the economy with many taking long periods of time off work. In the UK more than one in 20 sufferers say they have taken more than six months off work, compared to Italy where it is less than one in 500.

Not surprising when you consider that the vast majority of back pain sufferers across all countries have office based jobs, where poor posture seems to be increasingly prevalent. Hours of sitting and slouching over computer keyboards is evidently taking its toll.

Over one in four sufferers across Europe are experiencing back pain on a daily basis, but hitting the medicine cabinet is the preferred port of call over any other form of treatment, despite the majority of respondents admitting that pain killers do not work for them.

Tim Hutchful from The British Chiropractic Association comments: "Incidence of back pain is continuing to rise at an alarming rate in Britain and across Europe as a whole, and poor posture continues to be the main culprit. This study highlights what a detrimental effect back pain can have on people's lives. The major thing it prevents people from doing is exercise – adding to our increasing sedentary lifestyles. But lack of sleep is a top three problem in almost all of the countries and over one in ten back pain sufferers have been prevented from going on holiday. So it really is affecting every aspect of our lives."

"We want to educate people about how making a few simple lifestyle adjustments can help to reduce the risk of back pain as well as making you feel and look better. We are encouraging people to incorporate a very simple three minute exercise entitled 'Straighten Up Europe' routine into their daily lives to help strengthen the spine and improve posture."

The exercise routine is available to download from www.straightenupuk.org for more information call the BCA on 0118 950 5950 or visit www.chiropractic-uk.co.uk

-ends-

The BCA press office can offer:

• Full statistical breakdowns per country
• Images
• Chiropractors/spokespeople (international, national and regional)

Sara Bailey/Sasha Mattus/Julie Doyle
Publicasity
Tel: 020 7632 2400
Email: bca@publicasity.co.uk

Notes to Editors:

* Research carried out between 25th February – 10th March 2008 of 15,621 respondents aged 18+. Countries surveyed were France, Italy, England, Netherlands, Germany, Sweden and Finland.


Chiropractic is a primary health-care profession that specialises in the diagnosis, treatment and overall management of conditions that are due to problems with the joints, ligaments, tendons and nerves of the body, particularly those of the spine.

The BCA represents well over 50% of UK chiropractors. Chiropractic is a statutorily regulated healthcare profession regulated by the General Chiropractic Council. Members of the BCA must abide by the GCC's Code of Conduct and Standard of Proficiency. The association only accepts graduates who have gone through a minimum four-year full-time internationally accredited degree course at an internationally recognised college of chiropractic education. Chiropractic care offers hands on pain management and focuses on muscles, joints and nerves. Chiropractic is suitable for all ages and can help with a wide range of aches and pains from head to toe. Chiropractors use their hands to 'adjust' or 'manipulate' the spine and joints where signs of restriction in movement are found and can also involve working on muscles. This restores normal function to the affected muscles, joints and nerves allowing the body to then get on with the job of healing itself.


This press release was distributed by ResponseSource Press Release Wire on behalf of Publicasity in the following categories: Men's Interest, Health, Women's Interest & Beauty, for more information visit https://pressreleasewire.responsesource.com/about.