Risky business – remote workers visiting porn sites twice as often as colleagues back in the office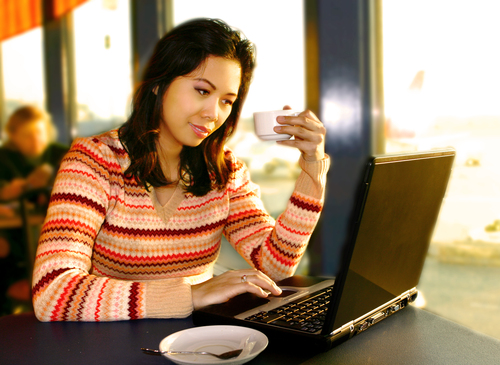 Amanda Hassall, Director
Six Degrees Limited
Tel: +44 (0)1628 480280/+44 (0)7855 359889

Working outside the office also leads to greater temptation to visit extreme and illegal activities sites; but reluctance to bank online

London, UK – April 17, 2008: Most office workers have long held the belief that their colleagues 'on the road' are visiting dodgy web sites using company laptops. New research released today by web security firm ScanSafe finally confirms this.

The company has found that remote laptop users are much more likely to visit porn sites, extreme websites and other questionable content on the web, potentially putting themselves and their bosses at risk of legal liability and exposure to so-called malware, such as viruses.

In the UK, latest figures from the Office for National Statistics suggest that more than six million Britons work from home or other locations away from the office on a regular basis. As a result, businesses up and down the country are now recognising that remote workforces are fast becoming one of the biggest loopholes in their company security policy.

The findings – taken from an analysis of eight billion web requests* processed by ScanSafe last month for its customers – confirms that remote workers:

- Visit porn sites two and half times more often than their colleagues back in the office
- Extreme websites (sites with extremely graphic content) five and a half times more often
- Illegal activities sites (eg. sites with information on building explosives) nearly four times more often.

"It's no surprise that web habits change when staff are outside of the physical confines of the office and away from the watchful eye of bosses and colleagues," says Spencer Parker at ScanSafe.

"What is surprising is that there is such a huge increase in visits to what most firms would deem highly offensive web sites, and in some cases, illegal content. If employees are using a company laptop to download illegal music files from home, their bosses may be liable. Staff assume their web habits away from the office are unsupervised, however, the problem is that no matter where they are working, they could be putting their company at risk."

Interestingly, remote workers are two-thirds less likely to visit an online banking site. "A lot of people assume that security is much better in the office than at home or at Wifi hotspots," Spencer Parker adds. "Also, people feel that being able to bank or shop online at work is much more acceptable nowadays as part of the overall work-life balance."

According to ScanSafe, many companies are not securing web use for remote workers. In January, the British company launched Anywhere+, the world's first ever software-as-a-service web security providing real-time protection from malware and allowing firms to enforce acceptable web usage policies for all employees surfing the web regardless of location.

* Data was taken from the 8 billion web requests that ScanSafe 'scans' each month on behalf of its customers. From the 8 billion total, they looked at requests for the categories mentioned (eg. porn, illegal activities) and broke those requests down into those from Anywhere+ users (ie. laptop users using the ScanSafe Anywhere+ service) and those coming from regular users (ie those customers with employees based in the office and using the normal ScanSafe services).

About ScanSafe

ScanSafe is the largest global provider of Web Security-as-a-Service, ensuring a safe and productive Internet environment for businesses. ScanSafe solutions keep viruses and spyware off corporate networks and allow businesses to control and secure the use of the Web and instant messaging. As a fully managed service, ScanSafe's solutions require no hardware, upfront capital costs or maintenance and provide unparalleled real-time threat protection. Powered by its proactive, multilayered Outbreak Intelligence threat detection technology, ScanSafe scans more than 8 billion Web requests and blocks 80 million threats each month for customers in over 50 countries.
With offices in London and San Mateo, California, ScanSafe is privately owned and financed by Benchmark Capital and Scale Venture Partners.

For more information, visit www.scansafe.com.

This press release was distributed by ResponseSource Press Release Wire on behalf of Six Degrees Limited in the following categories: Men's Interest, Women's Interest & Beauty, Consumer Technology, Business & Finance, Travel, Education & Human Resources, Media & Marketing, Public Sector, Third Sector & Legal, for more information visit https://pressreleasewire.responsesource.com/about.