Allianz launches new UK customer team for corporate and specialty insurance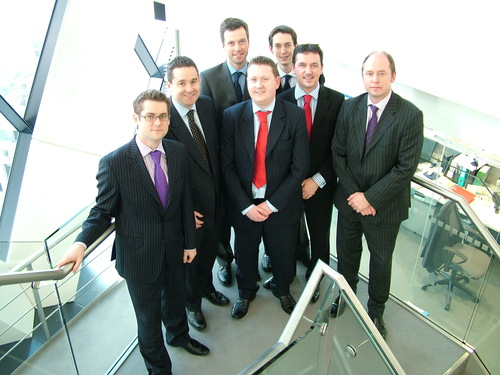 Allianz Global Corporate & Specialty UK is expanding its services to clients and brokers with the launch of a dedicated team of Key Account Managers and Broker Development Managers. With responsibility for developing and strengthening relationships with key clients and brokers in the Major Corporate and Specialty sectors across the UK market, this team of 9 will be based in Allianz's Underwriting Centre at 30 St Mary Axe, as well as at Allianz branches in Leeds, Birmingham and Woking.

The Key Account team includes Shaun Edwards, Gavin Lillywhite and Chris Thevenot, all of whom have established client-facing track records at Allianz, having been previously involved in the company's 'Customer Focus' strategy, on which this new Key Account approach is based. Each Key Account Manager is responsible for liaison and service delivery to major clients (and their brokers), providing a single point of access to the full range of Allianz Global Corporate & Specialty products.

The Broker Development Managers are also well-known Allianz employees with similar experience, with Matt Briggs taking responsibility for non-Marine brokers, Adrian Higgins for the Aviation sector and Ryan Godfrey coordinating Marine and Regional business. Reporting to Ryan Godfrey are a further three Regional Development Managers (Dave Heeney, Guy Brett and Christina Reeve) who are specifically responsible for business development and broker relations outside the London market. The new team is responsible for broker liaison and business development, and will work closely with Allianz Insurance plc, Allianz Global Corporate & Specialty's sister company in the UK, to develop joint opportunities for growth.

This news follows the appointment in January of Philipp Cremer as Head of Market Management & Communication for Allianz Global Corporate & Specialty UK, and who is now in charge of sales, business development and overall customer relations for the company in the UK. Commenting on these appointments, Philipp Cremer said: "This new team will allow us to build on our already strong relationships with clients and brokers, including further developing our corporate and specialty services within the important UK Regional markets. These appointments are just the start of our investment in this key area and I expect to add to the team in the coming months."

ENDS

Contact: For more information or to schedule an interview with Philipp Cremer, please call Hugo Kidston on 020 78773142 3819 / 07881 803690 or email hugo.kidston@ma.allianz.com

Allianz Global Corporate & Specialty UK
27 Leadenhall St
London EC3A 1AA

Photographs: High resolution digital images are available on request.

Notes to editors:

1. Allianz Global Corporate & Specialty is the Allianz Group's specialist company for corporate and specialty insurance customers, within the UK and internationally. The company provides insurance and risk management consultancy across the whole spectrum of Marine, Aviation and corporate business, including Energy, Engineering, Financial Lines (incl. D&O), Liability and Property insurance. See the Allianz Global Corporate & Specialty website http://www.agcs.allianz.com for further details.

2. Worldwide, Allianz Global Corporate & Specialty operates in over 70 countries through six major hubs: Germany, UK, North America, France, Asia Pacific & "Euro 8" (rest of Europe). It employs more than 2,000 people (300 in UK) and provides insurance solutions to more than half of the Fortune 500 companies, writing a total of €2.8 billion gross premium annually (2006).

3. The business has an insurer financial strength rating from Standard & Poor's of AA ("very strong" with stable outlook, upgraded from a previous rating of AA- in 2007.).

4. In the UK, the business is headed up by Doug Pennycuick, with Philipp Cremer as Head of Market Management & Communication and Hugo Kidston as Head of Marketing.




This press release was distributed by ResponseSource Press Release Wire on behalf of Allianz Global Corporate & Specialty in the following categories: Business & Finance, for more information visit https://pressreleasewire.responsesource.com/about.