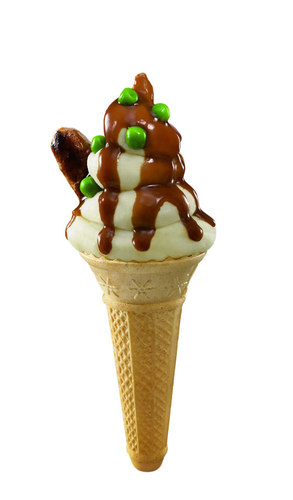 Mash and a banger in a cone launched as the first all-weather alternative to the '99 Flake'

It may look like a 99 Flake from afar, but it's just the latest sign of the British adapting our eating habits due to our increasingly rainy summers. With last summer being one of the wettest ever recorded and the heaviest snowfall for almost 20 years this month, Aunt Bessie's* is breathing new life into the fortunes of the ice cream van by replacing chilly ices with an all-weather, British classic: creamy mash and a banger – in a cone!

Served from a specially customised 'Mash Van', Aunt Bessie's will offer cones filled with creamy, warm homestyle mash and a banger topped with gravy and a sprinkling of garden peas. Aunt Bessie's Mashed Potato is made using exactly the same ingredients as you would at home - real potatoes, milk, butter, salt and pepper.

The all year round snack solution is in response to predictions from the Met Office that we can continue to expect increasingly wetter summers. Last year's weather was largely responsible for a massive 6.6% drop in ice cream sales in 2007(1). By comparison sales of unseasonable comfort food soared (2) during the wettest English summer for 200 years.

During their peak in the 1960's, there were 20,000 ice cream vans in the UK, at present there approximately just 5,000 (3), but the Mash Van is one new way we can continue to hear their familiar chimes in our local streets.

Rain or shine, Aunt Bessie's Mash Van will be touring key cities in the UK during April. With a nostalgic nod to the original attire of the early ice cream van men, customers will be served by a Mash Van Man dressed in traditional white coat, hat and bow tie.

According to Jane Jones, Marketing Manager for Aunt Bessie's, "We all remember the excitement of buying an ice cream from a van on a hot summer day and we want to keep that tradition going. Now we can keep up the nostalgic thrill of a cone from a van without the chill. Even in the welcome event of a heat wave, Aunt Bessie's Mashed Potato in a cone is a tasty savoury alternative that is guaranteed not to melt down your sleeve in seconds".

Aunt Bessie's – the taste of home
Aunt Bessie's is a great choice for anyone who wants to enjoy the delicious, homestyle taste of real potato dishes.

Aunt Bessie's Mashed Potato is completely natural. Steamed potatoes, milk, butter, salt and pepper are mashed and frozen to preserve freshness. And the best thing is how quick and easy it is to prepare: simply pop it into the microwave for two and a half minutes and you're on the fast-track to fantastic food! For more information please visit Aunt Bessie's website.

The Mash Van will be visiting the following UK cities:

Newcastle – 21st April 2008
Manchester – 22nd April 2008
Birmingham – 23rd April 2008
London – 24th April 2008
Bristol – 25th April 2008

1 Mintel retail report: Ice Cream 2007
2 Somerfield press release
3 Ice Cream Alliance

*Aunt Bessie's Potato Products are produced by Heinz under licence from Tryton Foods Ltd, owner of the Aunt Bessie's brand and registered trademarks.

- ends -

For more information, please contact:

Katie Bawler, Clare Ridley or Ane Olesen
e: auntbessies@cowpr.com
t: 020 7684 6969

Notes to Editors:

The Delia Effect!

Aunt Bessie's Mashed Potato was included in Delia's new book "Delia's How To Cheat At Cooking" which saw the brand benefit from the Delia Effect. Even before Delia's book was launched, Sainsbury's doubled their usual order and Asda quadrupled theirs. The day after the first Delia's How To Cheat At Cooking TV programme was aired, sales in the big four supermarkets were up by nearly 100%. In total Aunt Bessie's sales are up 202% year on year.

Aunt Bessie's also make a delicious range of Yorkshire puddings, roast accompaniments, traditional hot desserts and ready meals, available from all good supermarkets.

This press release was distributed by ResponseSource Press Release Wire on behalf of Cow PR LLP in the following categories: Men's Interest, Home & Garden, Women's Interest & Beauty, Food & Drink, Retail & Fashion, for more information visit https://pressreleasewire.responsesource.com/about.