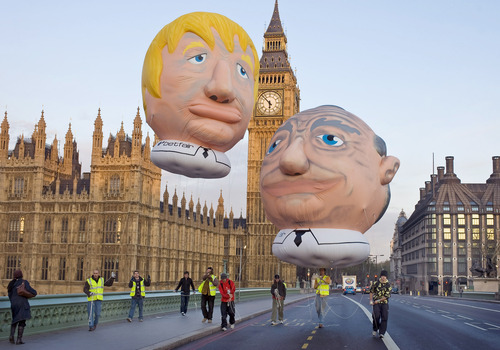 Campaigning for a better London is bad news for the planet

Boris Johnson might be favourite to win the race to become London's next Mayor but both he and rival Ken Livingstone have not been kind to the environment. By the end of their campaigns the pair will have spoken over 180,000 litres of hot air, producing more carbon dioxide than 330 hours of TV and enough gas to fill 60,000 party balloons, 560 blow-up airbeds or 1,400 space hoppers.

Betfair, the UK's largest online betting company, carried out the research to mark the launch of the biggest ever election swing-o-meter – two 20-foot high inflatable heads of Boris Johnson and Ken Livingstone, which will be flown at different heights to show who's ahead in the betting on the run up to polling day. At the rate Ken and Boris are talking, each head could already have been inflated over 25 times.

By the end of his election campaign Ken Livingstone will have exhaled over 4,600 litres of carbon dioxide from his public speeches and media interviews – equivalent to driving an average family car over 44km. In comparison, Boris Johnson will have breathed out over 3,450 litres of carbon dioxide (25 per cent less than Ken) – the same output as an average family car driving over 33km.

Dr. David Lewis of Mind Laboratories International who analysed the candidates' speaking styles commented:
"Every time you speak you release carbon dioxide into the atmosphere and the more vehemently you debate the more you emit. There's been a lot of hot air spoken in the run up to the elections with Boris and Ken being two of the biggest culprits. Between them they will have released over 8,000 litres of carbon dioxide – ironically talking about issues such as the environment – which will take an average tree nearly five months to absorb."

Betfair expects to see over £1 million matched on their Next London Mayor market as the race for City Hall reaches the final stages. Thousands of bets have already been placed and Betfair is bracing itself for a frenzy of last minute flutters over the last few days.

Adrian Murdock of Betfair comments:
"Ken might be a winner in the hot air stakes but all that extra CO2 isn't just bad for the planet, it's not doing his election chances much good either. At odds of 11-8 to win, the Betfair market reckons Ken is still struggling to talk Londoners into giving him a third term. For Boris – currently trading at 4-7 - less has indeed been more. This could well be the first election campaign where keeping your mouth shut has been the key victory."

With Ken's official campaign lasting 45 days and Boris's 32 days, and on the basis of them making an average of two animated 2 hour speeches per day, seven days a week, Dr Lewis has made the following calculations about their production of carbon dioxide (CO2) and hot air.

KEN v BORIS: WHO'S TALKING THE MOST HOT AIR?

Ken Livingstone

Based on 4.5 per cent of exhaled breath being carbon dioxide:

• Ken will have exhaled 4,600 litres of CO2: equivalent to
- An average family car driving 44.1km
- Leaving a TV on for 191 hours

Based on 20 breaths per minute per animated speech:

• Ken will have exhaled 108,000 litres of hot air: enough to inflate
- 36,000 party balloons
- 328 blow-up airbeds
- 830 space hoppers

Boris Johnson

Based on 4.5 per cent of exhaled breath being carbon dioxide:

• Boris will have exhaled 3,456 litres of CO2: equivalent to
- An average family car driving 33.3km
- Leaving a TV on for 144 hours

Based on 20 breaths per minute per animated speech:

• Boris will have exhaled 76,800 litres of hot air: enough to inflate
- 25,600 party balloons
- 232 blow-up airbeds
- 590 space hoppers

If you want to clear the air around the London Mayor Election www.kenvboris.com cuts through all the political smog and tells you who is really out in front and why.

Next London Mayor – Betfair Bet: 4-7 Boris Johnson, 11-8 Ken Livingstone, 149-1 Brian Paddick, 649-1 Any Other Candidate

- ends -

For further information and images of the Boris & Ken balloons swing-o-meter please contact the Betfair press office at Mischief PR on 020 7100 9999 / 07736 473 462 or betfair@mischiefpr.com

Notes to Editors:

• One animated breath equals 0.5 litres of hot air; equals 20 breaths/min; equals 600 l/hr; equals 1200 litres per 2 hr speech
• The average party balloon holds 3 litres of air
• The average airbed holds 0.66m3 of air
• The average space hopper holds 0.13m3 of air
• Carbon dioxide emission calculations based on 4.5% of exhaled air being CO2. One litre of CO2 equals 1.79g
• The average family car emits 186g/km of CO2
• The average TV emits 0.43kg CO2 / kwh-1

About Betfair

Betfair developed the first successful betting exchange in June 2000 and now employs over 1200 people, spread across its bases in Hammersmith, Stevenage, Malta and Australia. Driven by cutting-edge technology, Betfair enables customers to choose their own odds and bet against each other, even after an event has started. Betfair processes 15 million transactions a day, more than all of the European stock exchanges combined.
In addition to the exchange, Betfair now has an established games portfolio including Poker and Casino products. In 2007, Betfair launched a new company, Tradefair, for those wishing to bet on financial markets.
Betfair is the holder of two Queen's Awards for Enterprise, being recognised for Innovation in 2003 and most recently for International Trade in 2008. Betfair is a licensed betting operator in the UK, and also operates under licenses in Australia, Austria, Italy and Malta.

This press release was distributed by ResponseSource Press Release Wire on behalf of Mischief PR in the following categories: Men's Interest, Entertainment & Arts, Women's Interest & Beauty, Sport, Media & Marketing, for more information visit https://pressreleasewire.responsesource.com/about.