Opportunity to view rare works by Degas, Hepworth, Sickert at Browse & Darby's Annual Exhibition.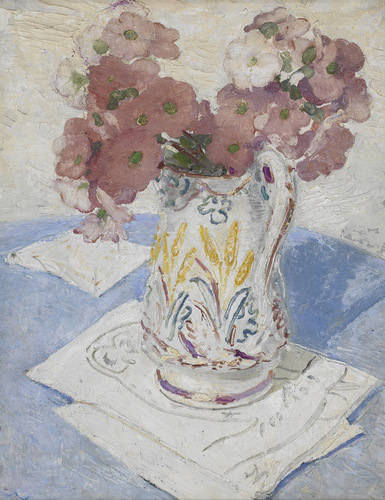 BROWSE & DARBY
OPENS NEW EXHIBITION WITH WORKS BY EDGAR DEGAS, DAME BARBARA HEPWORTH & WALTER RICHARD SICKERT

Venerable London gallery Browse & Darby opens its doors on 8th May 2008 with its 32nd Annual Exhibition of British and French paintings, drawings and sculptures. The exhibition runs from 8th May until 13th June 2008.

Visitors to the exhibition have a rare chance to view pieces by renowned and celebrated artists from the late 19th and 20th Centuries. A highlight of the show is Edgar Degas' (1834-1917) Deux Danseuses circa 1895, executed in charcoal and pastel, which is a study for the pastel Danseuses dans les coulisses, and aptly illustrates the artist's abiding fascination with movement and dance.

A striking bronze, Three Forms (Tokyo), 1967, by Dame Barbara Hepworth (1903-1975) will also be on display. Hepworth is considered to be one of the most significant sculptors of the 20th Century. She began working in bronze in the late 1950s; within the present work she combines her hallmark 'pierced sculptures' in Three Forms, a composition she began to use following the birth of her triplets in 1934, as she moved away from abstraction based on the human figure.

The exhibition will also incorporate paintings by the renowned and highly respected English painters Sir William Nicholson (1872-1949) and Walter Richard Sickert (1860-1942).

Both these artists' distinctive styles and respective innovations have led them to be viewed as two of the greatest influences on 20th Century British Art. Sickert's significance as an artist is currently being promoted within Tate Britain's major exhibition, 'Modern Painters – the Camden Town Group'; the Courtauld Institute also held an exhibition of his Camden Town Nudes earlier this year.

Browse & Darby has grown significantly over the past few years and also regularly exhibits work by esteemed contemporary British figurative artists such as Craigie Aitchison, Dame Elizabeth Blackadder, John Houston, Lucian Freud, Anthony Fry and Euan Uglow. The gallery has recently seen the addition of several exciting new artists, including Endellion Lycett Green, Claudia Carr and Thomas Lamb, and in the coming months, will be showing the works of emerging young artists who trained at the Slade School of Fine Art under Euan Uglow. The gallery acted as Uglow's dealer during his lifetime; Browse & Darby will be exhibiting work by Uglow's students, Robert Dukes and Andy Pankhurst, in solo exhibitions in March and November respectively.

ARTWORK PICTURED:

William Nicholson, Primulas
-- Ends --

For more information, photography or a gallery catalogue, please contact:
Joanna Wilmot – 0208 996 1801/ 07967 195213/ joanna@josensinipr.com
Omar Jamil – 0208 996 1803/ 07774 900299/ omar@josensinipr.com

About Browse & Darby
Housed in an 18th Century building on Cork Street in the heart of London's Mayfair, Browse & Darby first opened the doors to its venerable and iconic gallery in October 1977. In the three decades since, the gallery has continued to specialise in contemporary British figurative work, as well as dealing in classic British and French paintings, drawings and sculpture. Browse & Darby began as a collaboration between distinguished art dealer and historian Lillian Browse and prominent art dealer William Darby. Lillian Browse retired in 1981 and William Darby has since taken on a consultancy position with the gallery; the gallery is now run by Joshua Darby and Charles Bradstock.

In addition to holding regular exhibitions, Browse & Darby also acts in an art dealer capacity and has been retained to advise on all aspects of collecting art. The gallery also has access to top restorers and conservationists, as well as contemporary and more traditional framers.

Current and upcoming exhibitions:
• British & French Paintings, Drawings & Sculpture: 8th May – 13th June 2008
• Henri Gaudier-Brzeska: 18th June – 25th July 2008
• Contemporary Gallery Artists: 30th July – 12th September 2008

This press release was distributed by ResponseSource Press Release Wire on behalf of Velvet Integrated PR Limited in the following categories: Men's Interest, Entertainment & Arts, Leisure & Hobbies, Home & Garden, Women's Interest & Beauty, for more information visit https://pressreleasewire.responsesource.com/about.