National Allergy Week – The Chillow® provides relief to allergy and hay fever sufferers, both at home and on holiday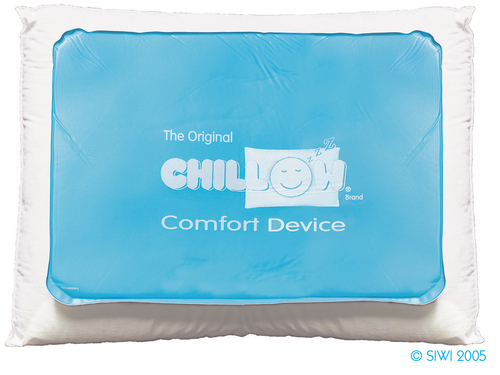 National Allergy Week – 21 – 25 May 2008
The Chillow® provides relief to allergy and hay fever sufferers, both at home and on holiday.


With an estimated 5.8 million sufferers of eczema and asthma in the UK, and 12 million sufferers of hay fever, travel to dusty hotel rooms, or having to sleep at home with the window open during hot nights, is a common bedtime story that is rapidly becoming a nightmare for many people.

Allergic responses, such as itching, wheezing and sneezing, are caused when the immune system responds to allergens such as dust mites, pollen or animal hair, releasing histamine in the body to create a reaction.

Home to the common dust mite, the bed – or more specifically its contents - can be a significant trigger to allergy sufferers, particularly those prone to asthma, allergic rhinitis and eczema. With as much as 1/10 of the weight of a two year old standard pillow made up of dead mites and their droppings, the impact on health is significant.

For hay fever sufferers, pollen – whether breathed in, or caught in the eyes - can cause repeated sneezing, sore and itchy eyes and scratchy throat and palate. With pollen counts high on the hottest summer days, the advice is to 'close all windows'. This can create a hot stuffy environment which can make it incredibly difficult to sleep.

Allergy-free Chillow soothes and cools.
The answer to help alleviate allergic reactions and to help hay fever sufferers stay cool at night, is the Chillow – a thin personal sleeping pad that lies on top of a normal pillow or inside the pillowcase. The Chillow's unique technology is designed to take heat away from the body, keeping it at a comfortable temperature throughout the night.

The Chillow's medical grade, hypoallergenic, non-toxic covering can act as a barrier to dust mites living in mattresses or pillows, and doesn't harbour the dead skin cells on which dust mites thrive – helping to reduce their population.

How does it work?
Not only that, the Chillow feels wonderfully cool next to your skin. It works on the principle that water conducts heat away from the body 25 times faster than air. (Just think of how cold you feel almost as soon as you climb into a swimming pool.) The Chillow's highly absorbent pad is moistened by exactly four pints of ordinary tap water and sealed. The water cools the pad to between 10 and 20°C below body temperature. When you lay your head on the pad, heat conducts away from the body into the Chillow and then back out into the air, similar to the way a radiator works in a car.

Simply pack and go for a peaceful sleep!
Chillow therefore needs no pre-chilling and is always ready to use, dry, soft and cool. Just 2cm thick, it can easily be rolled up or packed flat in a suitcase or bag to take on your travels.

By helping your body lose heat, the Chillow induces sleep naturally – particularly helpful to hay fever sufferers on those summer nights – and incredibly soothing to hot skin, inflamed by eczema or other dermatological conditions. Soft and tactile, it's an environmentally sound 'alternative' therapy for allergy sufferers, bringing instant relief, just when you need it most.

Chillow is available from Soothsoft Ltd, tel. 08700 117174 or www.chillow.co.uk. It costs from £24.95 and comes with a 30-day no-quibble money-back guarantee.

Ends



NOTES FOR JOURNALISTS/BROADCASTERS
You can download illustrations of the Chillow from the website, but if you need a higher resolution image, or would like a sample for review – or borrow one for photography… or if you just need more information, please call SARA CLARK or SARAH MOUGER on:

Telephone:
01494 520584
07771 857285
01256 701357

Email sara.clark@blinkgroup.co.uk or sarah.mouger@blinkgroup.co.uk



Notes to Editors

Chillow
Chillow® is manufactured in the US by Soothsoft Innovations Worldwide Inc. It is marketed in the UK by Soothsoft Ltd of Unit 10, North's Estate, Piddington, High Wycombe, Bucks, HP14 3BE.

This press release was distributed by ResponseSource Press Release Wire on behalf of Blink PR in the following categories: Health, Women's Interest & Beauty, for more information visit https://pressreleasewire.responsesource.com/about.