Menopause Relief from hot flushes and night sweats – the natural way, with Chillow®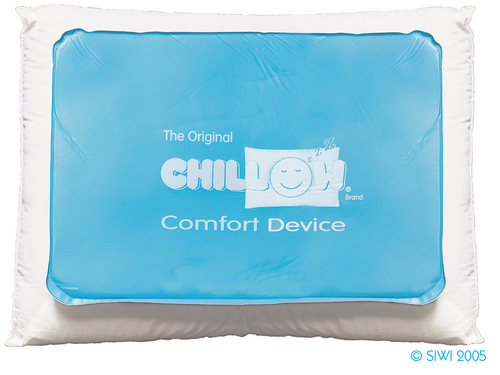 Menopause Relief from hot flushes and night sweats –
the natural way, with Chillow®

Around 75% of perimenopausal women experience the distress and discomfort of hot flushes and night sweats. For some, they are an irritating inconvenience; for others, they severely disrupt every aspect of life. For every woman who has thrown the bedroom windows open in the middle of winter or sobbed with embarrassment at their lack of control over their own body, relief is now at hand – Chillow, the little pad that packs a cold punch, exactly when you need it.

Women who talk about their experience of menopause don't usually confess to having enjoyed it. More likely, they are only too ready to share the untold indignities it visits on the female body. Weight gain, fatigue, fuzzy memory, depression, sleeplessness and – worst of all – night sweats and hot flushes.

Persistent waves of flushing and profuse perspiration tend to make life a total misery. Just ask any woman who is going through her menopause years. Don't, however, say 'It's your age, dear' or you are likely to be on the receiving end of a swiftly applied punch in eye. Irritability and mood swings are another feature of The Change.

No respecter of the need to work or sleep, hot flushes strike at any time of the day or night. Some very unlucky women get them as often as once an hour; others, a mere couple of times a week. The flush lasts between a few seconds and 10 minutes (the average is around four minutes) and can continue for up to five years.

Real relief from the symptoms is very hard to find. Only hormone replacement therapy stops them, but once HRT ceases, menopause symptoms start again where they left off. Some women find herbal remedies are helpful in alleviating the worst of the flushing and sweating, including black cohosh, sage and dong quai.

But when you are lying in bed, dripping with perspiration, wrestling with damp night clothes and sheets, disturbing your partner every time you throw off the duvet to find some relief, herbal remedies are far from your mind. What you want is something that will immediately cool your burning face, take away the fierce heat that is consuming your body and bring your temperature back to normal.

What you want is a Chillow.

Chillow is exactly what is sounds like – a chilled pillow. It is a thin, cushioned pad that lies on top of a normal pillow or inside the pillowcase. It is designed to take heat away from the body and keep you cool throughout the night.

Inside the medical grade, hypoallergenic, non-toxic covering is a highly absorbent pad which is moistened with exactly four pints of ordinary tap water and sealed. The Chillow works very simply on the principle that water conducts heat away from the body 25 times faster than air. (Just think of how cold you feel almost as soon as you climb out of a swimming pool.) The water cools the pad to between 10 and 20°C below body temperature. When you lay your head on the pad, heat conducts away from the body, but the Chillow does not heat up.

Chillow needs no pre-cooling – it returns to room temperature during the day. It is always ready to use, dry and cool.

By helping your body lose heat, the Chillow induces sleep naturally – no pills or potions, just a non-invasive pad that works in harmony with your body's rhythms.
Chillow is soothing, soft and tactile – an environmentally sound 'alternative' sleep therapy that brings instant relief, just when you need it most.

Chillow is available from Soothsoft Ltd, tel. 08700 117174 or www.chillow.co.uk. It costs £24.95 and comes with a 30-day no-quibble money-back guarantee.

Ends CHILLOW02/2008



NOTES FOR JOURNALISTS/BROADCASTERS
You can download illustrations of the Chillow from the website, but if you need a higher resolution image, or would like a sample for review – or borrow one for photography… or if you just need more information, please call SARA CLARK or SARAH MOUGER on:

Telephone:
01494 520584
07771 857285
01256 701357

Email sara.clark@blinkgroup.co.uk or sarah.mouger@blinkgroup.co.uk



Notes to Editors

Chillow
Chillow® is manufactured in the US by Soothsoft Innovations Worldwide Inc. It is marketed in the UK by Soothsoft Ltd of Unit 10, North's Estate, Piddington, High Wycombe, Bucks, HP14 3BE.



This press release was distributed by ResponseSource Press Release Wire on behalf of Blink PR in the following categories: Health, Women's Interest & Beauty, for more information visit https://pressreleasewire.responsesource.com/about.