Holiday-Rentals.co.uk offers more choice & security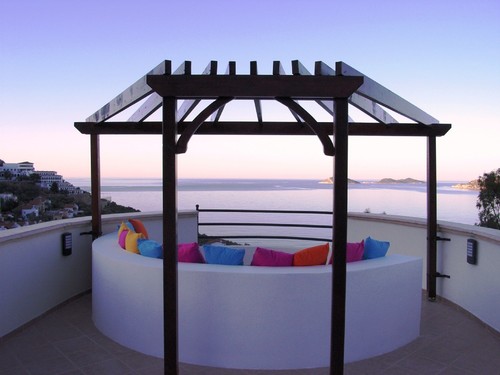 UK's largest private holiday rentals website hits 50,000 listings, launches guest reviews & offers its top 10 tips for booking direct

(PICTURED: Property 82949 - Just one of the great value, private properties available to rent on Holiday-Rentals.co.uk: a spacious 3 bedroom villa with private pool & roof terrace in Kalkan Bay, Turkey. RATES: from just £595 to £900 per week. SLEEPS UP TO 8)

12 May 2008 - Holiday-Rentals.co.uk provides more choice and security for travellers than ever before, as it hits a landmark 50,000 listings. As well as offering over double the number of properties as the nearest competitor, it is now the only website of its kind in the UK to feature guest reviews and offer a guarantee against fraud. With nearly a quarter of all overseas holidays now taken in private holiday homes*, renting direct from owners has become a mainstream holiday option and Holiday-Rentals.co.uk is committed to providing the best possible experience for travellers.

As holiday home rentals continue to grow in popularity thanks to the privacy, flexibility, authenticity and value for money they provide, Holiday-Rentals.co.uk has received a record number of visits and booking enquiries in 2008.

Greg Grant, Managing Director comments, "Holiday-Rentals.co.uk, along with our parent company HomeAway, Inc., is committed to making it as easy and secure to book a holiday home rental as a hotel, and to offering the most efficient marketing channel to holiday home owners. With our huge selection, advanced search tools, the introduction of the HomeAway Rent with Confidence Guarantee and guest reviews, we have set new industry standards in terms of quality of service and traveller confidence."

In September 2007, Holiday-Rentals.co.uk launched the HomeAway Rent with Confidence Guarantee (see http://guaranteeuk.homeaway.com), to offer travellers protection against payments made to advertisers on its website, free of charge. The guarantee provides tangible assurance that they are covered for up to £2,500 (€3,600) in rental fees per holiday home booked in the unlikely event the listing is not legitimate. Then in December 2007, guest reviews went live on the website and hundreds are being added every week. Reviews are posted as-written by travellers with the option for owners to respond, providing potential guests with independent opinions and increased peace of mind when booking direct.

Holiday-Rentals.co.uk top 10 tips for renting direct from owners

1. Speak to the owner before you confirm your booking to sound them out about the property, exact location and nearby facilities.
2. Ask for extra photos if not all rooms are shown in the advert. Also ask if the owner has a private website.
3. Check their reviews, or ask to see references from previous guests. You may have to go on gut instinct if you're their first ever guests though!
4. Make sure you understand the owner's policies on refunds and cancellations etc… and ask if they can provide a rental contract.
5. Get everything in writing and ensure you have a complete record of all communications. Follow up all telephone conversations with an email.
6. Ask the owner the best way to get to the property. Can they arrange airport transfers? Many owners can help you get special deals, or the best price from local cab or car-hire firms.
7. Verify check-in / check-out times. Ask the owner if this is flexible.
8. Check key handover details and get a mobile number for the person if someone is handing them over on arrival.
9. Get emergency contact details both for the person who will deal with any problems once you're there, and also local emergency services and maintenance staff.
10. Check if you need to clean the place before you leave, or if an end-of-stay clean is, or can be, included in the rental rates

* Mintel 'self catering holidays UK' report, Oct 2007

Media contact
Sarah Chambers, PR Manager
020 8846 3430 / sarah@holiday-rentals.co.uk

About Holiday-Rentals.co.uk
Based in London and founded in January 1996, Holiday-Rentals.co.uk represents more than 50,000 holiday properties providing travellers with a worldwide selection and easy to use tools for finding a holiday home, and owners a simple, cost effective way to market their property. In 2007 it was voted among the top 10 villa rental companies in the Conde Nast Traveller Reader Awards, one of the top 100 travel websites by Times Online, and awarded 4 stars by Webuser magazine.

In 2005 Holiday-Rentals.co.uk, Ltd was acquired by US-based HomeAway, Inc., which is led by an experienced team of online publishing experts. HomeAway has been financed by Austin Ventures, Redpoint Ventures, American Capital, Institutional Venture Partners and Trident Capital. The HomeAway websites attract more than 100 million visitors per year and list over 284,000 paid holiday home rental listings across 100 countries.


This press release was distributed by ResponseSource Press Release Wire on behalf of HomeAway Ltd in the following categories: Women's Interest & Beauty, Travel, for more information visit https://pressreleasewire.responsesource.com/about.