London teenagers use mobile technology to tackle gun and knife crime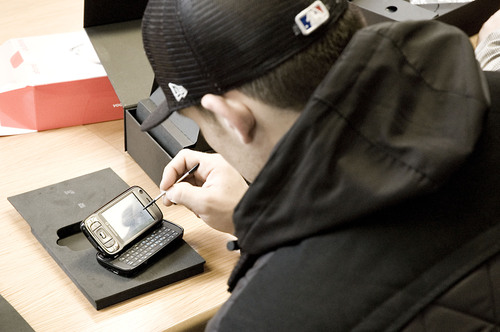 Media contact: Amanda Hassall

Six Degrees Limited, Old Trinity Church, Trinity Road, Marlow, Buckinghamshire SL7 3AN, United Kingdom
Tel: +44 (0)1628 480280/+44 (0)7855 359889
Skype name: MandyHass
www.sixdegreespr.com


- Project demonstrates innovative use of Anytime Learning from Steljes

City Hall, London; 15 May 2008 - A South London college has showcased the results of a campaign to address gun and knife crime with the use of mobile technology – one of the first projects of its kind to be funded by The Mobile Learning Network (MoLeNET) and supported by key technology partners, Steljes and Vodafone.

With performances and presentations on the growing problem of gun and knife crime in this country held at City Hall last night, attended by Ray Lewis, Deputy Mayor for Young People, the innovative collaboration, called LIFEWISE, involves over 200 young people from South Thames College and six secondary schools across the London Borough of Wandsworth.

The project also included the use of innovative handheld technology, provided by technology pioneering organisation, Steljes - as part of its Anytime proposition – along with partners Vodafone, Wildkey and M-learning.mobi.

The 200 state-of-the-art Vodafone v1615 handsets, including unlimited mobile data access and safe search capabilities together with additional software and support, were used by students to enable them work collaboratively on producing digital content such video clips, music, interviews and images.

"Handheld technology has allowed the pupils to work together on this project, regardless of where they are – whether in different locations or even different schools," explains Chris Nash, Mobile Learning Consultant at Steljes. "Anytime Learning is about enhancing the learning experience by extending the school walls to wherever the pupils are and whenever the work is done. This in turn streamlines communications and allows students to share their work and ideas and to forge a more collaborative way of learning and working."

LIFEWISE has seen students working together on a range of curriculum-based projects, including music, performing arts, media, business studies, art and design and health and social care, to explore and highlight solutions to the increasing problem of violent crime.

The result has been a theatre production, a professionally-mastered CD of music incorporating anti-violent lyrics written, mixed and produced by the students, video promos, and an action plan to tackle social cohesion problems that can contribute to violent crime.

With handheld technology at the heart of the project, the experience has been even more compelling, especially for those students not physically in the same location.

Mary Zinovieff, Head of Creative Industries and 14-16 Programmes at South Thames College, adds: "This project marks a really positive step in our drive to raise awareness amongst young people and promote positive lifestyle choices and greater social engagement.

"The students have been given a voice to actively contribute to the debate and propose relevant, creative strategies for tackling an issue that has touched many of our young people personally. The unique element of this project is that it is completely student-led, by the students for the students."

Ends

Notes for editors

Facts about South Thames College

§ South Thames College is based across 5 centres, in Wandsworth, Putney, Tooting, Battersea and Roehampton.

§ Over 21,000 students, school leavers, mature students and international students study at the College each year.

§ There are nearly 2,000 further, higher and adult education full and part-time courses available covering academic subjects such as business and administration, computing and IT, media, film and TV, music and performing arts, construction and engineering, design and graphics, skills for life, languages, sports and recreation, hair and beauty, health and care, English, Mathematics and IT as well as degree and professional courses in business, computing, music, healthcare, media and design.

§ The Music Technology and Health and Social Care departments have been awarded with the coveted Centre of Vocational Excellence (CoVE) status, and the ESOL team has been 'Highly Commended' with a Beacon Award and Pathfinder Status.

§ The college is undergoing a £68.5 million redevelopment at the Wandsworth Campus, planned to be completed in 2009 with a separate refurbishment of the existing Grade II listed building by 2010.

§ The new facilities will transform the historic site into a state-of-the-art learning centre incorporating a new Sports Hall designed to Sport England Club standards, a new 6th Form Centre Block, Fully equipped Hair and Beauty salon and more.





Facts about LIFEWISE

§ LIFEWISE is a partnership project between South Thames College, 6 Wandsworth secondary schools (Salesian, Southfields, Chestnut Grove, Ernest Bevin, John Paul II, Battersea Technology School) and the City Learning Centre

§ The project involves 200 students working collaboratively to address issues relating to gun and knife crime and gang culture amongst young people in South London.

§ Students participating in LIFEWISE have been involved in curriculum based projects incorporating:

Ø Health and Social Care – A research study focusing on the impact of gun and knife crime on the social and public services, and wider community, and action plan to tackle the problem.

Ø Music Media and Business Studies - a professionally mastered CD of tracks with anti-gun and knife crime lyrics and messages, along with 30 second promo videos created, edited and filmed by the students (along with accompanying DVD). Business students have researched, marketed, promoted and organises screenings of the music and video promos

Ø Theatre – Developing, writing and producing an educational play around the theme of gang culture and gun and knife crime. To be shown during a tour of schools, community centres, workshops and youth centres.

Ø Art and Design – Students competed to create and design a bespoke project logo. The winning design and project name LIFEWISE will be used to raise awareness of the issues surrounding crime and gang culture on posters, leaflets and printed materials



Mobile Learning facts

§ South Thames College secured funding from The Mobile Learning Network (MoLeNET).

§ Steljes provided 200 state-of-the-art Vodafone v1615 mobile handsets and partnered with Vodafone to create a tailored mobile phone tariff, offering unlimited data, email, Internet browsing and uploading capability.

§ The handsets enable learners working at different sites and within different schools to quickly and easily share work and ideas, enhancing the learning experience and streamlining communication channels.

§ Learners are using the handheld devices to capture digital content, such as images, video, audio, etc.

§ Students are allowed unlimited data but not voice. They also have access to Skype accounts to talk free to one another.



About Steljes Anytime

Anytime Learning helps schools deliver successful personalised learning, harnessing technology to extend learning beyond the classroom and engage and motivate pupils. Developed by Steljes with the help of academics, teaching professionals and learners, the solution is known as Steljes Anytime.

It combines a comprehensive and evolving range of handheld devices - from Smartphones and PDAs to UMPCs - with unlimited data airtime for safe and secure mobile Internet access, educational content, support and a suite of software applications to provide genuine freedom to discover from almost any location and at any time.

Schools in Wandsworth, Wolverhampton and Kent are already using the technology to help improve learning outcomes and engage hard to reach, shy or reticent pupils.

Based in Bagshot, Surrey, Steljes Limited is a privately owned company.


This press release was distributed by ResponseSource Press Release Wire on behalf of Six Degrees Limited in the following categories: Children & Teenagers, Consumer Technology, Education & Human Resources, Public Sector, Third Sector & Legal, Computing & Telecoms, for more information visit https://pressreleasewire.responsesource.com/about.