Fun product takes obesity seriously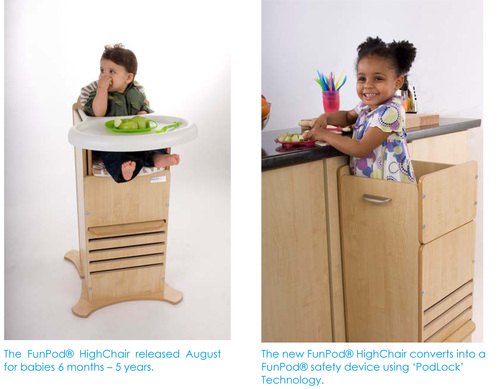 Fun product takes obesity seriously

This week saw the government introduce its Foresight project Tackling Obesities: Future choices, to the nation's top health professionals, taking a 40 year look at how society can tackle obesity. By 2050, 60% of men and 50% of women could be clinically obese. Without action, the wider costs of obesity will cost the tax payer a staggering £49.9 billion per year. This epidemic cannot be prevented by individual action alone but demands a societal approach.

Socially responsible children's brand, Little Helper was invited to attend this influential circle of policy makers and professionals at Westminster, in recognition of the company's drive to start educating toddlers about healthy food as early as 12 months with the FunPod®.

This practical device is an innovative safety product that not only keeps toddlers out of harms way in the kitchen but also encourages active and safe involvement with the cooking experience – teaching them life lessons and basic food and nutrition skills that will become invaluable in later life.

"Between the ages of two and four, toddlers form their habits and opinions that form their later life so this is an essential time to get them involved. It's no good expecting our kids to eat healthy school dinners if they haven't been eating healthily at home before school." Says Kim Johnson, Director of Little Helper.

As promoters of positive parenting, Little Helper is working with health professionals and government bodies in a bid to promote healthy lifestyles for babies and toddlers. The multi award-winning FunPod® has been heralded by experts country-wide as socially responsible and a 'must have' for all safety and health-conscious parents. Moreover, this progressive company is set to launch the world's first 4-in-1 HighChair which converts into a FunPod® safety device in August this year, followed by a feeding range earlier next year which backs the government's drive to get our toddlers living and eating healthily.

To support this national drive to tackle obesity, Little Helper will be launching an informative service for any parent wanting to learn about food and nutrition on their website www.littlehelper.co.uk later this summer. This will include relevant and down-to-earth information on how to do it well and most importantly, get toddlers to enjoy the learning process!

Featured on the recent 'Too Fat to Toddle' documentary, the FunPod® was used to get kids involved in food preparation and Little Helper will also be working with Professor Paul Gately and his team up at Leeds Metropolitan University to provide parents with healthy lifestyle information.

The Fun Pod®, from £99.99 is available in four contemporary colourways. It has five adjustable height settings for walking children aged between one and five years and a specially designed anti-tip base and lockable footplate.

For more information, contact allie.langham@littlehelper.co.uk or via telephone on 0845 230 1538.

This press release was distributed by ResponseSource Press Release Wire on behalf of Little Helper in the following categories: Children & Teenagers, Health, Women's Interest & Beauty, Food & Drink, for more information visit https://pressreleasewire.responsesource.com/about.