School Fuel – H2O boosts concentration levels!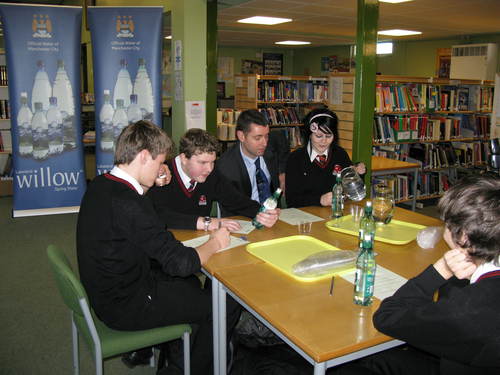 Lakeland Willow Water Supports School Initiative

Willow Water has recently completed a joint initiative with Morecambe Community High School (MCHS) to provide free water for a school project to test the benefits of drinking water among pupils. And the results showed that there was a statistically significant overall improvement in concentration levels.

Students were asked to drink 1.5 litres of Willow Water each per day including weekends and to complete before and after questionnaires.
Their parents and teachers were also asked to complete questionnaires both before the 'trial' started and at the end. These questionnaires were designed to monitor student concentration levels. Any differences in the pupil's skin conditions were also recorded as Willow Water is renowned for its restorative properties. (Hundreds of unsolicited testimonials from people with skin conditions claim their problems have been greatly improved by drinking Willow Water). Not surprisingly then, there was also an overall improvement in those pupils who reported an itchy skin condition too.

The project with MCHS ended recently and the results showed that drinking more (Willow) water definitely had a positive effect on concentration levels with 48% of the pupils noticing an improvement. A further 42% noticed a positive improvement in their level of excitability and 38% felt their anger control had improved. The added bonus was that 95% of students and teachers said they could tell the difference between Willow Water and tap water and preferred Willow in a blind taste test! Even the slight down side of pupils needing to go to the loo slightly more frequently was not overshadowed by the positive concentration results – in fact they soon got used to the extra water consumed and their toilet habits returned to normal!

Throughout the trial several teachers reported that during the afternoon sessions the children were able to stay on task for longer periods of time.

The school used the trial in a selection of lessons including statistics, science and maths. The psychology students also looked at the effects of hydration and some of the teachers also participated.

Mr Philip Sinclair, Chemistry and Science teacher at Morecambe School is delighted with the trial. "The trials went well although distribution of the water was hard work! There was a buzz in the whole school about it – in fact I had kids approach me in the corridor wanting to take part."

The results are in line with government recommendations which state that children should drink at least 1.5 – 2 litres of water per day. Water makes up about 80% of the brain and is an essential element in neurological transmissions. Poor hydration adversely affects a child's mental performance and symptoms include tiredness, headaches reduced alertness and ability to concentrate. Mental performance, including memory, attention and concentration, deteriorates progressively as the degree of dehydration increases.

MCHS is encouraging the children to maintain their water consumption so that this may reflect positively in their GCSE results.
Willow Water can be found at www.willowwater.com or by calling them on 015395 59452. Willow Water is available in all Waitrose stores, all EH Booths stores, selected Sainsbury stores, Independent Health Food stores and many independent retailers.

~ ends ~

Issued by: Jackie Fletcher, Partners in PR
On behalf of: Lakeland Willow Water

Please contact:

Jackie Fletcher - jackie@partnersinpr.co.uk – 01409 281749
Michelle Redmond - michelle@minxpr.com - 020 8288 0849

OR

Editors note:

- The analysis results are based on the Mann-Whitney Non parametric test on 50 pupils returned questionnaires comparing the answers before the trial took place and then again at the end. The itchy skin question applied to 15 pupils.

- Willow Water is the water of choice for two premiership football clubs - Manchester City and Tottenham Hotspurs Football Clubs both of whom are enjoying a successful season.

- Willow Water is currently the subject of a clinical trial at a leading London Hospital Dermatology Department looking at improvements in the condition of patients with eczema and psoriasis

This press release was distributed by ResponseSource Press Release Wire on behalf of Partners in PR Ltd in the following categories: Children & Teenagers, Health, Women's Interest & Beauty, Food & Drink, for more information visit https://pressreleasewire.responsesource.com/about.