STARTING OUT: BRITISH DRINKS COMPANY SUSO LAUNCHES 100% FRUIT JUICE, CARBONATED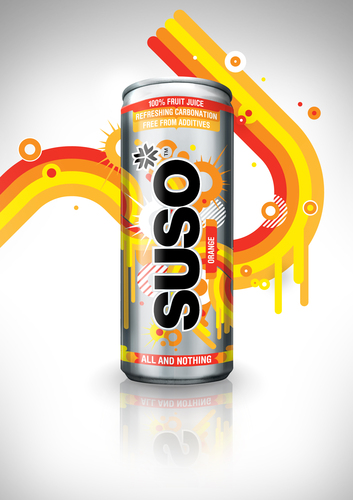 The people at Suso drinks are on a mission. They have set out to prove that contrary to popular belief, the great British public will buy 'better for you' options when they are given the choice.

This is a dilemma facing many of us - finding a thirst quenching, fun drink that's also really good for you. Until now most of us quenched our thirst with either additive-rich fizzy soft drinks or perhaps a bottle of mineral water.

Now Suso, a new UK company, has come up with the holy grail of the healthier drinks market, by producing Britain's first additive-free, carbonated, 100 per cent fruit juice range.

Suso is one of the first truly innovative soft drinks to be launched in years. What makes it more so is that it's aimed at the youth market and offers a genuine choice to consumers that's long been restricted by multinational brands like Pepsi and Coke.

And early signs reveal that Suso is set to capture a slice of the UK's massive £3.5 billion soft drinks market, after successful trials at major retailers across the nation.

Tesco buyer Sarah Hames comments: "If the success of the SUSO brand continues at its present rate then we will probably be talking about the drinks success of the year."

The idea behind SUSO came last year when three major players in the UK drinks industry – who worked for Coca Cola, Red Bull and PJ Smoothies – and two other high-ranking business executives, joined forces.

Their mission, in the words of Suso chief exec Sean Uprichard, was to create the drink for which "the market had been screaming out for years."

Said Sean Uprichard: "With the experience of working for top brands in the soft, energy and smoothie drinks market, we were all aware that there was a definite lack of choice - particularly from British owned brands - when you get to the carbonated drinks aisles.

"Choice is such a simple thing but we believe that choice has the power to change the way we live. SUSO is just one small choice and we're hoping it can grow into something much bigger. We were just amazed that no one had ever done this kind of thing before.

Uprichard adds: "It's a fact that as soon as a drinks company grows, innovating new products becomes more difficult. Yet the multinationals command shelf space like nobodies' business. It's difficult for a buyer to take the leap of faith that's needed with a new launch, but we're confident that Suso stacks up for them and our sales and new listings are proving that."

This, together with a multi million pound marketing campaign backed by UK based venture capital firm, Smedvig Capital, means that in a world dominated by global players and decade-old brands, Suso could truly be The Next Big Thing.

This is even closer to reality when you find out more about who's behind the venture: Suso's Uprichard adds: "We've got a team with the best talent in the business working to make Suso a success."

Carbonated soft drinks, though hugely popular in the UK, particularly in the youth sector, have come under increasing pressure over their unhealthy characteristics. In parallel there has been exponential growth in the less refreshing but healthier juices and smoothies market. However until now, no established brands have offered a 100% fruit juice with carbonation to the youth market in the UK.

Uprichard continues "We always set out to make Suso a disruptive brand and to challenge what's going on in the drinks industry today. We're kicking off our communications campaign this year and will be working with young talents who demonstrate the Suso attitude of 'No Can't Do' in overcoming the many challenges and achieving their goals.

He adds: "We've also got a blog site which I find totally compelling, at susology.com. It includes everything from new street artists to travel blogs and music and is the study and celebration of imagination, creativity and determination."

Uprichard himself seems to personify these attributes as he admits: "You've no idea how difficult it is to create something innovative and honest in this industry. We even had to switch suppliers at the last minute to avoid them introducing an artificial substance in the product that dissolves after 24 hours, which they assured us would be fine for people to drink. How could that be good for you?"

"We wanted innovation without compromise and that's taking a lot of determination to do things differently on our part."

Suso drinks are available nationally, priced from 90p for a 250ml can
www.susology.com

For more information please contact Rachel Sweeting at Sweet Marketing on 01757 210152 / Rachel@sweetmarketing.co.uk or 07817 280897.


This press release was distributed by ResponseSource Press Release Wire on behalf of Sweet Marketing in the following categories: Children & Teenagers, Men's Interest, Health, Women's Interest & Beauty, Sport, Food & Drink, Media & Marketing, Retail & Fashion, for more information visit https://pressreleasewire.responsesource.com/about.