Zabidoo - your free personal mobile browser and web navigator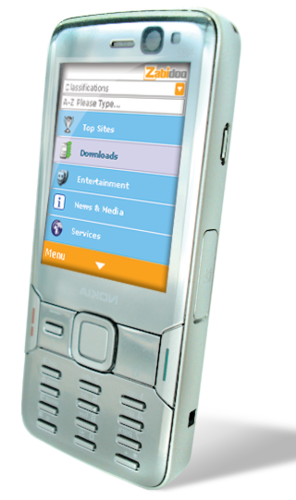 21st May 2008
For immediate release:

Instant Access Technologies announces the release of Zabidoo - a free mobile application that allows users to search and browse the web simply and cheaply.

Zabidoo is a clickable directory delivering instant access to over 1000 mobile websites. No typing in URLs. No fuss.

Zabidoo also features a personalised choice of top news feeds and a combined search of the most popular search engines, optimised to deliver mobile-friendly content.

Zabidoo for mobile is available to download now, for free, at: www.zabidoo.com/getit/MPR103

For further information contact:

Sundeep Chind
Business Development Director
Instant Access Technologies

Mob: +44-7789-992213
E-mail: s.chind@instantaccesstechnologies.com

The revolutionary 'web navigator' on mobile

Zabidoo delivers what you want from the web on your mobile phone without fuss.

• Just click technology
• Instant access to over fifty RSS feeds
• Comprehensive directory of over 1000 top mobile websites
• Combined search of the six best search engines, optimised to bring you mobile-friendly content
• Simple A-Z search facility taking you to any site very quickly
• Personalised environment for your interests
• Favourites synchronisation with your PC

A better mobile web experience

Browsing the web on your mobile can be a frustrating experience. Typing in web addresses on mobile phone keypads is annoying and time-consuming. When you do eventually find a website, often it won't display properly - or at all. Many websites which claim to be mobile ready just aren't, and many that do work are American and won't work without a zip code... all in all it's not been much fun. Until now!

Zabidoo for mobile is a revolution in access to the mobile web. We've found and compiled a clickable directory of mobile websites so you can get useful information and entertainment in an instant - whenever and wherever you need it.

Zabidoo helps you transform your phone into a comprehensive news service; a mobile navigation device; a mobile desktop with access to email, audio books, music, radio stations, video clips and TV; a mobile reference library and phone book; a mobile price checker; a translation tool; a currency converter... and much more.

Among Zabidoo's top mobile sites are maps and directions, traffic updates, news, weather, chat, sports results and links to mobile versions of all your favourite desktop websites – like Amazon, You Tube, Facebook and Ebay.

Search One, Search All

Zabidoo not only lets you choose your favourite search engine (Google, Yahoo, MSN) but also allows you to search an extra five search engines with one click, offering you a far greater variety of results.

Stay In Touch At The Click Of A Button

Get the latest live feeds around the clock from news to gossip, sport to weather. With Zabidoo you can choose from over fifty of the best feeds available, constantly updated.

Simple as ABC

Zabidoo's predictive A-Z search means no more messing around with long web addresses. Type in three little letters and Zabidoo will reveal the site you're after.

Save Time, Save Money

Zabidoo has been developed with performance and cost saving in mind. Why bother trawling page after page trying to find what you're looking for when Zabidoo for mobile will take you straight there, saving you time and money?

Take Your Favourites With You

Zabidoo for mobile links with Zabidoo for PC. With one click your PC favourites will synchronise to your mobile making your web truly portable.

Zabidoo for mobile really is your one stop shop for the best of the web.

To download Zabidoo now visit www.zabidoo.com/getit/MPR103

Zabidoo - it just clicks.

This press release was distributed by ResponseSource Press Release Wire on behalf of Instant Access Technologies in the following categories: Consumer Technology, Personal Finance, Business & Finance, Computing & Telecoms, for more information visit https://pressreleasewire.responsesource.com/about.