Solo exhibition of Bruce Yardley's recent paintings hosted by The Catto Gallery from 8th until 26th June, 2008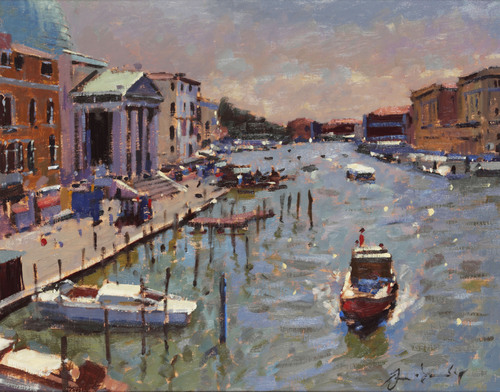 The Catto Gallery is hosting their sixth solo exhibition of recent oil paintings by Bruce Yardley, from 8th until 26th June, 2008. The exhibition will feature recent views from New York, Venice and London viewed from the water, together with his home town of Bath. It is in these works that Yardley's brisk brushwork and mastery of shadow captures the atmosphere of each of these cities.

Impressionism is certainly the benchmark for Bruce Yardley's work and he follows the great tradition of the New English Art Club and such artists as Ken Howard and Bernard Dunstan. "Light and composition are the forces that make me paint", comments Bruce. The strength and beauty of any picture of note is the emphasis on the vertical and horizontal, and the structure of the work. Yardley expertly combines these key essential elements with a superb handling of light to create spatial illusion and a genuine sense of perspective perhaps inspired by the work of British Impressionist La Thangue.

His works capture the effects of light be they brilliant or subdued, with figures featuring prominently, either in the composition or as a focus. Following recent trips to France, Italy and the States, Yardley has in his recent works moved away from his favoured studies of figures and interior still-life studies. He now focuses on cityscapes, as can be seen in his nocturnes of the Thames with Tower Bridge and the Houses of Parliament on the horizon and street scenes. Also in his street scenes, where Yardley gets under the skin of a city, be it the long shadows on 'Cannaregio Fondamenta Della Sensa', in Venice, hurrying pedestrians in a wet New York on 'East 48th Street', or the casual observation of 'Christmas Decorations in Great Pulteney Street' in Bath. Each work draws the viewer into them.

Although figures are still an important part of the composition of Yardley's paintings, be they highlighting the bustle of 'Fifth Avenue', or the contemplative air 'In the Pump Room, Bath'. And in 'Caroline, Turquoise and Gold' the figure is once again the focus of the painting offering the viewer, an intimate moment with the subject.

'To successfully capture the effects of light and mood requires perception supported, of course, by the ability to handle paint in a certain way. For Bruce Yardley, each painting is the result of a three-stage process, in which tone and texture are vital considerations. At all stages of the painting he is careful not to overstate anything. With this approach - its sensitive use of colour and tone, and its lively brushwork technique, like all good painters, Bruce leaves something to the viewer's imagination.' – Robin Capon, (Journalist for 'The Artist', which feature Bruce Yardley this month.)

Mrs Gillian Catto, owner and curator of The Catto Gallery, comments, 'We are thrilled to welcome Bruce Yardley back to the gallery, and showcase his recent works for our collectors. Bruce's handling of light and shadow immediately transports the viewer to the Grand Canal or offers them a 'snapshot' of the daily life of one of his favourite cities.'

For further information, images and a catalogue of the forthcoming Bruce Yardley exhibition, contact The Catto Gallery, 100 Heath Street, Hampstead.

www.catto.co.uk

For further information:

Mrs Gillian Catto
The Catto Gallery
100 Heath Street
London NW3 1DP Tel: 020 7435 6660
Fax: 020 7431 5620
E:art@catto.co.uk
W: www.catto.co.uk

Media Enquiries:

Russell Elliott
Cassleton Elliott & Co. Ltd.
Tel: 020 3178 2336
Fax: 020 3178 2338
E: info@cassletonelliott.com

Notes to Editors:

Bruce Yardley is the son of painter John Yardley, born in 1962. Although he began painting as a boy, he only started painting full-time from 1990. Bruce is the son of the painter John Yardley, is married, and lives in Reigate, Surrey. Bruce produced his first oil paintings as a schoolboy in the 1970s. He trained as an historian at the universities of Bristol and Oxford, gaining his decorate in the late 1980's, before joining the wine trade, first in retail, then as a freelance writer. He has painted full-time since 1996, and his work has quickly become sought after in England and the United States. 'His strengths lie in confident brushwork, subtle colouring, firmly differentiated tones and convincing compositions. But perhaps where he succeeds most of all is in the ability to offer a teasingly restrained quality that suggests or evokes rather than painstakingly describes'. (Oliver Lange, 'Masterclass', The Artist, April 1999.)

Working in oil Bruce has evolved a brisk painterly style that captures movement and atmosphere. His pure impressionism is evident from his brush marks and his subjects: Boudoir studies of the model, still lifes and interiors. However it is the overriding subject of light that influences his choice of subject often travelling to France and Italy for inspiration.

The Catto Gallery

The Catto Gallery is one of London's leading contemporary fine art galleries. Since founding the Gallery in 1986, Gillian Catto has built up a reputation for excellence and has created a friendly and warm environment for collectors throughout the world. The Catto Gallery represents over 50 internationally acclaimed artists all of whom can be seen on this web site. 12 exhibitions are held a year; the catalogues for these exhibitions can also be viewed on this web site.

Gallery opening hours:
Monday to Saturday 10.00am to 6.00pm, Sunday 2.30pm to 6.00pm.

Parking is available on the Gallery's forecourt and pay and display nearby.

This press release was distributed by ResponseSource Press Release Wire on behalf of Cassleton Elliott in the following categories: Men's Interest, Entertainment & Arts, Home & Garden, Women's Interest & Beauty, for more information visit https://pressreleasewire.responsesource.com/about.