Paws for thought for our furry friends – tips for moving house with your pets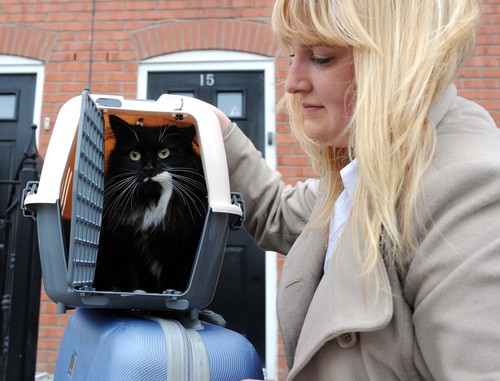 Moving house is one of the most stressful things a person can do, but spare a thought for our furry friends. Pets are very sensitive to changes in surroundings and need special care to make sure that moving home is less stressful. As a result Countryside Properties, www.countryside-properties.com, has put together a pet owners survival guide for buyers looking to move to its developments to make sure everyone feels right at home.

According to a recent survey from Battersea Dogs and Cats Homes*, a quarter of pet owners are unsure what to do with their pets during the move. Half of all the people surveyed believed that there was not enough information and advice for pet owners when it came to moving house, so here are some handy general hints to ensure that things run smoothly for homebuyers and their animals.

1. Dogs adapt quicker than cats to their new surroundings but both can still be very excitable. Keeping pets out of the way during the move with a friend or relative can often be for the best as the sight of its owner packing can be very worrying. If this is not possible, keep them close by in a quiet room, preferably with their bed and a few toys.

2. Many pets do not travel well, so it's a good idea to get them used to it prior to the move by taking them on short journeys in the car. Also help to reduce the chances of car sickness by not feeding your pet for 12 hours before the move.

3. Every year many animals are lost when their owners move house, so all identification tags will need to have your new address and phone numbers on. Collars should be kept on at all times just in case they get lost and try to return back to your old house.

4. When arriving at the new house, wait until everything is indoors before bringing your pet in. The idea is to keep everything looking as normal as possible.

5. The sight of familiar things, such as toys, baskets or a favourite rug, can be very comforting to animals on arrival in their new home, but your pet will still take time to adjust and will need plenty of attention as a result.

6. Cats have a habit of wandering off, so a travel basket could be the ideal solution. Your movers may be able to hire or lend you one. Try and have your cat inside the basket before the removal men arrive.

7. Smaller animals are much easier to transport, but still need to be well prepared for the move. Caged birds will normally travel quite well and will be happy with you in the car, but the journey needs to be short and they need food, water and ventilation.

8. Fish should be taken out of their tank and put into a proper container designed for their transport. These are available from any good pet shop. The fish tank should then be emptied, dried and protected with polystyrene packing for the journey.

9. Small animals like guinea pigs, hamsters and rabbits are best transported in well ventilated "chew-proof" containers made of metal or rigid plastic. Give them plenty of bedding, a little food, and water throughout.

10. If your move is set to take you overseas find a reputable professional moving company for specialist advice.

Andrew Robertson, Regional Sales Director at Countryside Properties, said: "Given that last year more than 1,800,000 house moves took place, and almost half those moves involved pets, at least 225,000 pets are likely to have suffered undue stress.

"Like humans, pets have very different personalities so all animals will react differently to a change in surroundings. It is important that moving house goes as smoothly as possible for all the family, including our pets."

More information about homes from Countryside Properties is available by visiting www.countryside-properties.com

Ends

* Source: The survey was carried out by Tickbox.net on behalf of Battersea Dogs & Cats Home, with 1,138 participants.

Editor's notes:

Countryside Properties PLC is a leader in property development, the creation of sustainable communities and urban regeneration. Our vision is to create places for people where they can enjoy a good quality of life.

The Group is widely recognised as a responsible developer which is totally committed to sustainable development and design excellence. Indeed, we hold more CABE Building for Life Standards than any other private developer. Our principal areas of operation are in London and the Thames Gateway, the South East, East and North West of England.

The Company, which was incorporated in 1958, is owned jointly by the Cherry family and Bank of Scotland. Countryside Properties has an annual turnover in excess of £500m, employs some 830 people and 93% of our residential development is on brownfield and recycled urban land.

For further information visit www.countryside-properties.com and www.countryside-properties-corporate.com

For further information contact Jeremy Dodd or Lucy Matthews on 01344 894500. Issued on behalf of Countryside Properties plc by RLS Public Relations Limited (credit to Impact Media PR).

This news release (and illustration) is issued in accordance with clause 1.2j of the British Codes of Advertising and Sales Promotion and therefore cannot be subject to a transaction of any kind.

This press release was distributed by ResponseSource Press Release Wire on behalf of RLS Public Relations in the following categories: Home & Garden, Construction & Property, for more information visit https://pressreleasewire.responsesource.com/about.