Arriva launches free Wi-Fi service on trains across Denmark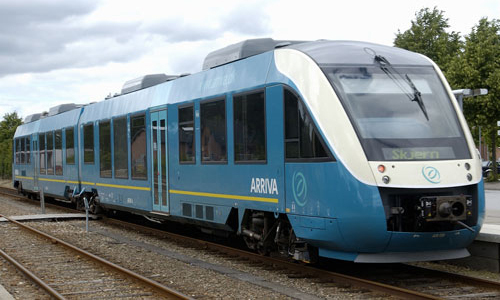 Sittingbourne, UK May 26th 2008 -- Moovera Networks, a leading developer of fixed and mobile wireless communications systems, today announced that Arriva Scandinavia A/S has selected the award-winning Moovbox M Series Mobile Broadband Gateway to deliver Internet connectivity on trains running across Denmark. Arriva has equipped an initial twenty-nine trains serving commuters traveling between Aarhus, Thisted and Tønder in Jutland, and will provide free Wi-Fi hotspot services to passengers. Arriva will also utilize the Moovbox for GPS-based automatic vehicle location (AVL) to keep track of the train fleet via Moovera's MoovManage centralized monitoring system. Arriva is the top performing rail operator in Denmark, carrying more than 7 million passengers each year with 97% reliability.

"We are continually seeking new ways to improve the quality of rail travel in Denmark," said Johnny Hansen, Managing Director of Arriva Scandinavia. "We believe that the introduction of broadband services on our trains in Jutland today will enhance the passenger experience and provide a useful and productive way for our customers to spend their journey time."

The Moovbox M Series delivers Wi-Fi Internet access on the Arriva fleet of Alstom Cordia Lint trains at speeds up to 7.2 Mbps by creating a bridge between the train and a next-generation 3G HSPA (High Speed Packet Access) cellular broadband network from 3 (www.3.dk). The Moovbox offers Ethernet connectivity for in-train systems such as CCTV and telematics data, and includes built-in GPS for real-time fleet tracking. The cost of the deployment will be partially underwritten by advertising on the Wi-Fi hotspot landing page that users see when they access the Internet service.

"This is a landmark deployment for Moovera as it is our first major installation with a national rail network operator," said Jim Baker, Moovera CEO and founder. "We have an established reputation as a leading provider of Internet access systems on buses, coaches and ferries so it was only a matter of time before we encompassed trains as well. Many of our large transportation customers who use the Moovbox mobile broadband gateway on their bus fleets also own train operations, so it is a natural progression for them to use tried and tested Moovbox technology to deliver Wi-Fi services to rail passengers." Passenger Internet access on public transit is the fastest growing venue type for Wi-Fi hotspots worldwide, with 238% growth in the number of online sessions between H2 2006 and H2 2007. Europe was the fastest growing market with 142% growth during the same period (source: iPass, March 2008).

Arriva Scandinavia awarded the contract for in-train broadband to Network Zone Relations (NZR), Moovera's representative in the region and a specialist in wireless communication systems. "Arriva's roll-out of Wi-Fi for rail passengers is a clear indication of the importance broadband access has in today's train industry," said Louis Preben Nezer, CEO of NZR. "Our winning proposal included free Wi-Fi hotspots supported by revenue-generating advertising; looking to the future, trains with broadband connections will also be able to serve streaming media and other forms of passenger information and entertainment material. The Moovbox is the gateway for this type of dynamic content and we look forward to working with Moovera on similar projects throughout Scandinavia and the EU."

The Moovbox mobile gateway is a ruggedized Wi-Fi access point and cellular router, offering multiple wide area network (WAN) radios for automatic failover between carriers, and featuring built-in GPS for real-time positioning. Moovbox products also offer secure Ethernet for IP-CCTV, DVR and telematics equipment with remote in-bound access for device control, and supports plug-and-play upgradability to future technologies such as WiMAX and LTE. The multi-user MoovManage service provides real-time device tracking, schedule adherence monitoring, remote device configuration, and Wi-Fi portal and usage statistics. The Moovbox M Series was judged 'Best Wi-Fi Product' in the Wireless Broadband Innovations Awards 2008.

For more information contact:

Dave Palmer
Moovera Networks
Tel: +44 (0)870 446 0461
Email: dave.palmer@moovera.com

Jan Wildau
Arriva Scandinavia
Tel: +45 2120 5299
Email: jan.wildau@arriva.dk

About Moovera Networks

Based in the United Kingdom, Moovera Networks is an award-winning manufacturer of industrial-grade fixed, mobile and portable wireless products that bridge Wi-Fi access with carrier-class networks including 3G UMTS/HSPA, WiMAX, TD-CDMA, HC-SDMA and FLASH-OFDM. Applications include commercial hotspots, city-wide municipal and in-vehicle wireless, public safety, construction, events, and secure corporate communications. Customers include national telcos and mobile carriers, local government and public safety authorities, ISPs, systems integrators and transport operators around the world. For more information visit http://www.moovera.com.

About Arriva plc

Arriva plc is one of the leading transport services organizations in Europe, operating a fleet of over 13,000 vehicles, employing over 37,000 people and providing more than one billion passenger journeys each year. Arriva has operations in Denmark, Germany, Italy, the Netherlands, Portugal, Spain, Sweden, Poland, the Czech Republic and the United Kingdom.

For more information visit http://www.arriva.co.uk and http://www.arriva.dk (in Danish).

About Network Zone Relations

Network Zone Relations (NZR) is specialized in creating complete high tech solutions – mobile and fixed – and public relations driven financing of onboard WiFi, voice announcement, entertainment, remote controlled CCTV and 'blackbox' solutions. NZR supplies equipment and services to both public and private sector customers. Distribution, sales and integration are keywords in our Business to Business strategy throughout the EU.

For more information visit http://www.nzr.dk (in Danish) or contact lpn@nzr.dk.
This press release was distributed by ResponseSource Press Release Wire on behalf of Icomera UK Ltd in the following categories: Entertainment & Arts, Consumer Technology, Travel, Media & Marketing, Manufacturing, Engineering & Energy, Computing & Telecoms, Transport & Logistics, for more information visit https://pressreleasewire.responsesource.com/about.