Pollution sends men bald….. Could Nourkrin MAN be the answer?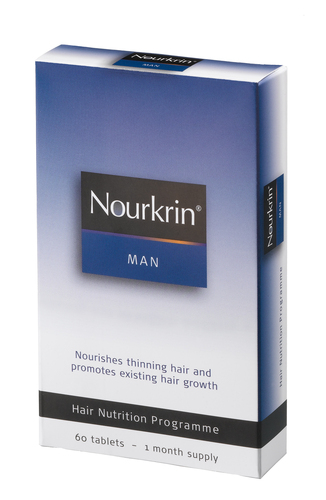 Men living in polluted areas are more likely to go bald than those breathing cleaner air, a new study suggested recently.

The ground breaking research (reported in the Daily Telegraph ) was conducted by academics at the University of London, and has linked the onset of male pattern baldness, to environmental factors, such as air pollution and smoking.

The scientists believe toxins and carcinogens found in polluted air can stop hair growing by blocking mechanisms that produce the protein from which hair is made. Baldness is known to be hereditary, but the new research suggests that environmental factors could exacerbate hair loss.

Nourkrin MAN is a food supplement specifically developed to help the prevention of thinning hair in men. It has the same ingredients as the phenomenally successful Nourkrin Extra Strength (deep sea marine protein blended with an organic, soluble silica and vitamin C), to make a unique hair nutrition programme but with the inclusion of Fenugreek and Omega 3. Fenugreek is a natural herb which is proven' to reduce Dihydrotestosterone (DHT) inhibitors and increase the dilation of blood vessels to the scalp, which means there is an improved blood circulation and nutrient supply therefore keeping the hair follicles healthy and full of nutrients.

For faster and more effective results the supplement can be used in conjunction with Nourkrin scalp lotion, Nourkrin shampoo and Nourkrin conditioner. These nourish the scalp and remove any dead skin cells to create a healthy environment for hair recovery.

Nourkrin works in 'four stages',

1. In the first two months it slows and reduces hair loss.
2. During months two and three it strengthens and promotes growth of existing hair.
3. In months three and four it promotes the growth of dormant hair, which is thin and wispy.
4. In the final two months these hairs become stronger, healthier and more vibrant.

Justin Edinburgh, former Tottenham Hotspurs player comments on how he felt when his hair started thinning. "Footballers hairstyles are often commented on and even though I don't play any more I'm still heavily involved in other aspects of the game. As a football personality/TV presenter and co-owner of a successful hairdressing salon I know the importance of a full head of hair and wanted to do something about it before it got out of hand"

Since using Nourkrin MAN I feel much more confident that I'll keep my hair and have found that the texture feels thicker and softer than before"
.
Hair loss can begin as early as the teens, and by the age of 35, almost 40 percent of men and women show some degree of hair loss.
Nourkrin MAN is available from Boots, Holland & Barrett, Superdrug, Lloyds Pharmacy, Alliance Pharmacy and independent pharmacies and health stores, or www.nourkrin.com The RRP for one months supply is £49.95.

~ ends ~

Issue on behalf of: Direct Beauty Products
By: Partners in PR
Date: June 2008
For further info: jackie@partnersinpr.co.uk 01409 281749

This press release was distributed by ResponseSource Press Release Wire on behalf of Partners in PR Ltd in the following categories: Men's Interest, Health, Women's Interest & Beauty, for more information visit https://pressreleasewire.responsesource.com/about.