HardiePlank™ siding helps save the day during Ashford fire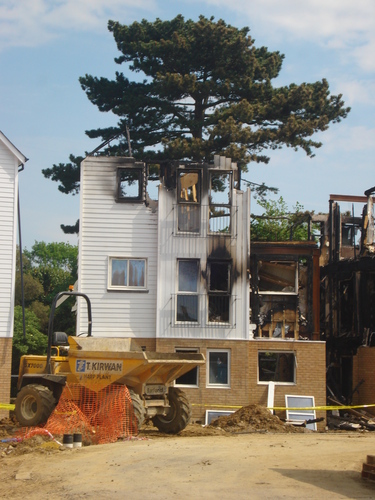 HardiePlank™ fibre cement siding has been credited with preventing the spread of fire at a development in Ashford, Kent, after an arson attack destroyed an apartment building at the scheme.

According to site manager, Nick Lane, the intense fire was only prevented from reaching other homes due to the use of James Hardie's HardiePlank™ siding, which limited the spread of flames to neighbouring buildings.

Vandals broke into the development on the evening of Saturday 10th of May and set a fire in the stairwell of a six-apartment building. The stairwell, which was still under construction, acted as a chimney, with flames spreading quickly to the roof. This eventually collapsed into the rest of the building.

Amazingly, despite the intense heat, the building's HardiePlank™ siding was relatively untouched apart from where it had scorched from direct contact with flames.

Commenting on the fire, Nick Lane, said, "I definitely think that the fire would have spread to other buildings on the development if it hadn't been relatively contained by HardiePlank™ siding. The flames were extremely intense and we eventually had 40 fire fighters working to control the blaze. When we came back the next day we were amazed how well HardiePlank™ siding had stood up to the flames. Apart from some scorching around the windows and doors it looked as good as new."

Nick added, "We have since been visited by the Fire Service's Crime Scene Investigator and he was also impressed with the performance of HardiePlank™ siding and even took away some samples to test. I'm certainly thankful that no one was hurt in this incident and that we only have to rebuild one block and not the entire development!"

James Hardie's HardiePlank™ siding and façade solution is certified in the UK under the BS EN 13501-1 classification. Under this classification the product received an A2 rating when tested. This means that it is non-combustible and does not significantly add to fire load and growth.

Since their introduction James Hardie® fibre cement products have been credited with saving many homes and have proved to be more resilient in real world fire situations than many other siding solutions, with firefighters reporting that they have barely been singed in even the hottest of blazes.

For more information about James Hardie please visit www.jameshardie.co.uk

-Ends-

For further press information:

Contact Niall Dologhan at kestrel Communications on 020 8789 2587 or at n.dologhan@kestrelcomms.co.uk

For more information about the fire resistant qualities of James Hardie products please visit www.jameshardie.com/homeowner/fire_prevention.shtml

James Hardie Company Backgrounder

About James Hardie
James Hardie is the world leader in fibre cement building products with a history stretching back over 100 years.

The company employs more than 3,000 people, has a turnover in excess of €1 billion and manufacturing operations in the United States, Australia, New Zealand and the Philippines.

James Hardie Europe was established in 2002 and is focused on becoming the European market leader in fibre cement products by 2010. Its main markets include the UK, France, Netherlands and Scandinavia.

The company prides itself on its innovative range of products including:

· HardieBacker™ Cement Board – This versatile, cement based, water resistant substrate provides the perfect backing for tiling on walls, floors and countertops. HardieBacker™ Cement Board offers superior protection against problems such as disintegration, tile slippage and mould.

· James Hardie® Siding Façade Solutions – James Hardie's range of siding façade solutions includes both HardiePlank™ and HardiePanel™ siding. These hardwearing, yet easy to install products are available in a range of colours and textures. They provide architects and builders with the freedom and flexibility to come up with more creative and distinctive façade options. These durable products complement a range of other building materials but also work equally well as the main material in a traditional full siding design.

All James Hardie® products enjoy a 10-year limited warranty. They are designed to stand up to the toughest conditions including extreme weather, fire and insect damage, as well as being water resistant. All products are pre-painted with no need for onsite painting. They are also low-maintenance and can be refreshed with soap and water.

James Hardie prides itself on its commitment to protecting the environment and has made great efforts to improve its environmental practices. The company works closely with all of its industry partners to ensure efficient waste management, to reduce energy consumption and to improve onsite environmental practices.

For more information about James Hardie Europe and its products please visit the UK website at www.jameshardie.co.uk.

© 05/2008 James Hardie International Finance B.V. All rights reserved. ™ and ® denote trademarks or registered trademarks of James Hardie International Finance B.V.

This press release was distributed by ResponseSource Press Release Wire on behalf of Kestrel Worldcom in the following categories: Construction & Property, for more information visit https://pressreleasewire.responsesource.com/about.