Make sustainable business top of your agenda with PC Power Down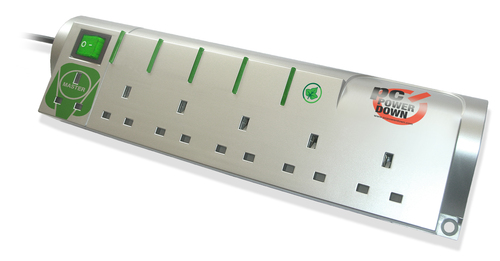 New energy saving device for PCs cuts energy costs and reduces carbon emissions

With businesses producing around 40% of the UK's carbon emissions there is increasing pressure from government, customers, partners and suppliers for organisations to operate in an environmentally responsible way. Cutting energy costs and achieving efficiencies has also emerged as a priority in the boardroom.

PC Power Down automatically powers down PCs and peripherals (monitors, printers, routers etc) at a time scheduled by an administrator and can reactivate them shortly before the start of the working day. By using PC Power Down you could save £175 per computer and cut emissions by 0.75 of a tonne of carbon dioxide.*

According to Gartner, ICT accounts for approximately 2% of global emissions, with PCs and monitors accounting for 39% of this total, roughly equivalent to the carbon footprint of the airline industry. PC Power Down works by bringing together a software application which schedules the computer to power down and a surge protected smart power block which senses the PC has shut down and cuts power to the peripherals such as monitors, speakers, routers etc. It is the only product available that combines software and hardware to ensure PCs use next to no electricity, cutting bills and reducing levels of harmful carbon dioxide emissions associated with generating electricity.

As well as saving money on electricity and associated carbon emissions it also saves valuable time in the morning as the user just needs to log in and their workstation is returned to the same state it was in when shut down, with applications and files open and ready. Different schedules can be applied to different, groups, departments or even individual computers. Likewise, the network administrator can schedule 'open windows' to perform planned maintenance and other tasks.

PC Power Down Network is available for £45 per workstation (including the server software and one year's licence, licence renewal is £20 per workstation), telephone 0808 137 1010 to discuss your network needs.

David 'Doc' Watson, Marketing Director of Ivy Energy Saving, commented: "Regardless of organisation size or industry the motivation for energy efficiency has never been greater. Any business that is serious about sustainable growth and profiting in a low carbon economy needs to address the financial and environmental impact of leaving IT equipment on unnecessarily. PC Power Down makes it very easy to radically cut energy costs and reduce your carbon footprint, a must in today's climate."

For domestic use there is also PC Powerdown Home Edition which works in a similar way but is for individual machines. It is available for £29.95 (including one year's licence, licence renewal is £10 per annum) from www.pcpowerdown.com. Providing PC Powerdown to your staff and/or customers can show a serious environmental commitment as part of a wider CSR programme.

-Ends-

For further information or images please contact: Zoe Porteous or Juliette Fleming at Boutique Communications on 01273 699500.

Alternatively, email pcpowerdown@boutiquecommunications.com.

Notes to Editors:

*Above figures based on: 300W (average computer & peripherals) x 24 x 365 = 2,628 kWh per annum, at 9.5p per kWh = £249.66. If a PC (& peripherals) is only on an average of 55 hours per week this total is reduced by around £175.

PC Power Down is a joint venture between Ivy Energy Saving and Qubic.

About Ivy Energy Saving

Ivy Energy Saving was set up in 2006 to bring a series of energy saving products to market in the UK. Ivy Energy Saving products consist of both specifically designed energy saving devices such as PC Power Down and energy efficient versions of existing products.

Ivy Energy Saving has worked closely with recognised accreditation body the Energy Savings Trust to guarantee the high quality and efficiency of all its energy saving products.

Ivy Energy Saving products are available to buy through a combination of recognised retailers and online organisations as well as direct through its own web sites www.pcpowerdown.com and www.standbybuster.com.

For more information on Ivy Energy Saving, please visit www.ivyenergysaving.com


About Qubic

Qubic developed the software for PC Power Down and is a Microsoft Certified Partner. The business was conceived in 1994, uniquely as a voice and data systems integrator delivering the benefits of converged communications to commercial organisations and public sector clients. Always at the forefront of technological innovation, Qubic, for example, delivered its first IP telephony solution in 1994.

Qubic holds a range of accreditation from industry bodies including; ISO 9001 and BS7799 as well as serving as council members with the IT Security Council. All projects are managed to meet customer's expectations, deliver on time and within budget by following to the OGC (Office of Government Commerce) approved PRINCE 2 project management method.

For more information on Qubic, please visit www.qubic.uk.com.



This press release was distributed by ResponseSource Press Release Wire on behalf of Boutique Communicatons in the following categories: Consumer Technology, Business & Finance, Computing & Telecoms, for more information visit https://pressreleasewire.responsesource.com/about.