City Interactive Launches Beauty Factory - a great fun pc game for girls!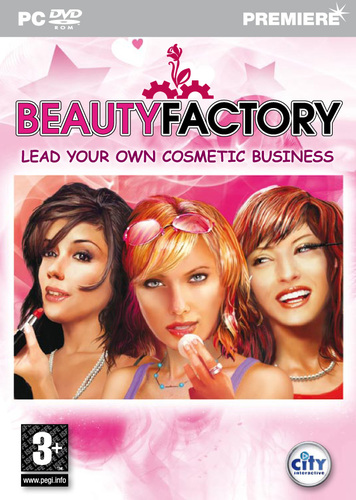 City Interactive Launches Beauty Factory, a great new pc game for girls - Take up the challenge and find out if you have what it takes to create and run your own cosmetics empire!

Title: Beauty Factory
Publisher City Interactive
Format: PC CDROM
Genre: Strategy
Brand: Premiere Silver
Price: £4.99
Age Rating: 3+
Available: 13 June 2008
Web: www.beautyfactorygame.com

Beauty Factory, a fun strategy game, just perfect for glamorous girls, launches from City Interactive's Premiere Silver range of brand new games priced at just £4.99. Become the CEO of a beauty products company and find out how to research and develop ingredients for cosmetics and scent composition for perfumes. Once in production, players will need to look at packaging and design, product positioning and promotion, and launch award winning marketing campaigns to grow the business. With the help of a user-friendly tutorial and intuitive game play what more could a girl want than a Beauty Factory of her own?

Take your brand to the fashion stratosphere by carefully managing every department of the business to ensure you reach and then stay at the top. Keep a watchful eye on your rivals and stay one step ahead of the game by continually striving for success. For girls who know their perfume and make up, it won't be long before you reach the top!

Gameplay highlights & features:

Players start by selecting their appearance, gender and name of their business.

Play starts in the research room where products are developed; players will also have to manage production, marketing and office management efficiently if they are to see their business grow.

In the research room, players will have to select components to develop products that satisfy fashion trends and the ever fickle likes and dislikes of their female customers.

There are six different kinds of beauty products available in the game with three different parameters for each. By changing the parameters, you change the ingredients. Players can select from three levels of hints available to help you choose the perfect composition for each product.

Test your products to see how they are liked before putting them into production. The closer your result comes to a 100, the closer your composition is to perfection.

As business start growing and sales start rolling in, players can upgrade their facilities by investing in state of the art technology, production lines and leading edge marketing strategies. From basic internet marketing at the start of your business development to being able to afford investments in prime time TV advertising, your brand is set to grow and grow, but it's up to you how fast you make it to the top!

User-friendly tutorial and intuitive gameplay will make your job as the CEO of the company much easier

Beauty Factory is just one of six brand new PC games launched this month by City Interactive, one of Poland's largest games developers and international multi-format publishers. The new releases are from the Silver Premiere collection priced just £4.99 and follow hot on the heels of the first three Gold Premiere titles launched in May which marked City Interactive's long awaited UK arrival.

- ends -

Press Contact:

Beauty Factory screenshots, wallpaper and trailer available to download from www.beautyfactorygame.com

I am happy to discuss promotions & competitions please contact as follows:

Diane Davidson
The PR Exchange
Telephone: 0208 781 0658 / Mobile: 07931 374001
diane@theprexchange.co.uk

About City Interactive S.A.

City Interactive (CI) is an international multi-platform publisher and one of Poland's largest game developers offering high quality video games of the most popular genres including shooters, action, adventure, flight simulators, strategy, puzzle. In addition, CI offers games for specialist interest and female-specific audiences.

CI was formed in 2002 as a result of a merger between a publishing house and two game development studios. With a long term development strategy in place for successful international expansion, the company changed its legal status from Limited Liability Company to Joint Stock Company in November 2007 when it debuted on the Warsaw Stock Exchange.

CI aims to offer affordable games for casual and specialist interest gamers with a range of titles for the PC, Handhelds and Next-Gen consoles. Since the company was founded in 2002, CI games are now available across four continents in over 40 countries including the world's biggest game markets of Germany, Russia, France, Italy, Australia and China. In addition, 2008 sees the company roll out its range in the UK and US.

www.city-interactive.com


This press release was distributed by ResponseSource Press Release Wire on behalf of PR Exchange in the following categories: Children & Teenagers, Leisure & Hobbies, Women's Interest & Beauty, for more information visit https://pressreleasewire.responsesource.com/about.