The Race To Commercially Produce The First Car That Runs on Ordinary Tap Water Hots Up!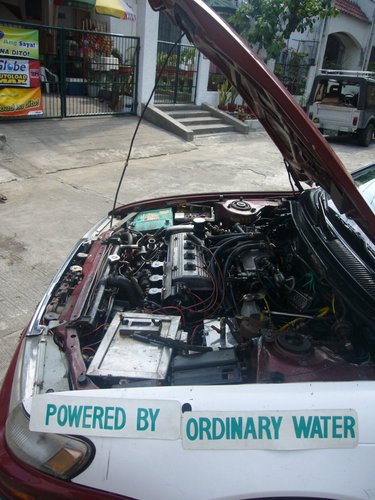 TÄGERWILEN Switzerland, June 13, 2008 --/WORLD-WIRE/

The Race To Commercially Produce The First Car That Runs on Ordinary Tap Water Hots Up!

Ethos, the Swiss Based Company, looks as though they have come up against some very stiff competition now from the Japanese in the race against time to commercially produce the world's first water powered car.

They are working very closely in conjunction with Daniel Dingle, who was one of the first people in the world to convert his car to run on ordinary tap water way back in 1968. They have set up a new foundation to help bring these products to the world whilst helping Daniel to raise money to help his fellow Filipino people:

www.dinglefoundation.com

But the competition are now hot on their heals.

SOURCE ROUTERS: Jun. 13 - Japanese company Genepax presents its eco-friendly car that runs on nothing but water.

The car has an energy generator that extracts hydrogen from water that is poured into the car's tank. The generator then releases electrons that produce electric power to run the car. Genepax, the company that invented the technology, aims to collaborate with Japanese manufacturers to mass produce it.

SOUNDBITE: Kiyoshi Hirasawa, CEO, Genepax.

Michelle Carlile-Alkhouri reports.

http://www.reuters.com/news/video?videoId=84561&videoChannel...

So the battle continues in this race against time and it will be very interesting now to see who wins this incredible race.

The Ethos Research and Development Department, headed by Professor Steven Gallant, have many interesting new products that they are working on, including their latest Supplemental Hydrogen Products that are simply fitted to any petrol or diesel vehicle to greatly reduce their fuel consumption and also their harmful emissions:

www.ethosfreeenergy.com

The Ethos Group have also recently opened up a Private Share Offer on the 1st June 2008 and have set up a new Stock Exchange website to buy and sell the Ethos Shares. When asked for his comments, Ethos CEO Peter Aldred said, "We feel that this is an excellent way to both help the Company expand and grow even faster whilst allowing our members to profit from the success of the Company as it expands and grows. This has been confirmed by the incredible response that we have seen already from our 8,000 members and the shares have risen by 27% in the first 14 days yielding very Healthy Profits indeed for all of their shareholders. The plans we have for the coming months ahead are very exciting and we are preparing hard for the unprecedented growth we see before us. This really is a win-win-win situation for everyone. There will never be a better time than now to get involved with Ethos..."

www.ethosexchange.com

For more information visit their new Corporate website for the group that links all their different affiliate sites together in one common place:

www.ethoseu.com

Ethos World GmbH Schweiz
Hauptstr. 46
CH-8274 T rwilen
Switzerland
Web: www.ethosworld.eu
E-mail: sales@ethosworld.eu

Swiss Tel: +41 71 669 1440
UK Tel: 0808 234 8664 (Free Phone)
USA Tel: 800 247 1656 (Toll Free Forwarding to Switzerland - SIX HOURS in front of EST)
This press release was distributed by ResponseSource Press Release Wire on behalf of Ethos GmbH Schweiz in the following categories: Men's Interest, Health, Environment & Nature, Consumer Technology, Motoring, Personal Finance, Business & Finance, Education & Human Resources, Public Sector, Third Sector & Legal, Manufacturing, Engineering & Energy, Transport & Logistics, Construction & Property, for more information visit https://pressreleasewire.responsesource.com/about.