NOURKRIN - TV CAMPAIGN RAISES SALES AND HAIR!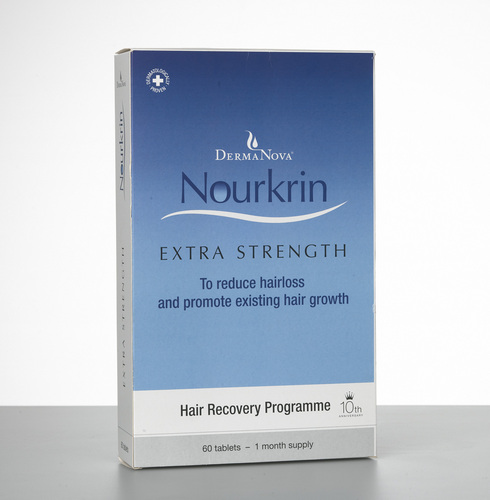 Leading hair loss brand Nourkrin has seen significant sales increase from its recent TV campaign with two major high street retailers reporting a 3 fold increase in sales during the period in which the commercial was running.

With the hair loss market currently worth hundreds of millions and over 20% of women expected to suffer from some form of hairloss in their lives, Nourkrin Extra Strength and Nourkrin Man are essential products for retail outlets and it's no wonder that there has been an upsurge in sales.

The advertisement, featuring the iconic Britt Ekland, hit TV screens on 19th May. Britt has suffered from thinning hair for the past 20 years and since turning to Nourkrin hasn't looked back. Sales rocketed almost immediately following the first screening and it seems that the ad, shown on channels ITV3, UKTV Style, More4, Living, Five and more, has reached an audience who are ready to replenish their hair - not pull it out!

Nourkrin is a brand from Pharma Medico International, a triple AAA Dun & Bradstreet rated company. Pharma Medico is considered one of the leading groups in Denmark within the industry and is highly regarded for its ethical and social responsibility.

Simon Gook MD of Direct Beauty Products the UK distributor said, "We are delighted with the success of Nourkrin. We know that hair loss for both women and men is a big concern. We also know that we have a fabulous product in Nourkrin that actually works! Nourkrin is clinically proven and we have thousands of happy customers who report great results after 4-6 months."

Nourkrin Extra Strength is a natural daily supplement that supplies the specific compounds needed to reduce hair loss. It strengthens and promotes hair growth. The key ingredient is a protein compound of marine extracts. This is blended with an organic, soluble silica and vitamin C, to make a unique hair nutrition programme. Nourkrin is effective for both men and women and is convenient to take. For faster and more effective results the tablets can be used in conjunction with Nourkrin scalp lotion, Nourkrin shampoo and Nourkrin conditioner. These nourish the scalp and remove any dead skin cells to create a healthy environment for hair recovery.

Nourkrin is being supported in 2008 by Britt Ekland, trichologist Dr David Kingsley, Beverly C (celebrity hairdresser) and Corinne Sweet media psychologist.

The RRP is £49.95 for one months supply.

For further information go to www.nourkrin.com or to order please contact uksales@nourkrin.com or call Direct Beauty Products on 01508 491301

~ ends ~

For further press info or to interview Dr David Kingsley, Beverly C or Corinne Sweet please contact Jackie@partnersinpr.co.uk – 01409 281749 or - juliefisherpr@homecall.co.uk – 01344 750 369

This press release was distributed by ResponseSource Press Release Wire on behalf of Partners in PR Ltd in the following categories: Health, Women's Interest & Beauty, Media & Marketing, for more information visit https://pressreleasewire.responsesource.com/about.