HardieBacker™ cement board scores a hole-in-one at Shifnal Golf Club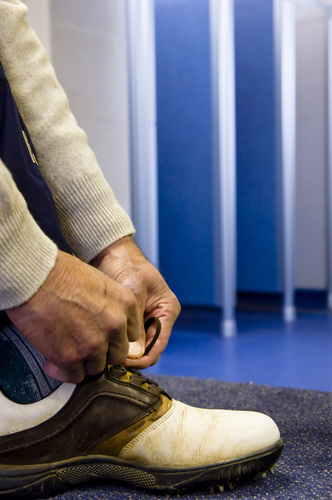 When Ace Kind Ltd was asked to refurbish and retile the shower and changing facilities at the prestigious Shifnal Golf Club, in Shropshire, they were expecting a fairly straightforward job.

However, Adrian Holt, a director of the Staffordshire based building contractor, had no idea that the original plasterboard had started to disintegrate behind the tiles.

"We only realised that there was a serious problem when we started work. Over time water had seeped through to the supporting plasterboard, which had started to decay. There was no way we would have been able to mount new tiles on the original plasterboard, even if we had wanted to," said Adrian.

When Ace Kind highlighted the problem to the Golf Club management they gave them the go ahead to replace the plasterboard, but rather than repeat the mistakes of the past Adrian proposed the use of James Hardie's HardieBacker™ cement board.

"A lot of our business comes through word of mouth and we would hate to be associated with a shoddy job, particularly given the golf club's influential clientele. That is why we proposed replacing the decayed plasterboard with HardieBacker™ as we knew that, unlike plasterboard, it has been specifically designed for tiling in wet areas."

Adrian, recalls, "I first saw HardieBacker™ on display in Carvers Builder's Merchants in Wolverhampton several years ago. One thing I noticed was that they had a glass display that featured a small sample of HardieBacker™ submerged in water. Whenever I visited the store I used to check out the display and in all that time the HardieBacker™ sample never showed any signs of breaking down. That really brought it home to me that the product was perfect for tiling in wet areas."

While HardieBacker™ cement board is slightly more expensive than more traditional options Ace Kind Ltd were determined to do a first rate job. "We really didn't want to have to go back in a few years time to make repairs which would damage our bottom line and reputation. In that respect HardieBacker™ is really good value as it's the only backing product which could give us the reassurance that we were looking for."

As this was the first time that Ace Kind Ltd had worked with HardieBacker™ cement board they were initially concerned about how it would be to use but they were pleasantly surprised.

Nick Symons of Ace Kind Ltd commented, "HardieBacker™ was easy to cut and the tiles went on really easily and stuck fast. The installation process was exactly the same as ordinary plasterboard so there were no problems there. In fact we used a specialist tiling contractor and he liked it so much that he is now specifying it on his own jobs."

Adrian concluded, "I am really pleased that we decided to use Hardiebacker™ on this job. When the benefits were explained the client was more than happy to pay the extra cost because they knew it guaranteed a quality finish. Similarly, we have the peace of mind that those tiles are mounted on a backerboard which has been specifically designed for wet areas and that it will not decay even if water does eventually seep through."

Hardiebacker™ cement board is a unique, cement based, water resistant substrate for tiling. It has a 10-year limited guarantee and has been tried and tested by millions worldwide.

To find out more about Hardiebacker™ cement board please call 0800 068 3103 or visit the James Hardie website at www.jameshardie.co.uk.

-ENDS-

For further press information:

For additional h-res photography please contact Niall Dologhan at Kestrel Communications on 020 8789 2587 or at n.dologhan@kestrelcomms.co.uk


James Hardie Company Backgrounder

About James Hardie:

James Hardie is the world leader in fibre cement building products with a history stretching back over 100 years.

The company employs more than 3,000 people, has a turnover in excess of €1 billion and manufacturing operations in the United States, Australia, New Zealand and the Philippines.

James Hardie Europe was established in 2002 and is focused on becoming the European market leader in fibre cement products by 2010. Its main markets include the UK, France, Netherlands and Scandinavia.

The company prides itself on its innovative range of products including:

· HardieBacker™ Cement Board – This versatile, cement based, water resistant substrate provides the perfect backing for tiling on walls, floors and countertops. HardieBacker™ Cement Board offers superior protection against problems such as disintegration, tile slippage and mould.

· James Hardie® Siding Façade Solutions – James Hardie's range of siding façade solutions includes both HardiePlank™ and HardiePanel™ siding. These hardwearing, yet easy to install products are available in a range of colours and textures. They provide architects and builders with the freedom and flexibility to come up with more creative and distinctive façade options. These durable products complement a range of other building materials but also work equally well as the main material in a traditional full siding design.

All James Hardie® products enjoy a 10-year limited warranty. They are designed to stand up to the toughest conditions including extreme weather, fire and insect damage, as well as being water resistant. All products are pre-painted with no need for onsite painting. They are also low-maintenance and can be refreshed with soap and water.

James Hardie prides itself on its commitment to protecting the environment and has made great efforts to improve its environmental practices. The company works closely with all of its industry partners to ensure efficient waste management, to reduce energy consumption and to improve onsite environmental practices.

For more information about James Hardie Europe and its products please visit the UK website at www.jameshardie.co.uk.

© 05/2008 James Hardie International Finance B.V. All rights reserved. ™ and ® denote trademarks or registered trademarks of James Hardie International Finance B.V.




This press release was distributed by ResponseSource Press Release Wire on behalf of Kestrel Worldcom in the following categories: Construction & Property, for more information visit https://pressreleasewire.responsesource.com/about.