Glasgow Web business short listed for UK Best Practice Challenge Internet awards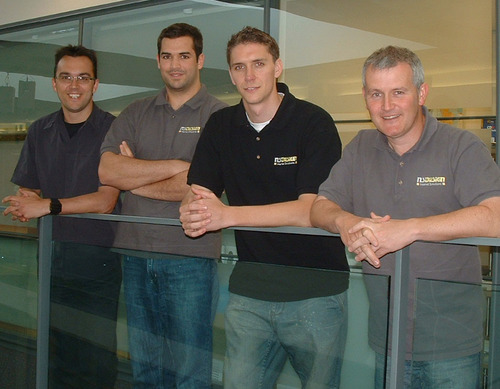 NSDesign Ltd join Symantec, Barclays and the Open University, in the race for a coveted Nominet prize.

Glasgow, 19th June 2008 - Glasgow based Business Internet Solutions company NSDesign Ltd, today confirmed it had made the shortlist for the prestigious Best Practice Challenge, a competition from Nominet that recognises British organisations, groups or individuals who have embraced the challenge of making the Internet a secure, open, accessible or diverse experience for all.

Joining a list of thirty, including industry giants such as Symantec and Barclays, NSDesign are just one of four Scottish organisations to make the 2008 shortlist for the six award categories.

Managing Director Gary Ennis says "I'm delighted that NSDesign has been recognised UK-wide for the 'Raising Industry Standards' award, confirming that our efforts in customer service, business ethics and corporate social responsibility are among the best in the industry.

We're probably the smallest organisation on the shortlist, so to be mentioned alongside such massive names on the internet is a true achievement and testament to the NSDesign team."

A twelve-strong panel of independent judges, from organisations including the Confederation of British Industry, the British Computer Society, Bebo, the Royal National Institute for the Blind and the Press Association is being chaired by Rt Hon Alun Michael MP:

"Having looked at the short list, it is clear that the UK will have a really stunning line up of best practice examples this year. Choosing winners will be even more difficult than last year. The winning entries are sure to spark lively discussions and add substance to international policy debate."

The winners will be announced at an award ceremony in London on 9th July 2008. These outstanding entries will be promoted as examples of best practice to industry, government, academia and in the media in the UK and internationally. They will also be invited to take a leading role in the UK preparatory meeting for the next Internet Governance Forum (IGF) meeting in Hyderabad and be showcased at the IGF on 3rd to 6th December as examples of the best of British in the Internet world.

All enquires should be directed to:

www.nsdesign.co.uk
Gary Ennis, Director
tel: 0141 585 6390
email: info@nsdesign.net

Note to Editors:

About NSDesign

NSDesign has been helping businesses and organisations maximise their success online since 1999, and is now based at the award winning Hillington Park Innovation Centre.

They design innovative products and services that allow their clients to do things better on the web, ranging from initial domain name registration and web hosting, to custom web development, ecommerce systems, internet marketing and training, and deliver these solutions to a range of clients from start-up companies to government bodies and universities.

They focus strongly on accessibility and usability, providing the tools to empower their users with full control over their account, backed by in-house expertise to rely upon when required. Their innovative NSBuilder System (an online website builder and content management system) www.nsbuilder.co.uk was twice shortlisted for "best product" in the Scottish Software Awards, and is now being used as part of a training course aimed at SMEs and funded by Glasgow City Council.

Indeed, while their technology is first class, it's the people behind that technology that make NSDesign different. They invest heavily in every single client relationship, and it's this personal level of service and support that makes them stand out from their competitors.

For more information, contact Gary Ennis on gary@nsdesign.net or visit the website at www.nsdesign.co.uk

About Nominet

Nominet UK is the national registry for all Internet domain names ending in .uk. Its purpose is the careful and impartial management of this central database, providing stability, security and accessibility for all users of .uk domain names. Nominet is a not-for-profit company limited by guarantee. It has members not shareholders, pays no dividends and its charges only cover its running costs. Anyone with an interest in the Internet may become a member. Nominet has over 2,800 members representing all areas of the Internet industry and is recognised as the .uk domain name registry by the Internet industry and the UK Government. It is not a governing or regulatory body, but provides a public service for the .uk namespace on behalf of the UK Internet community.

About the Internet Governance Forum

The Internet Governance Forum (IGF) was established by the United Nations to accommodate comprehensive multi–stakeholder policy dialogue in the field of Internet governance. It aims to bring together all stakeholders in the Internet governance debate each year, whether they represent states, the private sector or civil society, on an equal basis and through an open and inclusive process.


This press release was distributed by ResponseSource Press Release Wire on behalf of NSDesign Ltd in the following categories: Business & Finance, Computing & Telecoms, for more information visit https://pressreleasewire.responsesource.com/about.