Royal Arsenal gets neighbourly with ResidentsHQ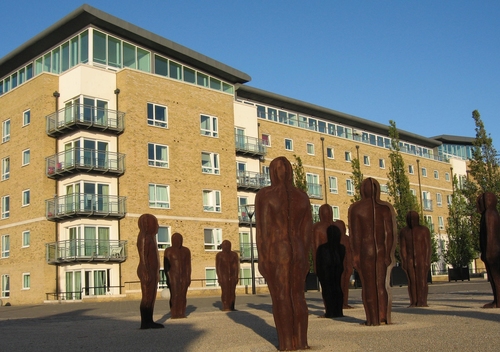 Social networking service helps residents break the ice

24 June 2008 – ResidentsHQ, the social networking service focussed on injecting life and community spirit into modern residential developments, today revealed its service has gone live at the Royal Arsenal – London's largest and most exciting regeneration project . As a result, the 2,000 residents living in this newly forming community now have access to a secure, private, password-protected social networking website. ResidentsHQ was chosen by the development's Residents' Committee with the goals of improving communication between the Committee and inhabitants, and to help the development become a thriving community.

Caroline McMann, a member of the Royal Arsenal Residents' Committee, said, "One of our key aims is to involve everyone in improving the area in which we live. We believe the Royal Arsenal ResidentsHQ website will really help us achieve this by making communication and consultation with residents easier. We can post minutes and other documents and use surveys and discussion forums to get residents feedback. In fact, our first survey this week has found that 95 per cent of users think ResidentsHQ will be useful to them. On a personal level, I am hoping the site can help me get to know my neighbours a little better."

In addition to providing an important communication channel for the Residents' Committee, the ResidentsHQ social networking tool also provides a multitude of benefits to residents. It enables them to quickly and easily identify and interact with others with similar interests, set-up clubs and events, share experiences on local restaurants or trades people, sell items or discuss topics of mutual interest. Over 100 residents have joined the service in the first few days of launch and are already initiating running clubs, mother/toddler groups and cocktail parties. In addition, one resident who works as a sommelier at a local, high-profile restaurant has offered a 'healthy pour' of wine for fellow residents.

Andrew Painter, managing director at ResidentsHQ says, ''We are delighted that such a prestigious development has recognised the value of our service, and by the level and type of resident participation so far. People living in the same development often have similar backgrounds and interests, so helping them connect, and share information on things like where to eat and shop makes our service very relevant. We are also glad to see the benefits of our service being increasingly recognised by other developments both in the UK and abroad."

- ends -

For further information, images or to speak to anyone quoted above, please contact:
Rebecca English, ResidentsHQ Press Office
Tel: +44 (0)7778 609675 E-mail: rebecca.english@residentshq.com

About ResidentsHQ
ResidentsHQ is an online secure and private social networking service exclusively for residential developments. Its objective is to enhance the experience of being a resident in a large development by making it easy for them to interact with each other and build vibrant and sustainable communities. The service also helps developers add value to their developments and differentiate their property from others, and help them, as well as management companies and Residents' Associations, connect to those living within their properties. ResidentsHQ tailors, hosts and maintains a secure, private, password protected social networking website for each development. Created in 2008, ResidentsHQ is a privately-held company, with headquarters in London. For more information visit www.residentshq.com.

About Royal Arsenal
Royal Arsenal is London's largest and most exciting regeneration project. The historic military factory and depot, founded in 1671, is being transformed by Berkeley Homes into a riverside community of over 1,200 brand new and refurbished homes, comprising 1, 2 and 3 bedroom apartments, duplexes, penthouses and townhouses. The development embraces both the refurbishment of Grade II listed historic buildings and bold new modern architecture, and stretches three miles along the Thames and one mile inland. The current population of 2000 is set to grow considerably; in just three years' time, 3,500 people will live at Royal Arsenal. For more information, visit: www.royal-arsenal.co.uk.
This press release was distributed by ResponseSource Press Release Wire on behalf of ResidentsHQ in the following categories: Leisure & Hobbies, Home & Garden, Consumer Technology, Construction & Property, for more information visit https://pressreleasewire.responsesource.com/about.