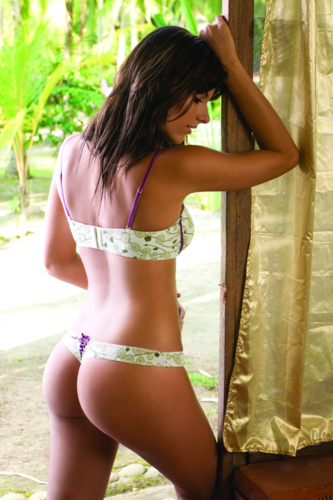 Press Release
For further information, samples or high res images contact:
Red Hot PR
info@redhotpr.co.uk
+44 20 7723 9191
Issued July 2008

GO WILD UNDERCOVER

Great 'undercover' is the foundation every well dressed woman relies on - whether it is for uplift, support or smooth curves. It is attention to these essential building blocks – the lingerie, you choose – that can make or break an outfit. And as we all know, fabulous lingerie makes us feel feminine, sexy and confident!

South American lingerie experts and specialists, ELLIPSE, suggest there are three body types.

The first: perky breasts, tiny waists and voluptuous hips – what the British ungallantly describe as Pear Shaped! – is epitomised by Shakira. For these comely ladies the perfect undercover can be found in both the Essentials and exquisite Bridal collections.

The second type is a visual Venus – all breasts and hips dipping lovingly in the middle. Here the Essentials collection comes to the fore with bras that support AND uplift and briefs that cling to the curves rather than pinch them. The beautiful pre-formed Fashion collection featuring exotic prints which could easily pass for outerwear, is also a collection that the more curvaceous will love. Salma is a perfect example of this shape.

The last group is comprised of petite ladies with small breasts and slim hips. Items from all three of the collections – Essentials, Fashion and Bridal – are ideal for this shape as the collections include preformed uplifting bras and those in this petite category are able to wear the sexy thongs to best effect. Penelope Cruz is the embodiment of this particular group of women.

The Essentials collections, every woman's basic requirement, come in pre-formed and semi-formed bra shapes. All the collections come in sizes 32-38 ABCD cups and some in S,M,L and XL. Briefs and thongs come in sizes S, M, L and XL .

So toss out the greiges and go wild undercover with Ellipse!

All the items pictured are currently available. Check out www.ellipselingerie.co.uk for stockist information. Contact Red Hot for samples or high res images from any of the collections mentioned.

- ends -

This press release was distributed by ResponseSource Press Release Wire on behalf of Red Hot PR in the following categories: Men's Interest, Women's Interest & Beauty, Retail & Fashion, for more information visit https://pressreleasewire.responsesource.com/about.