AMPLICON SELECTS AMCC'S 3WARE SATA RAID FOR COMPANY'S PREMIER CCTV STORAGE SERVERS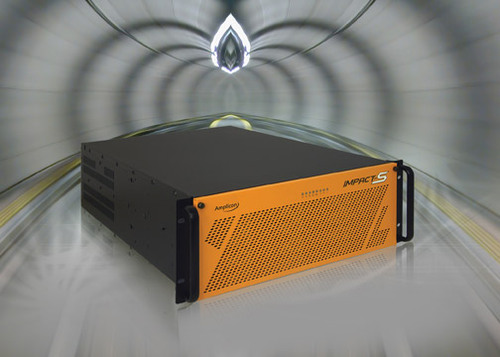 July 08

AMPLICON SELECTS AMCC'S 3WARE SATA RAID FOR COMPANY'S PREMIER CCTV STORAGE SERVERS

Award-winning 3ware 9650SE SATA II RAID Controllers Provide Performance, Reliability and Innovative RAID Features to Amplicon's Customers


Sunnyvale, Calif. and London, UK, July 2008  Applied Micro Circuits Corporation (AMCC) [NASDAQ-GS: AMCC], a global leader in embedded Power Architecture® processing, optical transport and storage solutions and Amplicon today announced Amplicon's integration of AMCC's 3ware® 9650SE SATA II RAID controllers into its range of high-reliability storage servers for IP security applications. Amplicon (www.amplicon.co.uk) selected the 3ware 9650SE controller line (http://www.3ware.com/products/serial_ata2-9650.asp) because of its industry-leading performance, reliability and innovative hardware RAID features.

Amplicon's servers provide high-capacity data recording capabilities for security and surveillance camera installations. The 3ware 9650SE's SATA interface, its huge capacity potential and sustained data transfer rates make it the ideal RAID controller choice for CCTV applications as well as other vertical storage applications that employ a fixed number of drives. 3ware 9650SE RAID controllers, optimized for sequential performance, effortlessly write multiple high-bandwidth video data streams to either individual hard drives, or to a RAID array, making the 3ware controllers a perfect fit for Amplicon servers.

"Amplicon's integration of 3ware 9650SE SATA II controllers demonstrates that selecting the right disk technology for the job – in this case SATA – ensures the end system offers the best cost- and performance-optimized vertical solution for their customers," said Scott Cleland, Worldwide Director of Marketing for AMCC Storage. "Amplicon's understanding of how to apply SATA's unique benefits to their IP security applications positions them to be able to reduce cost and complexity in their systems while maintaining very high performance."

"AMCC is one of the global leaders in the manufacture of RAID cards, and its comprehensive connectivity choices allowed us to choose between SATA and SAS, ensuring we used the best interface technology for a particular application," said Dave Evans, Product Manager, Amplicon. "Amplicon chose SATA, the cost- and performance-optimized storage interface, for our IP security systems to best serve the video surveillance space."

About AMCC
AMCC provides leadership semiconductor solutions to process, transport, and store digital information for the world's wired and wireless networks. As a leading supplier of SAS and SATA RAID controllers with world-class expertise in SONET and Ethernet protocol processing, PHY technology, Power Architecture® based processors, and Storage processors, our products are the foundation of the IP Communications Revolution. AMCC's 3ware SAS and SATA RAID controllers deliver cost-effective, high-performance, high-capacity storage for enterprises and consumers worldwide in applications like disk-to-disk backup, near-line storage, network-attached storage (NAS), video, and high-performance computing. For further information regarding AMCC please visit our website at http://www.amcc.com or www.3ware.com.

About Amplicon
Amplicon has over 30 years of distribution & manufacturing experience, and supplies Industrial Computing, Data Communications, Measurement & Control, and Security Automation solutions to the market. By combining products from these four groups, Amplicon's customers can build complex test, control and automation systems for a diversity of markets. A wide portfolio of supporting services has also been added to complement these solutions thus providing complete hardware solutions. Contact sales@amplicon.co.uk for further information. Based in Brighton, East Sussex, Amplicon is certified to ISO9001:2000. www.amplicon.co.uk

****Ends****

For further information please contact:

Company Contact Media Contact
Ron Macleod Rachel Madden
Applied Micro Circuits Corporation Napier Partnership Ltd
Tel: +44 (0)161 232 6360 Tel: +44 (0)1243 531123
E-mail: rmacleod@amcc.com E-mail: rachel@napier.co.uk


3W034UK
Forward Looking Statements
This press release contains "forward-looking statements" within the meaning of the Private Securities Litigation Reform Act of 1995. Forward-looking statements may be identified by words such as expects, anticipates, plans, believes, estimates, will or words of similar meaning. Such forward-looking statements, including statements relating to the products discussed in this press release, are subject to a number of risks and uncertainties, including the risk that the products may not be successfully or timely developed, completed or manufactured or achieve market acceptance, risks relating to general economic conditions, as well as the risks and uncertainties set forth in the Company's Annual Report on Form 10-K, and in the Company's other SEC filings. As a result of these risks and uncertainties, actual results may differ materially from these forward-looking statements. The forward-looking statements contained in this press release are made as of the date hereof and AMCC does not assume any obligation to update any forward-looking statement, whether as a result of new information, future developments or otherwise.

AMCC, 3ware and Multi-lane are trademarks or registered trademarks of Applied Micro Circuits Corporation. Other trademarks are the property of their respective owners.





This press release was distributed by ResponseSource Press Release Wire on behalf of Napier in the following categories: Computing & Telecoms, for more information visit https://pressreleasewire.responsesource.com/about.