Cuski Revolutionizes Bonding & Breastfeeding! Cuski Baby Comforter Made From Bamboo!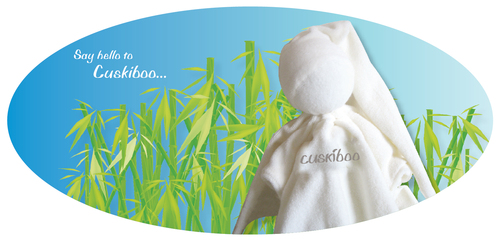 Cuskiboo®! has finally arrived - She is made entirely from a special bamboo yarn that the Cuski® Team lovingly found on their travels. Bamboo is organically grown and totally sustainable. Ultra absorbent (like the original Cuski®), antibacterial, eco-friendly, bio-degradable, beautifully soft and naturally loveable... plus the most amazing find midwives discovered during tests with new born babies, was because of the extra absorbency Cuskiboo® holds, and in those early days when mummy/baby scents are so crucial she not only carries mummy's scents to baby but carries baby's scent to mummy, so this is ultimately beneficial for mummy/baby bonding and also helps to bring on mummy's milk flow, thus helping to make breast feeding easier. Cuskiboo® is a truly amazing comforter and it is always best to have 2 during the early days especially if planning to breast feed, one with baby one with mummy and keep swapping….
Editors Notes:
Cuskiboo® is a calming, safe and healthy alternative to other infant comforters. Cuskiboo® has been fully tested and conforms to all relevant UK, European & International safety standards. It is machine washable and retains its comforting softness, wash after wash. Cuskiboo® is available in single packs ensuring that baby/child always has a Cuski® to cuddle up to. Suitable from birth Cuskiboo® has all the qualities a child looks for in a comforter, softness, suckability, sheer lovability and of a course a label to twiddle but unlike a traditional blanket it can be easily replaced if lost or damaged. Cuskis unique shape stimulates your child's imagination- a round shape is the first shape a baby recognizes.
Bamboo
Cuskiboo® is made lovingly from a special bamboo yarn which has many wonderful properties. It is ultra absorbent, anti- bacterial, and importantly eco-friendly. Bamboo is highly sustainable and grows organically without the need for harmful chemical pesticides or fertilizers. It has a very short growth cycle, is easily cultivated and is totally bio-degradable. Additionally, when growing bamboo, it absorbs all those nasty green house gases and produces about 35% more oxygen than normal trees.
So… by developing Cuskiboo® we are helping our planet 
Cuskis® are being used in SCBU and neonatal hospital units in the UK and recommended by midwives.
Cuski® was developed by mum Suzanne Cannizzo who wanted to create a manageable, stylish comforter for her own child. Over 228,000….. Cuskis have been sold to date world-wide…
Cuski® is the anglised Welsh term, meaning to sleep, and was created to bring comfort to babies and toddlers all over the world.
RRP £15.99 Made in Turkey under Fair European Conditions.
Recyclable & Bio-degradable Packaging – Cuski® is watching its carbon footprint…
www.cuski.com info@cuski.com TEL: 01829 771825

This press release was distributed by ResponseSource Press Release Wire on behalf of Cuski International Ltd in the following categories: Children & Teenagers, Health, Women's Interest & Beauty, Environment & Nature, Medical & Pharmaceutical, Media & Marketing, Retail & Fashion, for more information visit https://pressreleasewire.responsesource.com/about.