NetSupport respond to the Technology challenges facing Teachers in UK schools.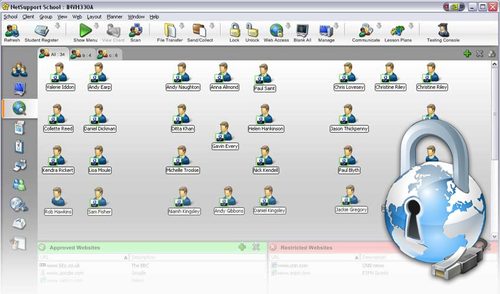 UK schools now have a greater investment in ICT than ever before, and the challenges in maintaining the technology, supporting their Teachers and protecting their Students continue to grow. To maximize productivity and safety, a classroom management product needs to deliver a blend or student controls, content protection, instructional tools and the means to deliver ICT support directly to the Teacher, as soon as it is requested.

Responding to these challenges, NetSupport is pleased to announce the release of NetSupport School 10. Not only does this product, already recognised as a leader in classroom instruction and monitoring software, deliver a powerful and easy to use instructional solution, but for the first time in any classroom management solution, it now features a dedicated Technicians Console, Digital Journals and additional Internet security and Content management tools.

Commenting on the ongoing challenges faced by schools to provide Student access to educational resources, yet retain control of their online activity, Education Product Manager, Matt Jones explained "The Internet tools in NetSupport School now provide both the control and the protection of students from unsuitable websites and content. The easy adoption of approved lists as well as our unique "SafeSearch" feature ensures that when a student goes online, NetSupport School will automatically force any content filters provided by each of the leading search engines into an active state. For older Students, where greater online access is needed, NetSupport School goes further, allowing for both the monitoring and control of Instant Messenger applications as well as keyword monitoring for students when online or in forums.

He continued "We also provide a full history of activity by Student, and perhaps most importantly, employ a Student Toolbar, so that when restrictions are applied or monitoring is active, the students know. Typically this is sufficient to address the issue before it happens. This approach means Students are presented with a list of websites they know they can visit and avoids time being wasted discovering which they can't. We are not attempting to replace the need for network wide content filtering or "white lists", but we know from our customers, that just because a site is generally suitable, it may not be for a specific class or topic. We simply add a more visual and flexible way of providing teacher feedback. "

To provide well needed support and confidence for Teachers in the classroom, the new, and unique, Tech Console in NetSupport School 10 delivers a range of tools specifically designed for ICT Technicians and Network Managers for both effectively managing their IT infrastructure and critically, providing real-time assistance and support to Teachers who use NetSupport School in their classrooms.

At any point during a lesson a Teacher can request assistance via a single click of a toolbar button, and in seconds technical staff can provide remote assistance and support from anywhere across the schools network.
Featured tools include powerful desktop Remote Control, Remote management of Services, Processes and Applications running on any classroom PC, the generation of real-time Hardware and Software Inventory reports as well as file distribution capabilities. A technician can also remotely Power On/Off all computers in a selected classroom and remotely log them in prior to a class beginning.

Finally, responding to recent educational recommendations, NetSupport School 10 also now delivers clearly presented lesson details and objectives to each and every student, visual rewards for younger students and a new and unique "Student Journal" which creates a digital record of all activity and content provided by the Teacher and Student during a class. All of this is automatically prepared as a PDF for each student at the end of class.

All of the new features in NetSupport School are included as standard and at no additional cost.

For more information on NetSupport School please visit: www.netsupportschool.com


Press Contact
Mr Chris Lovesey 01778 382270
c.lovesey@netsupportsoftware.com
This press release was distributed by ResponseSource Press Release Wire on behalf of NetSupport in the following categories: Consumer Technology, Education & Human Resources, Computing & Telecoms, for more information visit https://pressreleasewire.responsesource.com/about.