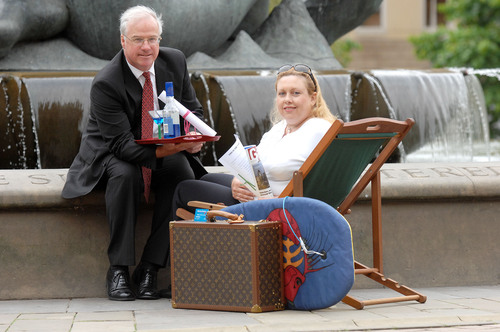 PRESS RELEASE: LIFE'S CERTAINTIES
7 July 2008


As the old adage goes, there are two certainties in life –death and taxes. But it seems that despite ongoing campaigns encouraging us to make a will, three quarters of under- 44 year olds have not made a will and almost 50% of people die without having made a will (source: Will Aid). And whilst most of us would never consider going on holiday without proper holiday insurance, so too it seems that a summer break is often be the trigger for people getting their personal affairs in order and taking steps to make a will.

Startling statistics and Buller Jeffries' partner Caroline Coates, who is also current President of the Birmingham Law society is typical of someone with a foot firmly in this camp. She told us:

'I don't think any of us really like to think about death – it's something that happens to other people. Despite being a solicitor, with colleagues based in the same office as me at Buller Jeffries who could quite quickly arrange a will for me, I haven't done anything about it. Why is that? There never seem to be enough hours in the day and as I am under 40, I still believe that I am immortal. I am armed with all of the statistics, and understand why making a will is so important at all stages of life. However, I am embarrassed, particularly in my current capacity as President of Birmingham Law Society and an ambassador for the legal sector, that I haven't taken the medicine prescribed by my profession.

I think it is human nature to put off unpleasant issues but having my son has made me realise that I can put it off no longer. Colleagues at Buller Jeffries who specialise in wills and probate work tell me that major changes to personal circumstances like starting a family and divorce are triggers for setting the wheels in motion, but that they also see a marked increase in enquiries as we enter the summer holiday season. Certainly starting a family has made me think about putting my house in order more than previously.

Nationally, the Law Society has been championing solicitors' services in its high profile 'Use a Solicitor' advertising campaign. Yes, you can buy an off-the-shelf will document from most high street stationers and we have seen a surge of on-line will-making facilities. However, there are various legal formalities you need to follow to make sure that your will is valid. Without the help of an expert, there's a real risk you could make a mistake, which could cause problems for your family and friends after your death. It doesn't have to cost very much and can be set up fairly quickly

Birmingham Law Society firmly believes that all the advice that is needed can be offered by member firms of solicitors here in the West Midlands and will be campaigning to make sure, at the very least, that we have taken our own advice by taking those all important first steps in consulting a wills and probate solicitor.'

Roger Williams heads up Buller Jeffries' wills, trusts and probate team. He explained:

'Caroline is typical of many of the young professionals we work with – they don't make time to sort out such a major aspect of their lives. Caroline and those like her are well aware of the arguments in favour of making a will - by making a will, you can decide how your assets are shared, ensure that your Inheritance Tax liabilities are managed to maximum effect, make provision for children and appoint an executor who will manage your estate and wishes after your death. But still they put off the inevitable. Wills and probate solicitors like me have a responsibility to dispel some of the myths and remove the stigma of talking about death.'

Through her Birmingham Law Society connections, Caroline has been in contact with Kevin Martin, chairman and founder of Certainty.co.uk, the UK's first on-line registry for wills, launched this year after almost 20 years' lobbying for a national register of wills. By registering a will with Certainty, which is free for wills written before 1 January 2008, your will can be registered instantly in the eventuality of your death.

Ends
Notes to the editor

1. With offices in Birmingham and Coventry, Buller Jeffries is a full service law firm providing services to clients in the Midlands. The recent acquisition of Dawkins & Grey, a long established Birmingham firm, has added extra strength and depth to the commercial property and private client teams. Nationally, the firm is a market leader in the insurance litigation market. Buller Jeffries has a team of just over 50 partners, solicitors and support staff.

2. Photograph shows Caroline Coates and Roger Williams preparing for holiday.

3. For further information please contact Jo Miners at Stonehouse Marketing on 07739 515809 or email jo@stonehouse-marketing.co.uk.




This press release was distributed by ResponseSource Press Release Wire on behalf of Buller Jeffries in the following categories: Business & Finance, Public Sector, Third Sector & Legal, for more information visit https://pressreleasewire.responsesource.com/about.