New DVD brings antenatal classes into the home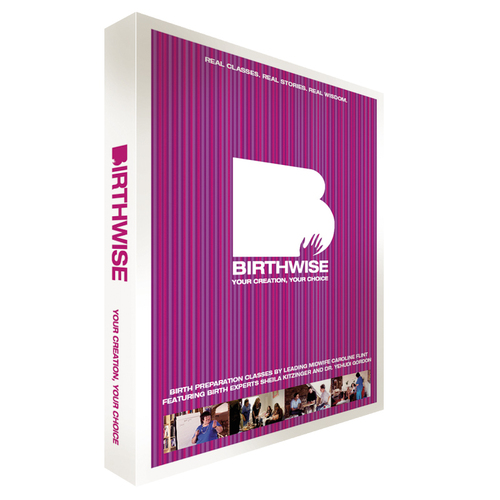 17 July 2008 – London – A new DVD has been created to provide 'at home' antenatal classes for expectant parents to help them prepare for birth and early parenthood. Birthwise, Your Creation Your Choice gives over eight hours of candid, inspiring advice and real life experiences so that expectant women and their partners can make informed choices and feel more empowered and in control of the birth process.

The DVD was created to help fill unmet needs of women having babies in the UK today, including the information vacuum that's resulted from cuts in the number of available NHS antenatal classes. It also allows partners and family to join in the birth preparation process, many of whom are not able to attend regular classes due to inconvenient class times. It's the perfect refresher for second or third time mums who aren't able to get out to classes because they have other children to look after.

The DVD is fronted by Caroline Flint, an advisor to the Government and a leading midwife with over thirty years experience, including acting as midwife to many celebrities.

Caroline takes six couples through childbirth preparation classes covering subjects like the stages of labour, pain relief, relaxation, bonding with your baby, preparing for life with a new baby, complementary therapies and pregnancy and childbirth complications. Each session allows viewers to watch as if they are part of the class and are encouraged to ask themselves the same questions that are being put to the couples in the film.

Caroline's passion for her subject is obvious and her honesty and humour brings the birth experience to life. "Every birth is different and often it doesn't go according to a pre-conceived plan. The key is to be well informed so that parents can feel in control regardless of what happens," she explains. "It's critical for mums to trust themselves and their bodies. But that trust only comes from making informed choices. This DVD helps them understand what those choices are."

One of Caroline's key messages in the DVD is that mother's should stay in bed for ten days after giving birth. She believes this gives mums time to physically recover, mentally process the birth, bond with her baby and establish breastfeeding. She says: "Many mums underestimate just what an impact having a baby will have on their mental and physical well-being. Becoming a parent is an enormous adjustment and women need to give themselves time to fully recover after birth before trying to take on too much."

As well as the classes, the DVD is full of useful and insightful advice. Among those featured are Sheila Kitzinger, social anthropologist and birth activist; Dr Yehudi Gordon, leading obstetrician; and Colleen Wedderburn Tate, an NHS midwife and author; who share their views and offer their expertise. In addition it features complementary therapy experts who advise on the wealth of services out there that ease the birth process.

The DVD also catches up with the couples featured in the film after they've had their babies so that they can report back on how it all went. This in itself lets parents-to-be realise that birth doesn't always go according to plan and so helps them positively prepare for any eventuality.

Birthwise has been created independently by Shirley Gregoire McAlpine and Cari Caldwell. They are both mothers of young children who felt that there was something missing in the information given to pregnant women. Despite very positive first time birth experiences themselves, they felt there was a lack of real stories, real sharing of what is possible and what is truly available to women and families looking to create the birth they want.

"I believed so strongly in helping women be informed about childbirth that I decided to train as an antenatal teacher," says Cari Caldwell. "As part of my training, I had to observe Caroline's class. It was a real eye opener and made me wish I'd been in her class before I'd given birth. After the first few sessions I knew I had to find a way to share her wisdom, humour and honesty with as many women as possible, so we created Birthwise."

Birthwise – Your Creation Your Choice is available from www.birthwisedvd.com. It costs £29.99, significantly less than other private antenatal classes, such as the NCT which start from £70.

Sample clips of the DVD can be seen on YouTube:
Birthwise trailer

Relating and bonding to your new baby

First 6 weeks with a new baby

~ENDS~

For further information please contact Melissa Talago, Peekaboo Communications, melissa@peekaboocoms.co.uk or tel: 01635 248496. High resolution images are available. Interviews with the DVD creators and Caroline Flint can be arranged. Case studies of people who've used the DVD and who appear on the DVD are available.

Notes to Editors:

About Caroline Flint

Caroline has been a midwife and antenatal teacher for over 30 years. She is the founder and Director of The Birth Centre, the past President of the Royal College of Midwives, and author of five books for midwives as well as over 300 published articles. She is an Honorary Professor at Thames Valley University. Caroline is an acknowledged pioneer in 'best practice' care and has for many years led schemes which have provided continuity of care for women. She has been midwife to a number of celebrities.

About Cari Caldwell

Cari is founder and director of Partus Ltd. and producer of Birthwise: Your Creation, Your Choice. In addition to her work with Birthwise, Cari is the managing director for the US business of Future Considerations consultancy specialising in leadership development. Cari's work includes consulting, facilitation and coaching in the areas of leadership and working across cultures. She leads experiential programmes in developing countries helping corporate and not for profit sectors to work together and for business leaders to learn about leadership and sustainability. Cari has trained with the Intercultural Communications Institute, Newfield Network Coaching, the Strozzi Institute completing courses in Personal Mastery and Somatic Coaching, and completed antenatal education coursework with the University of Luton. Cari has a 4 year old son and this is her first film.

About Shirley Gregoire McAlpine

Shirley is founder and director of Partus Ltd , and director/producer of Birthwise: Your Creation, Your Choice, and director of Manzira consulting. A freelance management consultant and coach for nearly ten years, she has worked to empower organisations and individuals through working with leaders and organizational development for eighteen years which has included countless research projects, workshops, and consulting.. She also led personal development programmes to large groups for a number of years. She is mother to a four year old daughter and a 5 month son, which has been instrumental in creating a passion and commitment for supporting new parents with their new arrivals and loving parenthood. Birthwise is an expression of that commitment. Since having her 2 children she has also become interested in empowering women – specifically around raising their family and remaining economically independent – a huge challenge.



This press release was distributed by ResponseSource Press Release Wire on behalf of Peekaboo Communications in the following categories: Children & Teenagers, Men's Interest, Health, Women's Interest & Beauty, for more information visit https://pressreleasewire.responsesource.com/about.