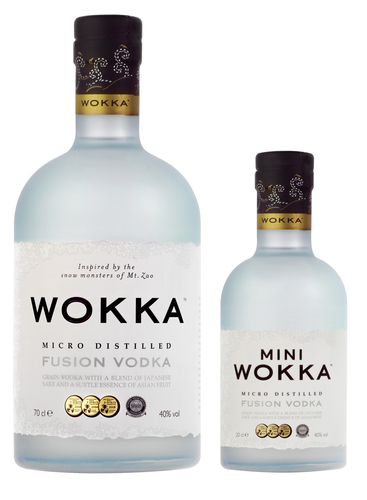 WOKKA's going on ? – WOKKA SAKi rebranded.

Extreme Spirits Ltd, the owners of the award winning and unique WOKKA SAKi are pleased to announce the rebrand of their eclectic 'east meets west' vodka.

As from 1st August 2008 the brand will be known as 'WOKKA – FUSION VODKA'. Simultaneously, the company is launching a quarter size version (20cl) bottle known as 'MINI WOKKA' (see new packshot attached).

WOKKA is a micro distilled grain vodka with a subtle blend of Japanese sake infused with Asian fruit.

Tim Day Marketing Director of Extreme Spirits commented: "After conducting considerable research in the UK and USA, both the trade and consumer unanimously prefer the name WOKKA. By declaring the brand as a 'FUSION VODKA', we have in fact defined a new category and one which better personifies the nature of WOKKA".

WOKKA Saki was launched in South Beach Miami on April 2005, and is now exported internationally to 10 countries. It is the only flavoured vodka that has twice won 'Double Gold' from the San Francisco International Spirits Competition, considered to be the most prestigious spirits event in the world.

Tim Day enthused "The addition of 'MINI WOKKA' is very exciting for us and it has been specifically created to serve the Asian fusion restaurant sector. MINI WOKKA will be served as a four person serve sipping vodka sake in high end restaurants to accompany food; it is particularly impressive when paired with Sushi".

End

Editorial note:

What is a 'FUSION VODKA'?

FUSION VODKA is defined as a high proof vodka (40 % ABV +) that contains a blend of quality ingredients other than just flavours (in WOKKA's case 'Japanese Sake')
A FUSION VODKA sits half way between a neutral vodka and a flavoured vodka and in doing so establishes a new category. WOKKA intends to be personified as 'the' Asian fusion vodka

WOKKA accolade:

Winner DOUBLE GOLD 2005 – BEST FLAVOURED VODKA San Francisco International Spirits Competition:

WOKKA Saki was rated the no 1 flavoured vodka (out of 55 international entrants in blind tasting by industry experts)

Rated EXCEPTIONAL by Chicago Beverage Institute

Rated 96 points out of 100 by Paul Pacult (aka the Spirits Guru) his highest category rating ever

Nominated Distiller of the Year 2005 by 'The Wine Enthusiast' (leading USA trade title)

For general enquiries:

Tim Day
Extreme Spirits Ltd
Loft 3
40/42 William IV Street
Covent Garden
London WC2N 4DD

tim@wokkasaki.com
www.wokkasaki.com

Tel: +44 (0) 7775 75 11 40

For UK distribution enquiries:

EPM Brands Limited
Ladywell
94 Duke Street
Glasgow
G4 0UW

info@epmbrands.com
t: +44 (0)141 552 8008
f: +44 (0) 141 552 8785

If you would like to be omitted from future correspondence please email unsubscribe to info@wokkasaki.com

WOKKA is a brand registered as a trade mark and owned by Extreme Spirits Ltd

The information in this email is confidential and may be legally privileged. It is intended solely for the addressee and access to this email by anyone else is unauthorised. Any views or opinions presented are solely those of the author and do not necessarily represent those of Extreme Spirits.

If you are not the intended recipient, any disclosure, copying, distribution or action taken or omitted to be taken in reliance on it, is prohibited and may be unlawful. If you have recieved this email in error please notify Extreme Spirits Ltd.


This press release was distributed by ResponseSource Press Release Wire on behalf of Extreme Spirits Ltd in the following categories: Food & Drink, for more information visit https://pressreleasewire.responsesource.com/about.