COULD THE CREDIT CRUNCH BE RESPONSIBLE FOR AN INCREASE IN HAIR LOSS?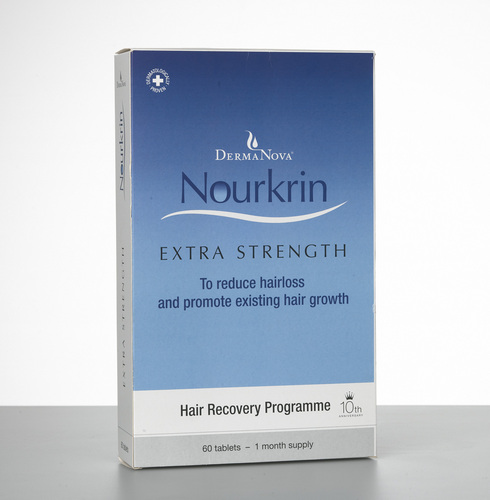 NOURKRIN SEES RECORD SALES FOR THE 5TH MONTH RUNNING

It seems that many people in the UK are losing their hair and the word on the street is that it could be due to the credit crunch. As many other brands see sales fall as a result of the economy, Nourkrin, the nation's favourite natural hair recovery programme sees sales continue to rise. Nourkrin is the number one selling brand in the VMS category for the fifth month running according to Health Food Business Magazine and CLF Distribution.

Even in buoyant financial times one in three women are expected to suffer some sort of hair loss at some stage in their lives but this appears to be on the increase as the credit crunch hits. It's no wonder then that more and more people are turning to Nourkrin to help combat thinning hair.

Nourkrin Extra Strength is a natural daily supplement that supplies the specific compounds needed to reduce hair loss. The key ingredient is a protein compound of marine extracts which is blended with an organic, soluble silica and vitamin C, to make a unique hair nutrition programme. Nourkrin is effective for both men and women and is convenient to take. For faster and more effective results the tablets can be used in conjunction with Nourkrin scalp lotion, Nourkrin shampoo and Nourkrin conditioner. These nourish the scalp and remove any dead skin cells to create a healthy environment for hair recovery.

Nourkrin MAN is for the prevention of thinning hair in men and has the same natural ingredients as the phenomenally successful Nourkrin Extra Strength (deep sea marine protein blended with an organic, soluble silica and vitamin C), to make a unique hair nutrition programme but with added Fenugreek (Trigonella foenum – graecum L) and Omega 3 specifically to tackle the problem for men by preventing the miniaturisation of hair follicles.

The Nourkrin Natural Hair Recovery Programme is clinically proven and is available from Boots, Holland & Barrett, Superdrug, Lloyds Pharmacy, Alliance Pharmacy and independent pharmacies and health stores, www.nourkrin.com or by calling Direct Beauty Products on 01508 491301. The RRP for one months supply is £49.95.

~ ends ~

Editors Note:

Nourkrin is being supported in 2008 by Britt Ekland, Dr David Kingsley (trichologist) Beverly C (celebrity hairdresser) and Corinne Sweet (media psychologist).

Issued on behalf of: Direct Beauty Products
By: Partners in PR
Press contacts: jackie@partnersinpr.co.uk – 01409 281749 juliefisherpr@homecall.co.uk – 01344 750369

For further press info or to interview Britt Ekland, Dr David Kingsley, Beverly C or Corinne Sweet please contact the Jackie or Julie on the numbers shown above.

This press release was distributed by ResponseSource Press Release Wire on behalf of Partners in PR Ltd in the following categories: Men's Interest, Women's Interest & Beauty, for more information visit https://pressreleasewire.responsesource.com/about.