Three sons launch fresh appeal to get justice over father's mysterious lift plunge death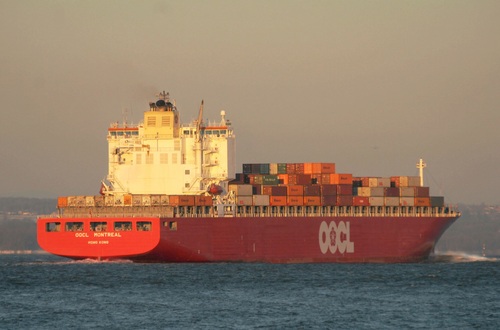 A new appeal has been launched to uncover details over the mysterious death of a British shipping boss in northern France 5 years ago. Courtenay Allan was killed when he plunged down a lift shaft on one of the world's largest container ships, the OOCL Montreal. Ever since then his sons Ben, Hayden & Tristan have been fighting for justice.

For the past five years they have been trying to make multi-billion-pound Chinese shipping company - Orient Overseas Container Line own up to corporate manslaughter or criminal negligence over his death. Courtenay Allan was a senior OOCL director specialising in the transatlantic trade and on the 3rd of July 2003 he was on board the OOCL Montreal on her maiden voyage hosting a reception for guests. As a senior director of the company, he was the last to leave the ship in Le Havre so he said goodbye to Captain Roger Llewellyn and went to enter the lift on bridge level.

He opened the lift door and stepped into the dark void expecting find the lift floor. There was no lift car waiting and he plunged 60 feet down the lift shaft. He landed on the lift roof several floors below, which contained several guests from the reception.

To date OOCL and its representatives have not substantiated or provided any reason as to why/how this happened. Why did the lift doors open without the lift car being present? Why have the maintenance and log books not been presented / disclosed? The family has spent five years trying to get answers to these questions. OOCL refuses to provide any maintenance logs for the lift or even release the guest list for who was on board that day.

OOCL has for some bizarre reason decided not to co-operate with family requests for information over aspects such as the guest list which are important to get to the bottom of the incident. They will also not admit liability.

The family hired a world expert on lift accident reconstructions and asked him to review OOCL's report and to visit the ship to investigate himself. The expert's report concluded: 'I am firmly of the view that this incident is likely to have been caused by human intervention and have seen no evidence to suggest that the lift system was faulty but clearly the door lock receptor has been subjected to an unauthorised out-of-design modification.'

The French judiciary are still investigating the incident and the family is hopeful that they will come to a conclusion soon. This could lead to a prosecution for criminal negligence or corporate manslaughter. They are hopeful that a decision could be made by the end of 2008. Once this process has concluded the family expects the coroners inquest in the UK to be completed. Courtenay Allan died aged just 53 and worked for OOCL for nearly four decades.

Ends

Any queries should be directed to ben.allan@tilt.co.uk or by ringing Ben on 07967 332875. For further information please go to www.courtenayallan.co.uk.

Notes to editors:

Hong Kong-based OOCL is one of the largest container shipping companies in the world. Founded in 1947 by Chinese shipping magnate C.Y. Tung, it had a fleet of more than 150 cargo ships at its peak. C.H. Tung – son of OOCL's founder – used to be the company's chairman but quit to take over from Chris Patten as China's first governor of Hong Kong after the British handover in 1997. His brother, C.C. Tung, then took the helm of the company and remains in charge today. Known as the 'Oracle', due to his knowledge of the trade, he lived for his job and he worked for the company almost four decades as highly esteemed employee.

This press release was distributed by ResponseSource Press Release Wire on behalf of Definition Agency (FKA Limelight PR) in the following categories: Children & Teenagers, Men's Interest, Entertainment & Arts, Health, Leisure & Hobbies, Home & Garden, Women's Interest & Beauty, Environment & Nature, Motoring, Travel, Education & Human Resources, Medical & Pharmaceutical, Media & Marketing, Public Sector, Third Sector & Legal, Manufacturing, Engineering & Energy, Transport & Logistics, Construction & Property, for more information visit https://pressreleasewire.responsesource.com/about.